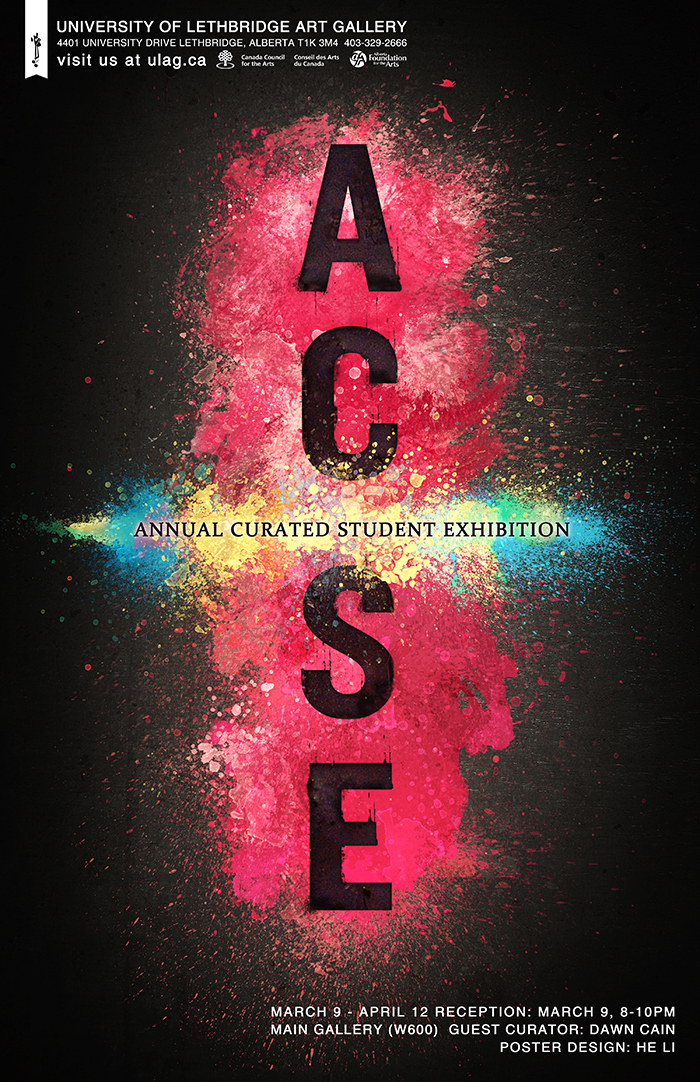 it all
will fall
right
into
place
Annual Curated Student Exhibition 2012
March 9 – April 12, 2012
Main Gallery
Guest Curator: Dawn Cain
Selected artwork from Senior and Advanced Studio Students
Exhibition Poster Designed by He Li
The Annual Curated Student Exhibition provides an exceptional opportunity for the professional development of Art Studio majors as they near completion of their degree. The exhibition gives students a realistic experience with the process of submitting their work and receiving feedback from an established curator. The exhibition is only open to Senior and Advanced Studio students in order to focus attention on those with the goal of becoming professional artists. In applying for this exhibition, the students follow the same process and standards for documenting, describing and proposing their art work as they will when applying to public art galleries, artist run-centres, or for government grants. Staff from the Art Gallery provide advice on preparing the proposals and share insights into what curators look for when deciding to book a studio visit and choose art work for an exhibition.
An established curator from outside of Lethbridge is invited to create the exhibition. The curator views the proposals and selects a short-list of students for follow-up meetings during a visit to Lethbridge. From these studio visits, the curator makes the final selection and works with the Art Gallery staff to lay-out and install the exhibition.
The Annual Curated Student Exhibition provides a showcase of excellent work by Art Studio majors in that year and gives the students a valuable achievement to list on their résumés. As well, the students who are not selected receive feedback on their proposals and can learn how to improve as they prepare to begin their careers.
Visit the Faculty of Fine Arts.
Artists (click image to enlarge)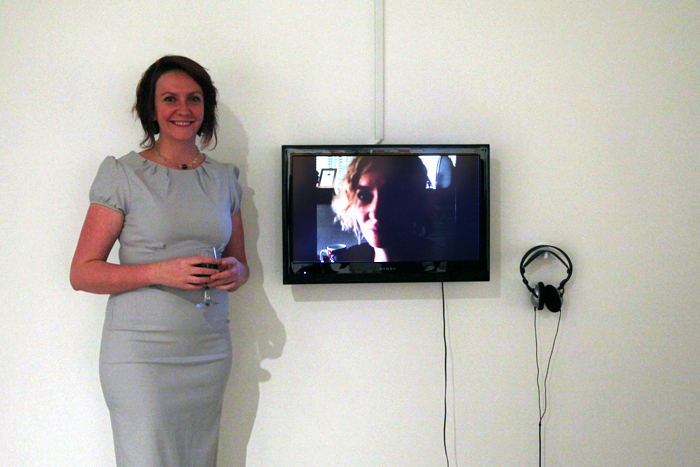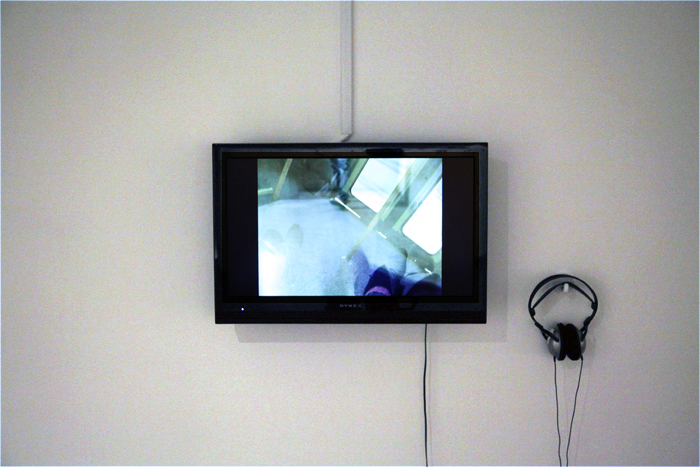 Sarah Christensen
A Walk Within (1)
, Digital video, 1:34min, 2011
Moment 2 (excerpt from A Video Diary, 1:46:07)
, Digital Video, 1:44min, 2011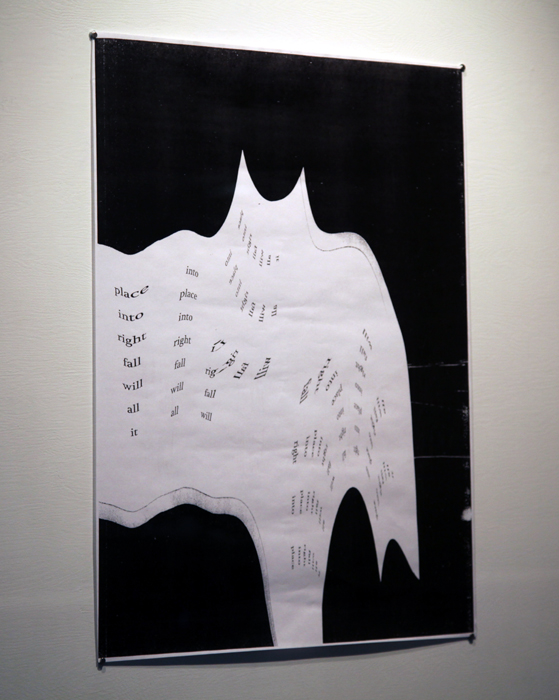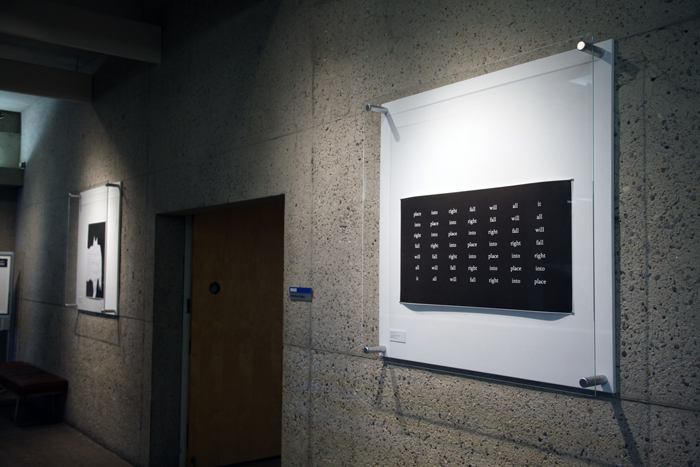 Bonnie Patton
Book Still (Batman)
, Xerograph on paper, 2012
It All Will Fall Right Into Place (revisited)
, Digital video, 2012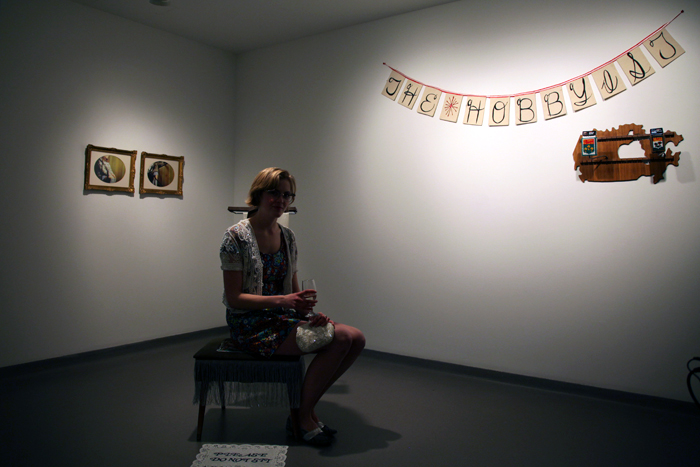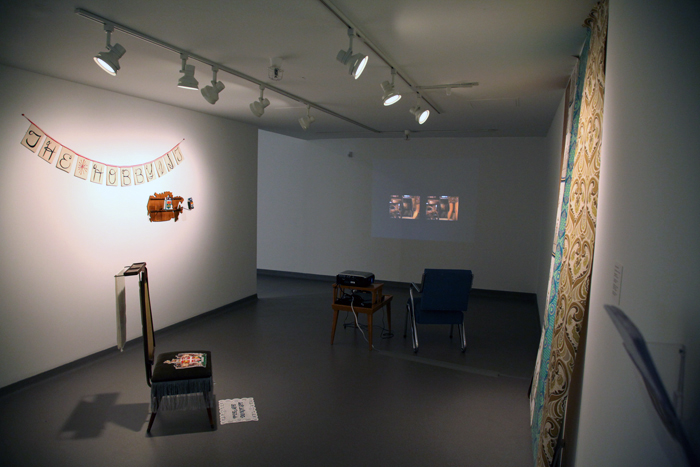 Arianna Richardson
Select wallpapers from the Collection
Newfoundland
, Embroidery on vintage chair, 2011
Contemplating a Move
, Digital photographs, 2011
Canada Smokes (Call 524-3752 to order your today)
, Cross-stich, found objects, 2012
Deep Dark Woods Dance
, Digital video, 2:36min, 2011
Curatorial Statement
it all
will fall
right
into
place*
The eight artists featured in the exhibition communicate their ideas through a diverse range of materials and idioms. Apart from their shared experience as students in the flux of discovery and experimentation, perhaps what unites them most is a probing interest in the creative process.
Each of these artists is remarkably fearless in their explorations, exploiting the possibilities of paint, ink, fibres, textiles, found objects, photocopiers, video and digital software in the creation of works that intrigue and absorb the viewer.
For this group of promising artists nearing the end of their undergraduate studies, it all will fall right into place.
– Dawn Cain
Guest Curator
* The title of a work by Bonnie Patton, this phrase, which conveys a sense of hopeful optimism that captures the essence of the exhibition, has been adopted as its banner.
About the Artists
Charissa Brown
Illusions that project a narrative of genuine and sincere emotion that can transcend spoken language are an important part of my work. Colors that are vivid and at times jarring are something that gives the images another layer of visual and symbolic meaning.
Bunny III is fascinatingly symbolic through western culture. It can start as the sweet Easter bunny, be a chocolate idol in a children's movie, a sexual symbol in a magazine or a symbol of witchcraft. Cognitive dissonance is about conflicting views and opinions about actions and emotions within one's self.
Sarah Christensen
My existence has always included various forms of self-documentation, which are currently being engaged through my experimentation with video. I enjoy the uncomfortable and challenging process of baring my thoughts, fears, joys, insecurities, and musings to the motion camera, as this process exemplifies the raw sense of an intimate experience and is defenseless to the interpretation of the other. This immediately gratifying medium has provided a place to explore my vulnerability through exposing my captured moments.
Cindy Gauthier
I grew up with two very different ways of looking at the body: the scientific approach utilized by medicine, and the distortions and mutilations in horror films. After beginning university, I began seeing even more ways to look at the body being exposed to grotesque art, as well as theories about abjection and different theories about horror films. However, my artwork is not intended to be exactly like any of these despite sharing subject matter; rather, I want to distort to create a space where anything, particularly the body, is both beautiful and flawed, grotesque yet intriguing.
Neysa Hale
Yarn in Second Skin draws upon the textile world while inscribing "a range of protective, comforting and homely values." Its characteristics together with the enveloping of my body create a relationship to nostalgia – the act of yearning for the past – by becoming a second skin. It moves and breathes covers and protects me in the way that skin protects my body, while the act of crocheting behaves like a returning memory repeating itself over and over again becoming an expression, a connection, and a stabilizer.
Derrick Hoekstra
There are many ways to measure time, weeks months hours days that being said with fifty two cards in a deck one for each week of the year four suits four seasons I have measured my own life with these decks of cards.
Nicole Lalonde
Drip – Manifested through simple, performative gestures, my works revolve around concepts of twinship, sexuality, identity, and dichotomies. For the most part, these broad subjects are employed as a means to understanding society and culture.
Wipe – Recently my grandmother passed away due to Fahr's Syndrome – a debilitating disease much like Alzheimer's. Although, my chances of inheriting this disease are slim, I cannot help feeling haunted by a potential loss of self. Ingrained within this piece is both my fear of mental illness and the complicated emotions and psychological states that I experienced during this time.
Bonnie Patton likes to learn.
She likes to learn to the point where her artwork is all about learning,
specifically about language,
but learning in general.
She learns by working with her hands, using paper and typewriters and photocopiers
and anything else that strikes her fancy.
She learns by writing.
Bonnie Patton likes to write.
She likes to write to the point where her artwork is all about text and words.
Bonnie Patton likes to play.
The works included in this exhibition are the result of subjecting the phrase "It All Will Fall Right Into Place" to a combination of the format inspired by Lewis Carroll's "Square Poem" and photocopy experimentation in which the paper was moved around while the photocopier was scanning. The result is a new and unusual way of looking at text and the visual forms it can appear in.
Arianna Richardson
"O Canada!
Our home and native land!
True patriot-love
in all they sons command.
With glowing hearts
we see thee rise,
The True North
strong and free,
And stand on guard,
O Canada,
We stand on guard
for thee.
O Canada,
glorious and free!
We stand on guard,
we stand on guard for thee.
O Canada,
we stand on guard for three!"
– R. Stanley Weir, 1908
About the Curator
Dawn Cain has been the Curator of BMO Financial Group's Corporate Art Collection since 2003. Cain was formerly Curator of the Malcove Collection at the University of Toronto, where she also taught undergraduate and graduate level courses in art history from 1997 to 2006. In addition to her curatorial responsibilities for BMO's art collection, which include proposing installations for the BMO Project Room, Cain developed, organizes and administers the BMO 1st Art! Invitational Student Art Competition and curates the annual 1st Art! exhibitions at the Museum of Contemporary Canadian Art (MoCCA). When she is not at BMO, Dawn researches, lectures and writes in her areas of expertise. Currently she is working with Elisa Coish on a documentary film and biographical text about Dr. Lillian Malcove, a Freudian psychoanalyst and art collector of significance, who was raised in Canada and lived in New York from the 1920s to the early 1980s.