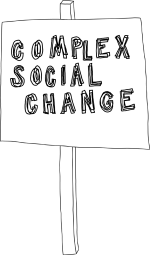 Complex Social Change: Teaching, Performing, Exhibiting, Designing, Mapping is an interdisciplinary research program involving Josephine Mills (Principal Investigator, Art Gallery), Bruce MacKay (Liberal Education), Lisa Doolittle (Theatre & Drama), Tiffany Muller Myrdahl (Women & Gender Studies), Emily Luce (New Media), and Louise Barrett (Psychology). The project brings together scholars from different disciplinary backgrounds with a common interest— a fascination with the beautiful, challenging, confusing evolution of our society. We are a community of change-makers, investigating how change is made. Our goals are to contribute to a contemporary definition of liberal education and to better understand what is involved with creating participation and engagement in activist actions in the current social climate. We will explore theoretical positions and frameworks for effective, sustained activist engagement using examples of past successful actions and theoretical reflections from feminist, anti-racist, disability, and health (especially AIDS) movements as well as exploring current issues around public engagement.
The debates surrounding the recent Occupy movement prompted the discussion which lead to this project. We are more interested in the larger issues raised about what constitutes effective action and whether the current young generation are engaged in social issues. We want to explore whether nascent activist energies can be sustained enough to create change. How can the interests of students who are focused on career training or who approach learning with inactive passivity be expanded and nurtured so that they can act with greater alertness and attention to issues that they face as global citizens? The Occupy movement, no matter how disorganized they may appear to be, suggests that what may be lacking is the theory, knowledge, and skills necessary to sustain active engagement against discursive, political, and economic pressures which encourage passive acceptance. Our research project will explore connections between a liberal education and encouraging activism and social engagement. In this way, the research will both contribute to a contemporary definition of liberal education as well as contribute to understanding the issues involved with putting theory into practice when engaging people through public events.
The project is funded with a generous grant through the Interdisciplinary Research Development Fund from the University of Lethbridge. As well, projects in the UofL Art Gallery are supported with funding from the Canada Council for the Arts and the Alberta Foundation for the Arts. Running from September 2012 to March 2014, the project includes a series of exhibitions, video programs, public talks and panels, performances, courses, and a website (to be launched in January 2013). Student interns will contribute to the project and we hope that it will continue to grow with further partnerships and connections.
Visit the Complex Social Change Website