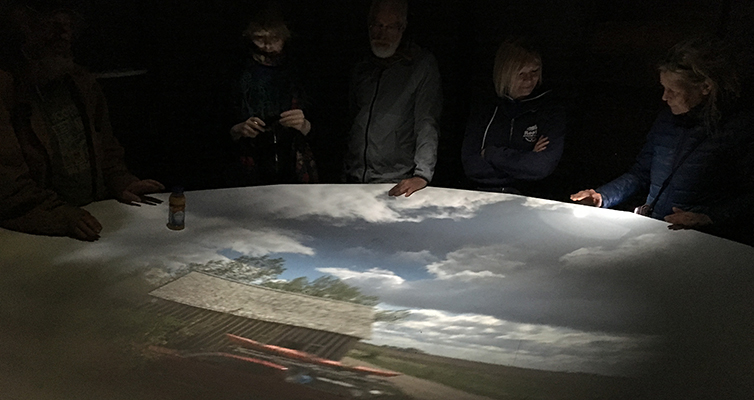 You Are Here will be a series of exhibitions, workshops, performances, and presentations designed to invite a diversity of people in Southern Alberta to find new ways to think about the future of their environment. uLethbridge Art Gallery will work with local, Canadian, and international artists and partners in the community to invite a range of people in Lethbridge and the surrounding area to discuss ideas generated by exhibitions and to participate in workshops and performances. Artists include Ed Pien (Toronto), Karin Van Dam (Amsterdam), Jennifer Wanner (Calgary), Jackson 2bears (Lethbridge), and look for more to be announced.
You Are Here: art, discussion, and complex social change
University of Lethbridge Art Gallery, February 2017 – June 2018
It is becoming impossible to ignore that our environment is in crisis, but the sheer scope of the problem is so daunting that it is difficult to grapple with the issues involved. We are overwhelmed by catastrophes in our own regions – for Alberta, the wildfire in Fort McMurray and the flood in Calgary and High River – and all the fires, floods, mudslides, earthquakes, blizzards, droughts, and tsunamis around the world. The discussion about the environment can feel like rearranging deck chairs on the Titanic with the same points being raised over and over along with the never-ending argument with those who still deny this reality. Paralyzed by the details, one is left feeling unable to make much-needed change. You Are Here aims to work with the specific property of visual art to spark the imagination in order to open up new perspectives on the discussion about our environment and support productive possibilities for the future.
The University of Lethbridge Art Gallery will work with artists and partners in the community to invite a range of people in Lethbridge and the surrounding area to discuss ideas generated by exhibitions and to participate in workshops and performances. Of course the future is unknown, but rather than wandering aimlessly, we can support active participation in the issues that affect our future. In the same way that a surveyor uses triangulation to plot a location, the exhibitions and activities for You Are Here will provide points to give direction. Surveyors establish two known points from which they can to identify a third point. When seeking an unknown source, such as a resistance radio signal, the triangulation process is repeated to allow the seeker to narrow the search and select the next direction in which to proceed. Each exhibition or performance, and each individual art work and moment within those, provides one point of reference and the viewer is the second point. From these two known references (oneself and the art work), the viewer can start to focus on the direction they want to explore as they head into the future. As that person goes from one exhibition and event in the series, or moves within an exhibition or performance, they build up a series of references and they can create their own sense of direction; and in conversation within the space of the gallery, during workshops, and participating in events, the individuals can collaborate to map alternative paths forward.
Brief background on the artists:
You Are Here will feature 5 lead artists. Toronto-based artist Ed Pien draws on sources both Eastern and Western from Asian ghost stories to the works of Hieronymus Bosch and Francisco Goya. The large-scale, immersive environments he creates produce a sensual and emotionally powerful experience for the audience. Led by Lisa Hirmer, DodoLab works at the intersections of visual art, social practice, performance, and design and is particularly concerned with barriers that prevent adaptation and change within human ecologies. Jackson 2bears is a Kanien'kehaka (Mohawk) multimedia installation/ performance artist and cultural theorist from Six Nations who moved to Lethbridge last year to become an Assistant Professor in the UofL Dept. of Art. 2bears takes a cross-cultural and multi-disciplinary approach to questions of contemporary Indigenous identity, technology and interactive/performance art. Living in Reykjavik and Berlin, Gunnhildur Hauksdóttir is an Icelandic artist who has a substantial international career and has not exhibited in Canada. Her work combines audio, video, drawing, and performance to explore major themes like cultural identity, nature, and fear. Amsterdam artist Karin Van Dam has a lengthy international career, but has only exhibited in one group show in Canada. She produces large-scale installations that are closely tied to the physical and economic context of each site and involve her conducting advance research and sourcing her materials, mostly consisting of industrial items, at the location.