The following publications are listed chronologically, from the most recent. The accompanying price is in Canadian funds. The price includes shipping and handling; GST will be added. To purchase any publications below or to inquire about quantity discounts, please contact: Jon Oxley (jon
oxley
uleth
ca) | Art Gallery Administrative Manager | 403.329.2569.
The Sleeping Green : no man's land 100 years later = un no man's land cent ans après

2017
Artist: Dianne Bos
Edited by Josephine Mills
Essays by Harry Vandervlist and Josephine Mills
Forewards by Catherine Bédard and Andrew Hakin
Catalogue of a travelling exhibition originally held at the Canadian Cultural Centre (Paris, France) in April 2017.
Co-published by: Canadian Cultural Centre.
Text in English and French.
Catalogue d'une exposition itinérante présentée initialement au Centre culturel canadien (Paris, France) en avril 2017.
Publié en collaboration avec le Centre culturel canadien.
Texte en anglais et en français.
Hardcover/couverture rigide, 144 pages ISBN 978-1-927770-08-5
Price/Prix: $29.95
Visit Travelling Exhibition Page
Visit Helen Christou Gallery Exhibition Page
Complex Social Change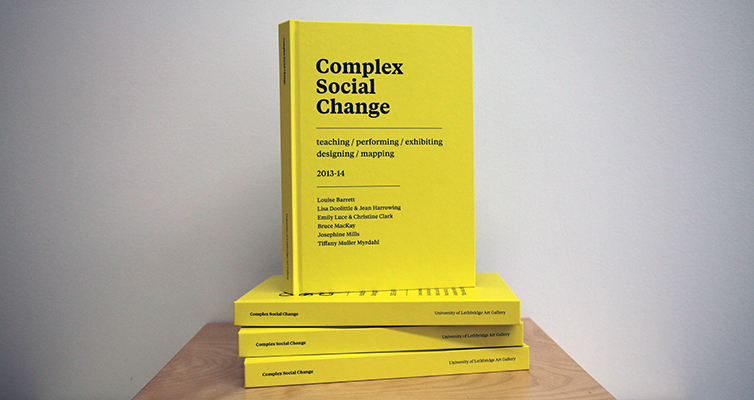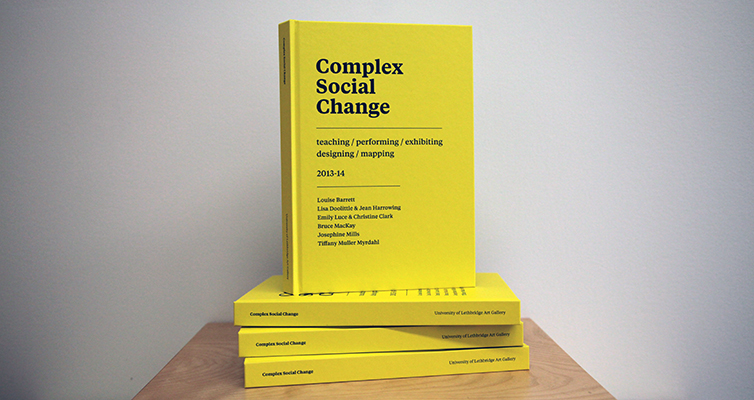 2014
Edited by Josephine Mills
Essays by Louise Barrett, Lisa Doolittle and Jean Harrowing, Bruce MacKay, Josephine Mills, and Tiffany Muller Myrdahl
Artists projects: Lori Blondeau and Adrian Stimson; DodoLab; Emily Luce and Christine Clark; and the Feminist Art Gallery.
184 pages, hardcover
Price: $30
U of L Art Gallery Exhibitions Include:
Acting Out (Helen Christou Gallery)
Acting Out (Main Gallery)
We Can't Compete
Canadian Idol No More
Activist Love Letters
The Anatomy and Etiquette of Social Change
Project Channel (various programming)
Additional Information:
The Complex Social Change Website
Dr. Soanes' Odditorium of Wonders

2013
Forward by Josephine Mills
Essay by Jane Edmundson
80 pages, softcover
Price: $25
The Lion's Share

2012
Essays by Josephine Mills and Elizabeth Diggon
64 pages, hardcover
Price: $25
Safe Home

2011
Forward by Dr. Andy Hakin
Essays by Jim Coutts and Josephine Mills
82 pages, hardcover
Price: $40
Snap Crackle Pop

2010
Essays by Josephine Mills and Riva Symko
72 pages, softcover
Price: $20
Land Matters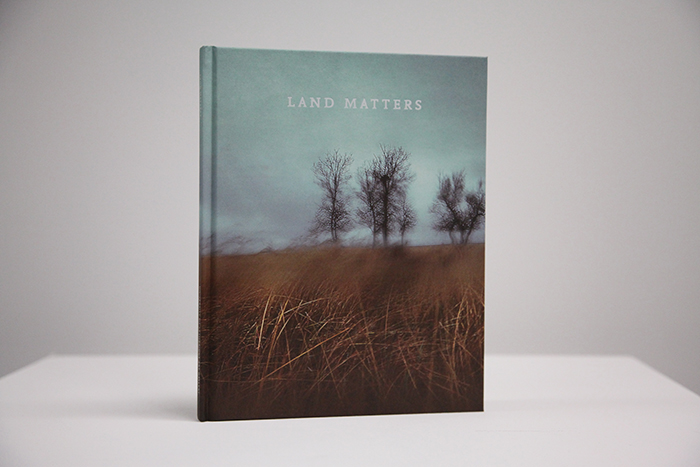 2009
Essays by Josephine Mills and Linda Sawchyn
80 pages, hardcover
Price: $40