Coutts Centre for Western Canadian Heritage
Select Summer Sundays
Every year from May to August The University of Lethbridge Art Gallery invites artists to join En Plein Air at the Coutts Centre for Western Canadian Heritage near Nanton, AB. We usually host 4 'open house' days for artists to create and enjoy the use of the property together with other artists, friends and family.
DEAR EN PLEIN AIR ARTISTS:
The Coutts Centre has many new developments enhancing the experience of Jim Coutts' homestead. Words fail to convey the wonderful developments there…but DO check out the stone walkways, a 'new' greenhouse, the pavilion building, a new bandstand, AMAZING GARDENS…to cite a few!
There is NO CHARGE to participate as an En Plein Air Artist, or for attending the Coutts Centre. The Centre continues to offer itself to inspire, as per Jim Coutts' vision.
Artists are welcome to bring their own lunches and dine in the garden or the pavilion. The U of L Art Gallery will be on-site providing basic drawing supplies and tools. Bottled water will be available in the ChickenHouse, along with self-serve coffee and tea – at no charge.
COUTTS CENTRE: EN PLEIN AIR 2023 SCHEDULE – (All dates are Sundays) – open 10am – 4pm*
May 14 – with Mother's Day Brunch
Jun 18 – with Father's Day Brunch
Jul 16 – with Coutts Arts Festival
Aug 20 – (with possible 'Remediation Plot' event with artist Alana Bartol TBA)
*some Artists arrive earlier, some stay later – but these are the hours that will be staffed, with open public washroom access
If you are planning to attend as an En Plein Air Artist, email Jon Oxley (jon
oxley
uleth
ca) | Administrative Manager or call 403.329.2569 and let him know how many are attending with your 'party', so that Coutts Centre and Gallery Staff can plan for numbers and staffing needs. Even if you decide 'last minute', please let us know, whether you are arriving solo…or with the whole clan.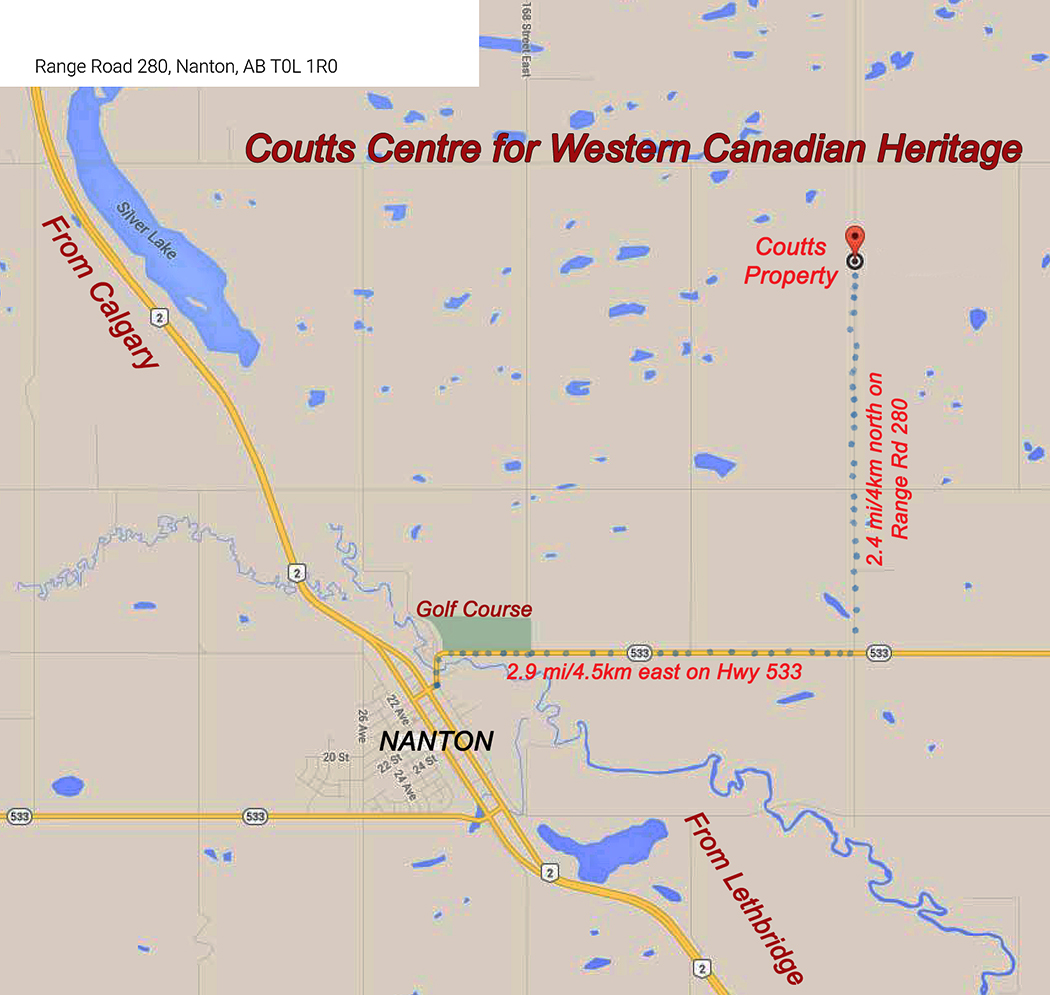 Frequently Asked Questions:
Can I come with a group?
Sure. But if they want to eat Brunch, make sure they have tickets, as most brunches will be 'pre-sold' by ticket. The caterer has some capacity for on-demand brunches.
What buildings are open?
Most buildings will be accessible:

Pavilion – for dining, shelter and live music
ChickenHouse – for art supplies, self-serve coffee and tea, bottled water, shelter, conversation
North Barn – where the brunch action is
Greenhouse – it's a work of art…you have to see it!
Camera Obscura
Art Shack, South Barn – public washroom building
NOTE The Main House is typically locked, unless a tour is scheduled.
Is there food for purchase on-site?
Is there wi-fi?
Yes, the University of Lethbridge's open wi-fi network
What's phone service like?
Depends on your phone service provider, but mostly good
What if it rains? Or if it's too hot?
It's beautiful when it rains – but there's lots of indoor space to get out of the rare squalls. There's also lots of cool shade!
What if it's windy?
Yeah, well…it IS southern Alberta
Can I attend the Coutts Centre on other days?
Yes, but email the Coutts Centre first Coutts Centre (couttscentreulethca) to make sure your visit doesn't clash with a site booking or construction project
Can family join Artists for En Plein Air?
Of course. Lots of people bring books, laptops and cameras…and spend a lovely day at their own pace.
Can I bring my dog?
Yes, provided the dog is well controlled and toileted. There ARE older free-range cats living on site – dogs must be controlled to prevent them from chasing the cats.
Can I bring my cat?
Can I bring a kite or a frisbee?
What kind of artists are welcome?
We don't have a pre-conceived notion of this – Jim Coutts intended the site to inspire and promote all forms of the arts, and we welcome visual, photographic, and sculptural artists, playwrights, novelists, Blackfoot beaders and round-dancers, Shakespearean troupes, opera singers, folk artists, multi-media artists, bloggers, social media influencers, and Tibetan sand painters. We may have missed a few…but hope we made our point.
MORE QUESTIONS? Email Jon Oxley (jon
oxley
uleth
ca) | Administrative Manager or call 403.329.2569 – he will try to answer anything not covered here.