Kirsten Christopherson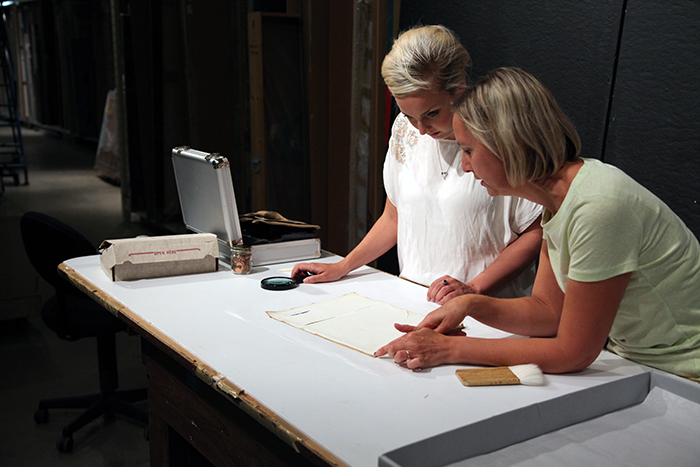 Image: Kirsten Christopherson getting hands-on experience with U of L Art Gallery Registrar/Conservator Juliet Graham.
Over the last four years of my post secondary education I have been able to discover a personal passion for both art and artefacts. Given my natural interest in history, these remnants of the past bring stories to life. My personal feelings when around these objects are something I would love to bring to others in the future as I hope to ignite sparks in those who may not have had the opportunity before. Therefore, I now feel it is the perfect time to get hands-on training in a gallery setting to apply to future career prospects as I will be done my Bachelor of Arts in just a few short months.
With that being said, I hope to achieve a number of specific goals during my time at the University of Lethbridge Art Gallery. I am interested to see how my schooling has prepared me for this, as well as to see if the passion I have both in the classroom and in galleries carries forward into working in the industry. I look forward to working under Juliet Graham this semester as she has already told me about her personal career history, which varies from a private conservator to her current position as registrar. I have found her to be extremely helpful and willing to answer any questions I have about her decisions and will definitely use her advice and experience in my own path. I value her knowledge and hope to learn more about her experiences in the art field. This insight will ideally give me the advice I need to pursue my passion.
Other than the practical advice and feeling confident working in the new setting of the gallery, I expect to learn a number of hands on things as well. I would like to learn proper art handling, preservation, photographing, condition reporting, testing and some basic conservation techniques. Based on the "Caring for the Collection" conservation exhibit project I have started with Juliet, I expect I will learn this thoroughly. I also look forward to helping Juliet brainstorm ideas for this exhibit and learn more about the curatorial process.
Last but not certainly not least, I hope to get acquainted with the university's collection and expand my art historical knowledge. I am looking forward to this semester and all it will bring me.
David Smith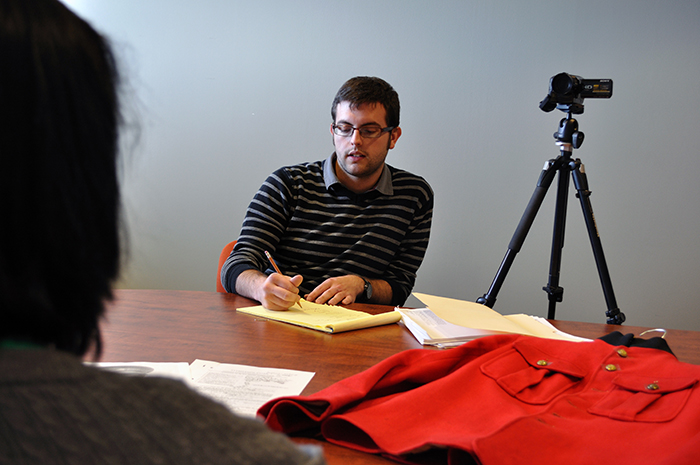 Image: David Smith conducting an interview with the owner of an item donated to The Galt Museum & Archives.
Having three previously completed internships under my belt, I recognize the incredible value that these experiences provide. This semester I have decided build upon two of my previous internships. Working with the Applied Studies Office and Josephine Mills has allowed me to tailor each of my applied studies at the Galt Museum and Archives and the University of Lethbridge Art Gallery to develop new skills and gain practical experience.
Conducting research on the military collection at the Galt Museum has given me the opportunity to experience the ongoing care that permanent collections receive. Interviewing previous donors and descendants of war veterans has allowed me to see firsthand the way public collections serve as an incredible resource to the community. I am thoroughly enjoying the emotional attachment I develop by connecting on a personal level to the stories of real people's lives.
At the University of Lethbridge Art Gallery, I have the privilege of working on an advanced curatorial project of my own creation. This internship will allow me to work with a contemporary artist, develop my own theme, secure an exhibition space and apply for grant funding. All of these aspects will serve me well after I complete my degree and continue to pursue my career as a curator.
My internships this semester at the Galt Museum and the University Art Gallery represent my fourth and fifth internships respectively. Internships are an excellent way to get your foot in the door, gain practical experience, and get academic credit. They have certainly enhanced my educational experience.
Archives