Allison Spencer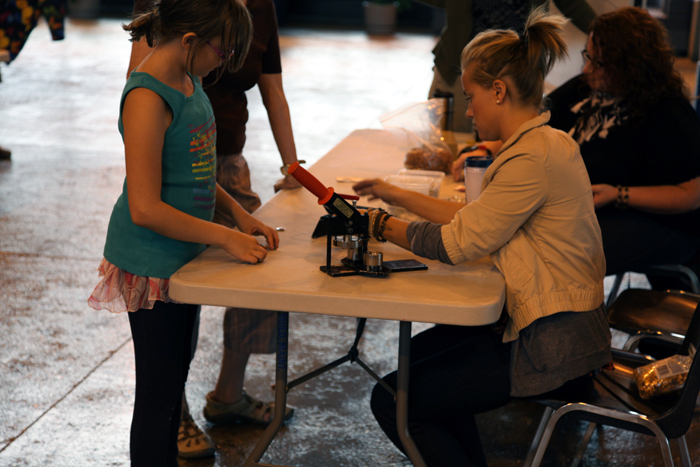 Image: Allison Spencer making children buttons at Culture Vulture Saturdays "Button Making" Activity.
As a 4th year Art History/Museum Studies student, it is my last year to gain as much experience and skill that the University of Lethbridge Art Gallery has to offer and that I can take with me to future job opportunities. My ultimate goal, post graduation, is to work in the area of public programming in a cultural institution. As a Public Programming Gallery Intern I have been given the opportunity to take responsibility for the programs which the U of L Art Gallery offers, such as Culture Vulture Saturday's and online educational programs.
Working closely in developing and enhancing the programs offered by the U of L Art Gallery, I am able to learn skills such as program development and distributing information about the events. I am researching public programs offered by the other cultural institutions in Lethbridge, and surrounding areas, in order to assess their context and help determine the direction for future U of L Art Gallery programs that could be used within schools. The U of L Art Gallery internship will allow me to gain further knowledge in my area of specialization and give me the opportunity to apply my skills to the development of educational and interactive art activities for people of all ages.
Bonnie Patton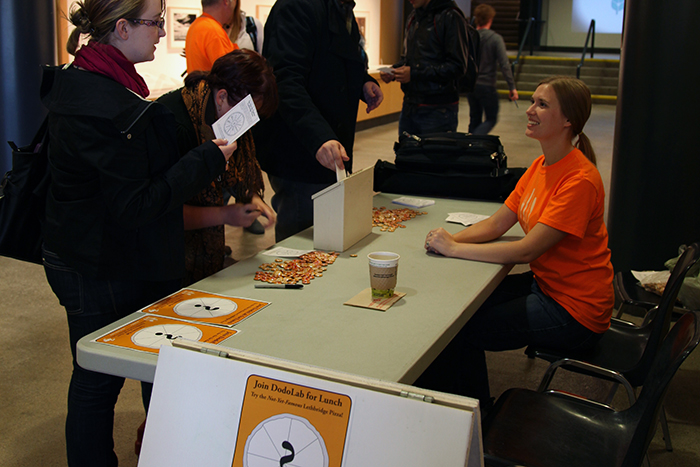 Image: Bonnie Patton engaging with the public during The Important Things to Know About Eating and Drinking (In Lethbridge) (Food Series) event.
I've had a lifelong interest in arranging things, and this interest has grown into an inquiry into how the arrangement or display of objects and ideas affect how the object or idea is perceived. This idea applies to academic, social, and political life (such as curriculum, advertising, and propaganda). One hub that is open for exploration, in this regard, is the museum or art gallery. Here, objects are arranged in a way that is meant to convey or provoke relations and associations between the objects on display and grander ideas in a general theme.
I have taken both the Introduction and Critical Issues in Museum Studies courses and I have also been working at the University of Lethbridge Library for the past four years. I aim to take these experiences in collections theory and practice and apply them to my internship here at the U of L Art Gallery. I anticipate learning more about collections and exhibitions; mainly how to organize and improve collections, and to from 1974 to 2000, and create digital records of these exhibitions. I will also write about select art work in the Legend, assist with installing exhibitions, and learn about other ways of presenting ideas by helping DodoLab conduct their Lethbridge Pizza survey for the public. In short, my goal is to see how these things are done and to learn how to do them myself.
David Smith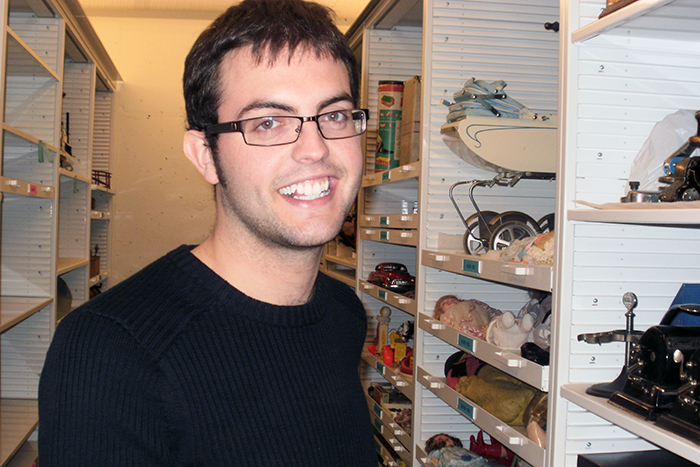 Image: David Smith amongst The Galt Museum & Archives collection.
As I was planning the trajectory of my third year academics in the Art History/Museum Studies program, I began looking for internship opportunities to incorporate into my learning strategy. Hearing only positive reflections from past interns about their experiences at the Galt Museum and Archives, I organized an internship through the Applied Study Office, supervised by Josephine Mills. As a past intern at the University of Lethbridge Art Gallery, I have recognized the value that internships present to students like myself. Working in the Collections Department at the Galt Museum and Archives has allowed me to gain insight into how art galleries operate similarly and differently to public museums. Many of the skills I have been working on through this internship are transferrable between the two institutions such as: object handling, research, operating databases, and permanent collections maintenance.
It is my desire to pursue a career as a curator, after I complete my education. I am particularly interested in the capacity curators have to shape identity and ideology. I respect the role curators play in presenting the public with a variety of alternative ideas. Planning exhibitions which challenge the ways people think about and interpret contemporary art is something I am very excited about. Both my past experience at the University of Lethbridge Art Gallery and my current internship at the Galt Museum allow me to develop the skills necessary to pursue this career.
Jennifer Vanderfluit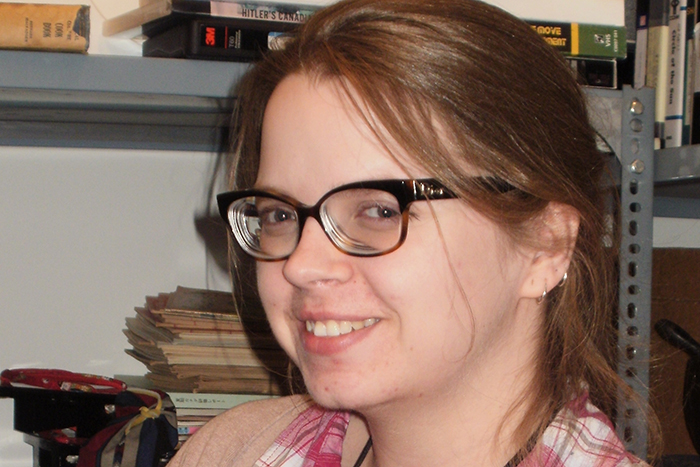 Image: Jennifer Vanderfluit taking a break from research at The Galt Museum & Archives to smile for the camera.
After working as an Archival Technician during a previous internship, I saw an opportunity to expand my knowledge of museum practice by working with Belinda Crowson in the Education and Programs department of the Galt Museum and Archives. Even though I plan on pursuing a career in archives, I think that branching out is important. Not only do many smaller institutions combine departments, but I believe that knowing how the other parts of an institution work promotes effective co-operation between departments.
Currently I am working on the Memory Box project. This involves the maintenance and creation of small collections for use in the community by individuals with Alzheimer's disease. These collections, or memory boxes, are grouped around various themes like "school days." It is important to incorporate as many of the senses as possible because any number of things can trigger a memory: the smell of crayons, the sound of a school bell, or the feel of a black-board eraser.
Not only will I have to make sure that the boxes meet the interests and ability levels of the users, it is important that those users are aware of the program. This involves successfully marketing a museum program to its target audience and I look forward to learning about this area of museum operations.
This is my third internship in the Art History/Museum Studies program at the University of Lethbridge and my second at the Galt. The AHMS program in the Art Department and the Career Resource Centre make setting up subsequent internships a painless process. I have found that the internship program is an excellent way to get valuable field experience and academic credit at the same time.
Archives