The Lion's Share (Food Series)
Main Gallery
Artist: Rita McKeough
Commissioned for the Food series, Calgary-based artist Rita McKeough created a mock restaurant in the gallery with found and constructed objects, kinetics and sound. This exhibition used a humorous and dream-like scenario to raise questions about the complexities of our relationship to eating animals.
Artist Biography
Calgary based audio, media installation and performance artist Rita McKeough has exhibited extensively in Canada since 1977 and has presented her work internationally. She has taught at various art institutions throughout Canada and has been a drummer in various bands. McKeough has maintained a commitment to artist run centers, community based art and music initiatives. She insists that she has been fortunate to have the support and assistance of her friends and community to produce her work.
Born in Antigonish, Nova Scotia, McKeough studied printmaking and sculpture at the University of Calgary where she received her BFA. She went on to study at the NSCAD University where she was awarded her MFA in 1979.
Artist Statement
In my installation and performance work over the past 25 years I have consistently interacted with architectural spaces and implicated architectural systems, often destroying and consuming the walls themselves. I have worked from a feminist perspective, sometimes more directly than others. I have always been drawn to social issues, idealism and social change. I hope to allow humor and self-criticality to be present in my practice and to strive to challenge myself to take risks. I have always been motivated by the challenge of responding to a site, which may be either a gallery space or a public space.
In a recent work Outskirts, which included a performance that was ongoing in the installation, I built electronic and mechanical devices, which performed aspects of the performance with me. Outskirts dealt with our relationship to the natural environment and our ambivalence about how to balance the freedom and mobility of our lifestyles with our concern for the environment. I would like to continue to explore the potential of a relationship to the performing object within my installation and performance work.
Over the past few years I have been interested in the l'informe (the formless) as conceived by Georges Bataille and recently theorized by art historians Rosalind Krauss, and others. The formless in relation to architectural space explores the dissolution of boundaries (disciplinary, performative, artistic) as well as works or ideas that are temporary, contingent, nomadic, hypothetical, historical and fictional conceptions of space. I am interested in re-imagining my relationship to the built environment within my research.
The Lion's Share
The Lion's Share is a new installation work based on my ongoing concerns about the consequences of urban and agricultural development and processes.
This work follows and builds on issues explored in my most recent installation work, entitled Wilderment. For this installation I created a series of small moving cranes that destroyed an imaginary prairie landscape, consuming the environment in the name of development. My reference point is the change in the landscape in and around Calgary where in recent years I have seen suburban development destroy prairie grassland at an alarming rate. I have been researching the design and science of cattle feedlots and the demands on the prairie from these various large scale industrialized farming systems. I am interested in juxtaposing the systems and structures that are used to feed livestock with the architectural designs of public eating areas. I am interested in constructing and performing with food products, perhaps enacting the foods concerns about its quality and the quality of its life.
I am drawn to chaotic and immersive environments that reconfigure contradictions and tensions in our everyday lives.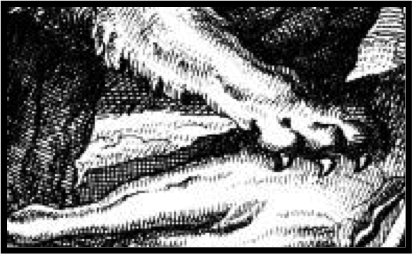 THE LION'S SHARE
Fresh Daily
All you can eat
Serve yourself
Bits and pieces or the whole thing
Share or don't
Mix it up
Lick the plates clean
Lick the table clean
Lick the floor clean
Take what you want
Take a little more
Take a few more bites
Drag some home for your family
Wipe your mouth dry
Lick your hands clean
Suck the bones dry
Don't worry about the mess
Nothing will be left
Nothing wasted.
Illustration of the fable from Francis Barlow's edition of Aesop's Fables, 1687