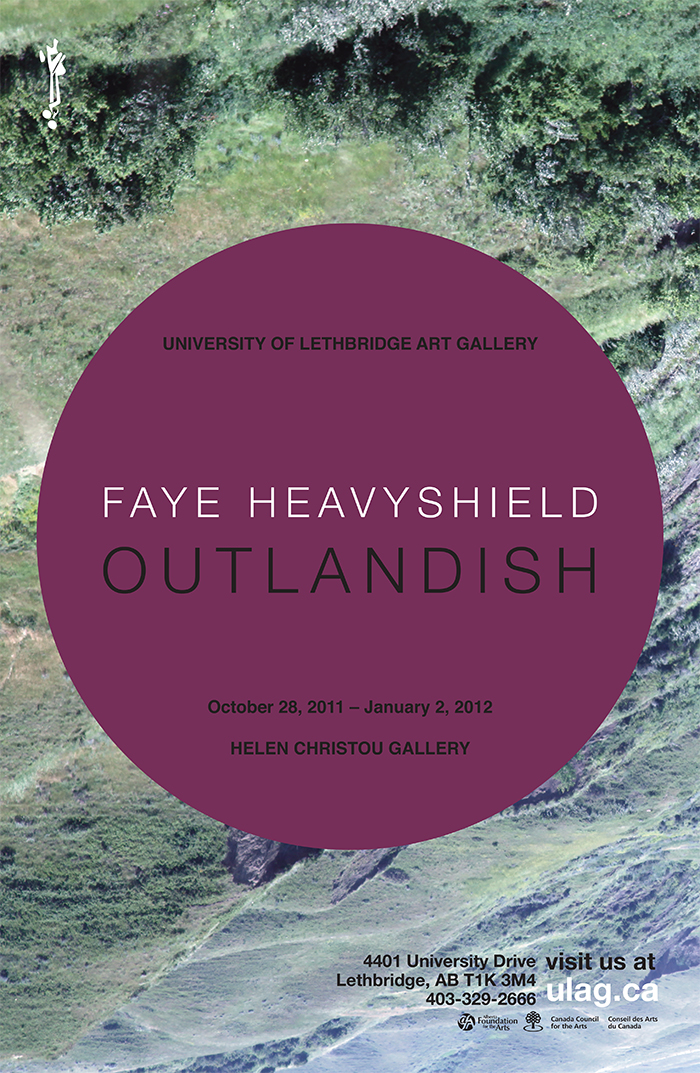 outlandish
Helen Christou Gallery
Curator/artist: Faye HeavyShield
For the exhibition Outlandish, nationally renowned artist Faye HeavyShield has created a new work designed for installation in the University of Lethbridge Art Gallery's satellite space, the Helen Christou Gallery.  References to, and images of, the landscape have been part of HeavyShield's visual vocabulary and art practice for many years.  Previous work such as rock paper river, body of land and camouflage are installations that came out of an exploration of a very simple equation . . . environment = self.
Outlandish continues in this vein and explores perspectives of the coulee formations that line the Old Man river.  HeavyShield produced a series of cut-outs of simple female figures to reference the local formations. With their bodies made from detailed images of the land – grasses, the river's edge, rocks – the figures appear to wear the land like a shawl and encourage meditation on the relationship to the land that sustains and defines its people.  HeavyShield's subtle use of gestural drawing and materials creates a quiet approach that supports contemplation and in-depth thought. For those rushing to class or work as they pass through the Helen Christou Gallery, outlandish provides a moment of respite and an invitation to pause and consider the landscape that surrounds the university – to consider the land itself, its history, and its relationship to our sense of self.
HeavyShield is an Alberta-based artist who draws inspiration for her work from her experiences growing up on the Blood Reserve in Southern Alberta and her life as a Blackfoot woman.  Using her personal history as motivation and inspiration for her work, HeavyShield often begins her process with journal writing. From her writing she extracts particularly intense and poignant memories which she turns into drawings. These drawings inform her sculptures which are often realized through the use of multiples (repeating forms and images).  She studied at the Alberta College of Art and Design and the University of Calgary. Since the 1990s, her work has been exhibited extensively across Canada in numerous solo and major group exhibitions.
Josephine Mills
Director/Curator,  U of L Art Gallery