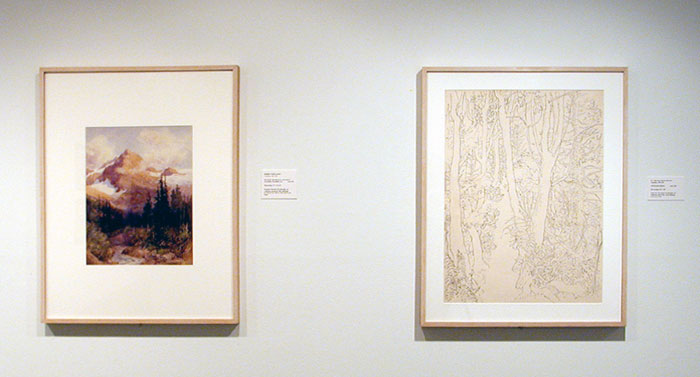 Sea to Sky
June 10 – September 20, 2002
Main Gallery
Curator: Josephine Mills
Historical Canadian Landscapes from the University of Lethbridge Art Collection
Exhibition includes paintings and drawings spanning 1866 to 1954 and provides a view of the century of artmaking during which Canada developed as a nation. In this period, Canadian artists created unique approaches to depicting this country.
Sea to Sky
Sea to Sky: Historical Canadian Landscapes from the University of Lethbridge Collection provides a view of the century of artmaking during which Canada developed as a nation. Spanning 1866 to 1954, the paintings, sketches and prints in this exhibition represent many of the Canadian artists who created unique approaches to depicting our country. Landscape played a crucial role in this period: as a central component in the formation of Canadian identity and the depiction of Canada to the world, but also as the dominant genre in Canadian art. In this way, images of Canadian wilderness and agriculture are at the core of concepts about this country. The importance of landscape continues for audiences and artists today. Much contemporary Canadian art work focuses on expanded notions of landscape with attention to the urban and suburban as well as to identity issues that are interlocked with this genre. The works in this exhibition continue to inspire interest and provide context for our current experience.
Sea to Sky includes a range of key artists from the mid 19th century when a Canadian art system first began to form through to the 1950s when the Canadian scene was well established. Artists such as Lucius O'Brien and Homer Watson forged the way for Canadian artists and applied styles from colonial centres to the periphery. As such, their work has strong connections with landscape painting throughout the Western world. Following World War I, Canada came into its own as country with an identity independent of Britain or France and with a strong sense of regional variation. Canadian artists embraced the newly emerging modernist approaches to artmaking and developed local aspects of this movement through their attention to the specificity of particular landscapes across Canada. Arthur Lismer, Paraskeva Clark and W.P. Weston are some of the many artists who were crucial in this development.
All the works in Sea to Sky are drawn from the University of Lethbridge Art Collection and demonstrate the impressive holding of this area within the collection. Situated at a liberal arts university in a small prairie city, the University of Lethbridge has a national reputation for the distinctive combination of a large and diverse art collection at a small university away from the major centres. Those that know Lethbridge are not surprised that a significant art collection is housed there as the city has long been home to successful artists and supportive audiences. A.Y. Jackson made many trips to Southern Alberta to visit with his brother who was a judge, but also to sketch an area that he loved for the unique views created when the prairies meet the mountains. Already well known as part of the Group of Seven, Jackson encouraged landscape artists in the region by going on sketching trips with amateur groups and motivating them to seek professional training. As importantly, he influenced art audiences who valued his images of the region along with their interest in work by Alberta artists such as H.G. Glyde. The construction of a university designed by Arthur Erickson literally cemented Lethbridge's reputation as a small city with a great appreciation for the arts. The selection of a Canadian architect with a major international reputation arose from the choice to make Fine Arts a major component of the school and thus also to support an art collection that serves the research and teaching needs of the faculty and students as well as plays a key role for the public.
– Josephine Mills, Director/Curator
Associated publication titled "cul-de-sac" is available on the U of L Art Gallery's PUBLICATIONS PAGE.