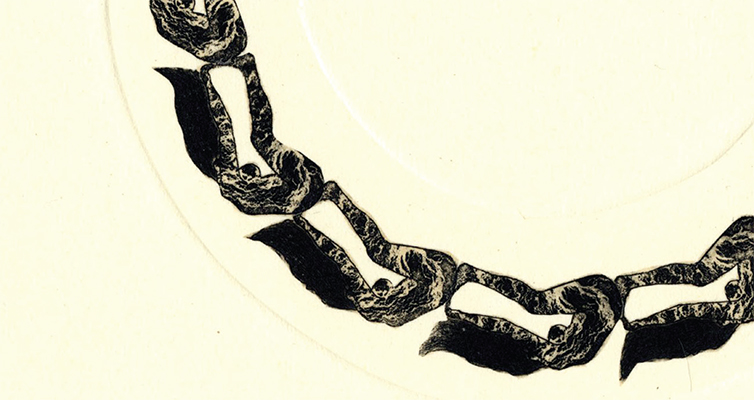 Image: Katie Marie Bruce, States of Permanence: Wince (cropped), 2020.
Art by Katie Marie Bruce
This powerfully personal exhibition pairs Katie Marie Bruce's prints and bronze sculptures depicting her experience through marks left on the skin with prints that Bruce selected from the uLethbridge collection that represent women's bodies through the filter of the male gaze.
Curatorial Statement:
For this latest instalment of uLethbridge Art Gallery's long-running art + people = x series, artist Katie Marie Bruce has produced a series of prints and bronze sculptures as well as selected works from the University's renowned art collection. One goal for the series is to make the amazing resource of the art collection available to emerging artists and thereby support the development of their practice. As well, art + people = x gives our audiences a range of perspectives on the collection. With only two curators on staff, our areas of expertise are reflected in the exhibitions that we organize. I asked Katie to produce an exhibition partly because she is an expert print maker and we have a strong holding of prints within the collection, and partly because of the content of her work. Katie has developed a powerfully personal approach that examines feminist issues through an exploration of the experience of feeling: the details of skin as the surface of one's body, and the record kept there of one's experiences.
When approaching the collection, Katie at first thought she would be responding to technique. We own close to six thousand prints and within these holdings are an extensive range of printed materials and artists. But, in going through the images on the database, Katie was disturbed and overwhelmed by the repetition of women's bodies produced by those who do not inhabit that skin, images produced through the default filter of the male gaze. As she went through thousands of works of art, she became increasingly angry. Angry that our society takes it for granted that it is acceptable for women to be represented as objects and not to be the subjects who represent their own experience, represent their own skin. While this insight isn't new, it is certainly still relevant, as we watch women's healthcare continue to be threatened by unfeeling government bodies or allyship become lip service before it has left the tongue. A key feminist concept is that "the personal is political," meaning both that one can understand social and cultural structures through personal experience and that personal experience provides the means to demonstrate how the political level operates. In this way, Katie's vulnerable and emotional works generate a conversation with these images by male artists.
In selecting the works from the collection, Katie and I know there will be people who do not like these art works being on display. For some, it will come from beliefs that there shouldn't be representations of nudity in public; others could be angry in the same way as Katie and me, that they don't want the objectifying of women's bodies to continue. In order to change the treatment of women's bodies and experiences, we need to have awareness and discussion.
Josephine Mills
Director/Curator