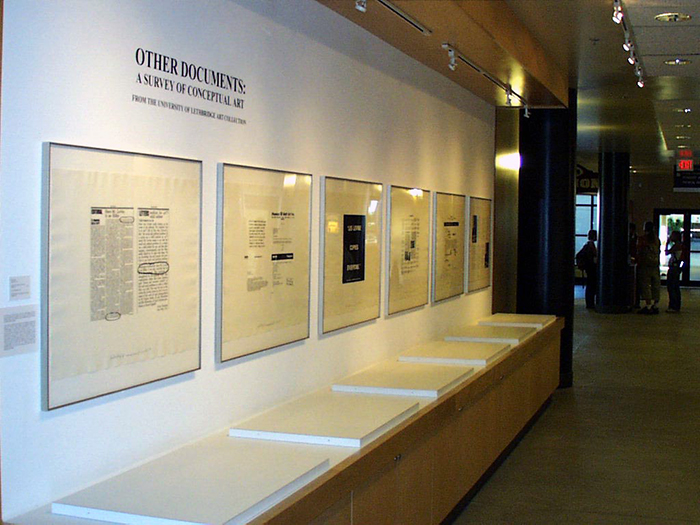 Other Documents: A Survey of Conceptual Art
August 23 – October 19, 2002
Helen Christou Gallery
Guest Curator: Ryan Doherty
Exhibition organized by the Southern Alberta Art Gallery
The Art of the Nova Scotia College of Art and Design
In the fine arts we operate on the premise that we do not know what art is, however, we do know that the student must participate in the formation of his program if it is to be meaningful. Our obligation to the student in fine arts is to expose him to professional people and provide him with the best possible facilities and equipment which will allow him the most fruitful kind of exploration.
– Garry Neill Kennedy, President, NSCAD (1967 – 1990), written for a 1968 issue of artscanada
The philosophy outlined above was intended to reflect the vision of Halifax's newly expanded Nova Scotia College of Art and Design, an institution devoted to reinventing the means and methods of education in the arts. It was not long after that Kennedy's ambitions were put to the test when Gerald Ferguson, Art History Department Head, and Seth Sieglaub, a New York critic and curator, began plans to facilitate an International conference. Featuring a hot list of leading artists (among them Iain Baxter, Joseph Beuys, Robert Morris, Robert Rauschenberg, Michael Snow and Lawrence Weiner) the Benson and Hedges sponsored conference quickly degenerated into a widely criticized event, considered by many of the invited artists as exploitative and commercially driven. Nevertheless, the exposure had a profound effect and NSCAD was soon a familiar name, touted as an internationally relevant institution and leading force in post-minimal and conceptualist art.
Dedicated to providing students direct contact with professional artists, NSCAD initiated two extraordinary programs: the Lithography Workshop (1969-1976) and NSCAD Press. Together with influential exhibitions at The Anna Leonowens Gallery on the NSCAD campus, these resources had an unparalleled effect on the College attracting an astonishing roster of visiting artists and faculty including Vito Acconci, John Baldessari, Iain Baxter, Joseph Beuys, Eric Cameron, Les Levine, Robert Smithson, and Lawrence Weiner. NSCAD became a major factor in what has been deemed a 'renaissance in lithography' and was heralded as an innovative center both conceptually and technically. Moreover, with Conceptual artists preoccupied with subverting aesthetic conventions, production methods, commodity forms and distribution modes, NSCAD Press was a natural ally producing artist books and other publications including Michael Snow's Cover to Cover, and Donald Judd: The Complete Writings 1959-1975. As developments in art shifted and interest in conceptually-driven work waned, the Lithography Workshop and NSCAD Press inevitably closed, however not without having left an exceptional legacy.
It is worth noting that NSCAD has recently launched a new program to recognize and preserve the exceptional and influential work produced during this important era. The NSCAD ARCHIVE PROJECT, a joint venture between the Art Gallery of Nova Scotia and NSCAD stated its aim is to "locate and collect important representative works of faculty and graduates of the college who have made a significant contribution to Nova Scotia, Canada and the world through committed art practice."
When graduates from NSCAD spread throughout North America as artists, teachers, curators and other professionals, a strong relationship was soon formed with The University of Lethbridge. Alumni such as Eric Cameron, Dagmar Dahle, Julie Duschenes, Gerald Ferguson, Glen MacKinnon, Robin Peck, Catherine Ross and Nick Wade have all come to Lethbridge as visiting artists, lecturers, or faculty members bringing with them a dedication to arts education based on the principles established at NSCAD. Allan MacKay became the Southern Alberta Art Gallery's first Director and established what would become an internationally renowned reputation. Jeffrey Spalding arrived at The University of Lethbridge with an energy and enthusiasm that, as both Director/Curator and Professor of Art, dramatically influenced the institution's profile as a centre for art education, housing one of the nation's finest collections of art.
It is through this relationship and the generosity of Garry N. Kennedy that resulted in the remarkable donation of more than 80 works of art in 1987. All of the works in this exhibition are selected from this donation, all are significant examples of Conceptual art, and all were produced at NSCAD's Lithography Workshop.
– Ryan Doherty, Guest Curator