Corrie Hartley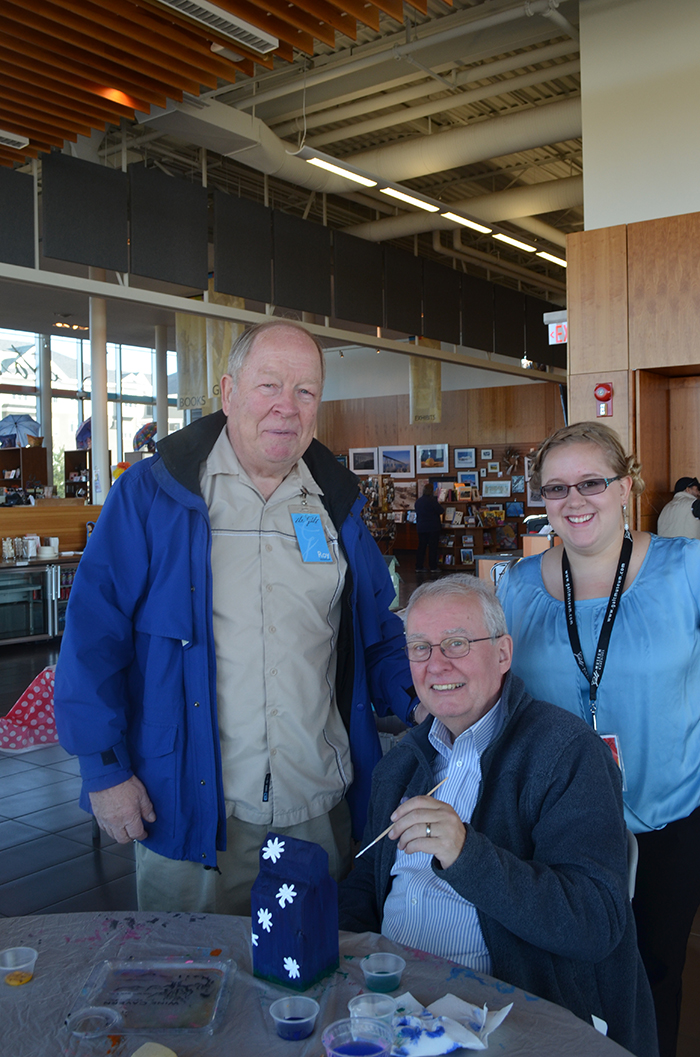 Image: Corrie Hartley (right) assists as a public programming intern at the Galt Museum & Archives.
Over the past year my interest in museum studies has greatly expanded. In the spring I completed an internship in curatorial studies at the Galt Museum & Archives. I was able to return in the summer to participate as an applied study student in archives. I am excited to return again as a public programming intern with Jenae Redgrave. I would like to thank the Galt staff for their support and guidance as I have explored the museum.
My main focus will be to learn how a museum functions in a community. I understand that a museum cannot function without the public. The public supplies the museum with an audience, funding and objects to preserve. In return the museum functions as a place of education, social gathering and preservation. Public programming is important because it gives people another way to connect and find value in their museum and therefore with their history. I am excited to be a part of the process of encouraging enthusiasm about museums no matter the age, ability, or cultural background of the person. I believe that everyone can benefit from hands on learning and being out in their community. However, it is a challenge to evaluate the relationship between the museum and the community because it can't be measured; everyone will have a different experience at the museum. I believe that to learn the value of a museum, I need to have meaningful interactions with people. This will also give me input on what was effective in the programs. For this reason public programming is a great fit for me because I like to talk and be with people. I am excited to organize and carry out programs because I feel that the museum offers a more immersive learning experience than other organizations. I look forward to exploring and using the resources of the museum to teach and interact with people.
Celina Osborne-Dasilva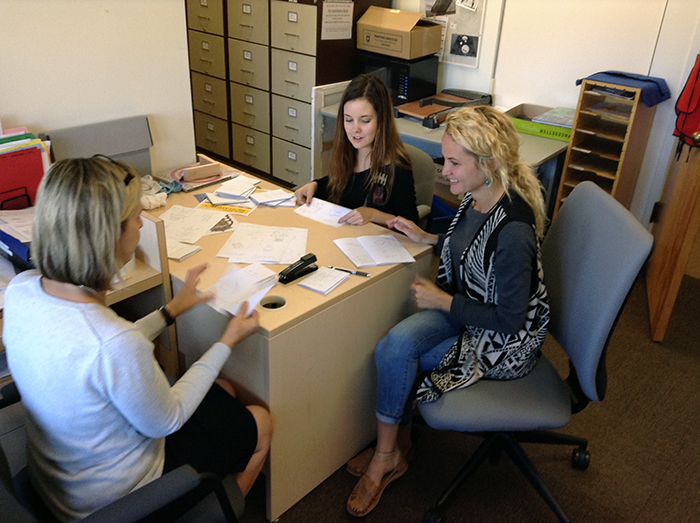 Image: Celina Osborne-Dasilva (right) assists gallery registrar Juliet Graham (left) and fellow Museum Studies intern Elise Pundyk (middle) in preparing handouts for the U of L Open House.
During my studies at the University of Lethbridge, I have been fortunate enough to be given the opportunity to partake in three internships. This year I will be completing my fourth and final year at the University, graduating with a BFA in Art History/Museum Studies, and I am returning to the University of Lethbridge Art Gallery for another internship.
During my current internship in collections, I have the chance to strengthen the knowledge that I have already attained from my past experiences and continue to develop new professional skills. My goals for this semester are to master advanced skills such as: searching through the gallery's database, creating text and labels for artworks, hanging artworks, cataloguing and documentation, as well as other tasks that involve hands-on problem-solving. Having these skills will allow me to respond to requests with confidence and be able to work independently within a professional setting. I also hope to assist in public programming, gain more knowledge in the planning and development of exhibitions, and carry out any research that is required for artworks and/or artists in the collection.
This year will be my last chance work to side-by-side with mentors before I step out into the 'real world' to find employment that is within my field. I have learned that there are many advantages to internship programs and one of the main advantages is that you have the chance to place yourself in your chosen professional setting and decide whether or not the career is right for you. My internships have certainly allowed me to bridge the gap between my studies and my professional goals by helping me realize that I have chosen the right career path for my future. Interning at the Galt Museum & Archives and the University of Lethbridge Art Gallery were truly stepping-stones in my life and I am hopeful for what awaits upon graduation.
Elise Pundyk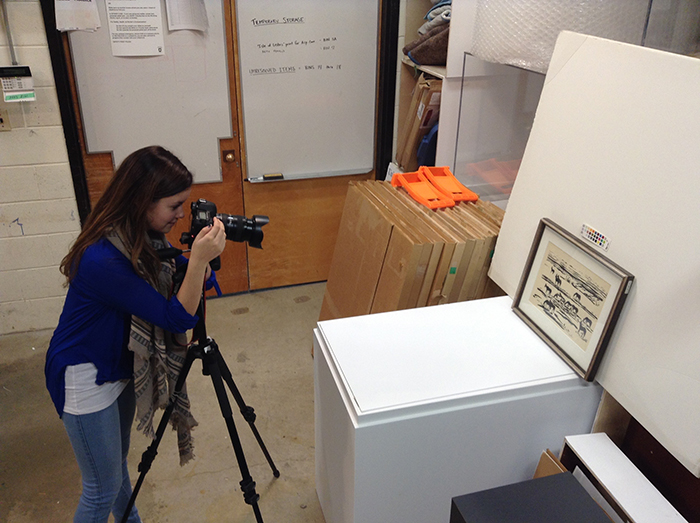 My interest in museum studies was sparked during a school trip to Europe. I then pursued this interest by working for two summers at the Crowsnest Museum and Archives. My experience at my hometown museum confirmed my interest in this field and the staff there gave me information about the unique program at the University of Lethbridge. With this encouragement, I enrolled in the program and am now entering my third year. Having just begun my first internship, I know I am interested in working with cultural artefacts in the future. My main goal is to gain as much experience as possible in order to get a better idea of the direction I should pursue after this program.
I have become keenly aware of the importance of networking and volunteering in order to achieve a productive career in this field. Last semester, I worked with a group of art history and museum studies students on faculty and student exhibitions at the University of Lethbridge's Dr. James Foster Penny Building. As a result, I feel much more connected to the program at the University of Lethbridge and the art community here. I would like to further develop this sense of community at the university gallery and become more involved in all the work it is doing. Through this internship, I also hope to further advance my ability to engage with the public.
As for my internship this semester, I will be working on collections projects with the gallery's registrar, Juliet Graham, and curatorial assistant, Andrea Kremenik. I hope this internship increases my understanding of the gallery's database and standards of collections care. I think it would be valuable to be able to comfortably navigate around The Museum System database. I would also like to be able to describe what happens to works once they enter into the University of Lethbridge's Art Collection.
I believe the practical aspect of this internship will provide invaluable insight into the operations of art galleries, which I could then use to help create concrete goals for my future. Thus far, each day I have spent at the internship has already enhanced my understanding of gallery operations, and I am very excited to see what the rest of the semester has in store. In the future, I hope to continue to be apart of the arts community and hopefully contribute in some measurable way. I would like to pursue other internships and experiences in order to broaden my understanding of the many possibilities that exist within the museum and gallery field.
Kaitlynn Smart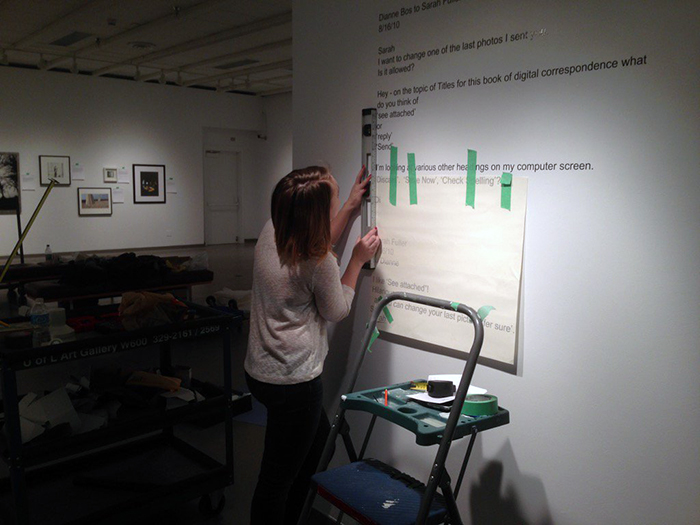 For my third and final internship at the University of Lethbridge Art Gallery, I hope to build on my existing gallery experience in a curatorial capacity. In previous internships, I have gained experience in installation practices, conducting database research, condition reporting of objects, public relations for student projects, as well as various curatorial projects. For my final internship this semester, I will combine all these skills to develop an independently curated exhibition in the Main Gallery of drawing works from the University's art collection.
What constitutes a drawing? In my preliminary research for this exhibition, this was a question I repeatedly went back to and had to reconsider. Often times the distinction was not as easily identifiable as I had initially assumed and even after looking at the physical works themselves, additional cuts had to be made when a "drawing" looked too much like something else. With this exhibition, I look forward to challenging myself in terms of how I approach the theme of drawing, and execute it within the physical space of the gallery. I envision the exhibition to be thought provoking and necessitate audience engagement by exploring various methods of visual display and social interaction. Through hanging works in more of a "salon style", I hope to create vignettes of different types of drawing, either by style/execution or by theme/subject. While this will be more challenging in terms of the physical installation, I believe it will create an opportunity for unique interaction between various works and will cause viewer's to make connections of their own accord.
I also hope to use Twitter as a platform for sparking conversations surrounding drawing: what is a drawing; why is it still relevant in terms of artistic practice; what is its social benefit? These are discussions I hope to mediate throughout the exhibition and stream live to the gallery's project wall, as well as quotes and other facts about drawing.
Given that the classification of "drawing" is such a broad category, I also see this exhibition as an opportunity to challenge myself in terms of my writing and research capabilities. From a curatorial perspective, there are a number of ways that the theme of drawing can be approached and I hope the perspective I choose to create through the exhibition is both thought provoking and somewhat unconventional. I want the audience to reconsider how they think about, look at and potentially make drawings and I plan to facilitate that engagement through the text/information I choose to present and the way I choose to display the artworks in the exhibition. It is my ultimate goal to develop an exhibition that is challenging from both a curatorial and observational perspective.
Archives