Jaclyn Patterson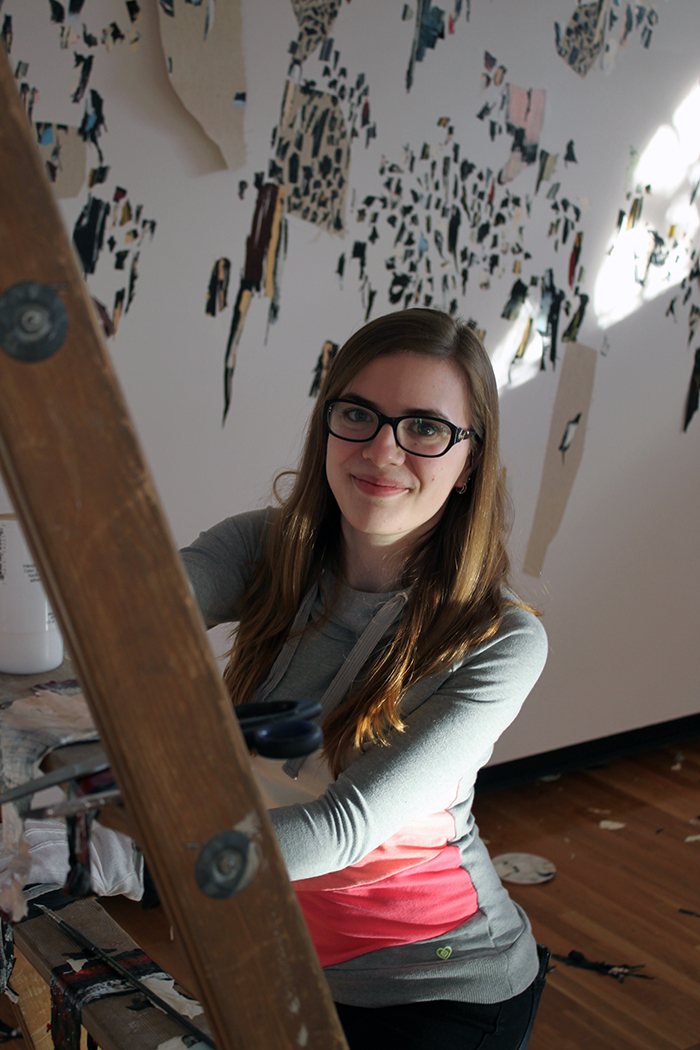 Image: Jaclyn Patterson at work installing an exhibition at SAAG.
Starting out in a studio program, Jaclyn Patterson was tasked with installing her own work every two weeks, a process which she came to enjoy even more so than art-making itself. "I learned really quickly that I was happier installing my work than actually creating it." A recent transfer student from Ontario, Jaclyn made sure to do her research before committing to moving out west to further her education at the University of Lethbridge. "I knew exactly that I wanted to go into Museum Studies but the University of Lethbridge is one of the only institutions in Canada to offer such a well-rounded program."
The Art History and Museum Studies Program at the University of Lethbridge is unique in the country, providing students with both critical and theoretical knowledge of art and art history as well as extensive hands-on museum and gallery experience. Jaclyn states,
"I realized that the U of L had the best program for what I wanted to do: the internship, the double major…it had everything I ever wanted."
Not being a Lethbridge local, Jaclyn wanted to immerse herself in the dynamic arts community of the city. Identifying the SAAG as a key part of the Lethbridge arts community, she was quick to see how this institution could enhance her personal and professional interests. Jaclyn hopes to one day own her own gallery and chose the SAAG as her host institution to get the full experience of just what exactly it is an art gallery does. Working in the full spectrum of things, Jaclyn has kept herself busy and immersed herself in all aspects of gallery culture. She has acquired skills in networking, advertising, and distributing information through the gallery's publication exchange (which she has worked on with fellow AHMS intern Kait Lafaivre); she has also been active in gallery prep, installing exhibitions, and managing the gift shop. Overall, she describers her internship at the SAAG as being "a really well-rounded experience."
When asked if she would recommend the internship program to other students, Jaclyn implies it is a no-brainer:
"If there is anything I've learned in working in the arts industry, it is that networking and creating a relationship is how you get known, how you become successful and get a job. Having people that I can reference, it makes other people realize you are involved; you are taking this seriously and you do care about this; it is important to you. People will take you more seriously and you will get more opportunities."
Kait Lefaivre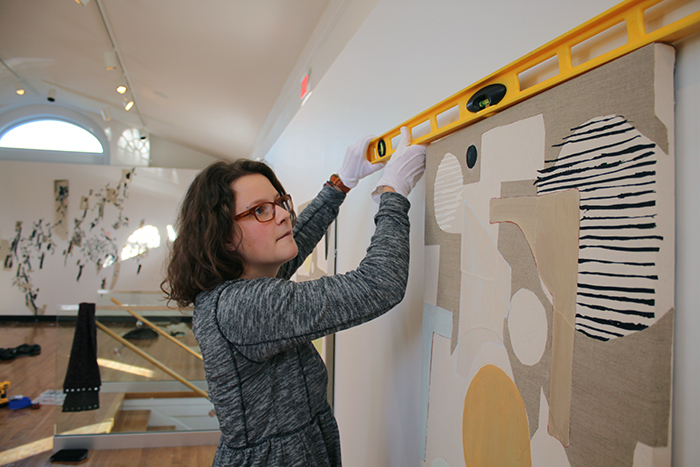 Image: Kait Lefaivre at work installing an exhibition at SAAG.
Kait Lefaivre is no stranger to the goings on at the SAAG. Having been a regular volunteer there for the past 3 years, she has involved herself in installing exhibitions and public programming. Through her experience, Kait has come to realize that her interests lie in working with children and has focused her internship predominantly on education, particularly programing for children ages 4+.
When it comes to the internship program, Kait is quick to recognize just how valuable the experience can be:
"You can only learn so much in the classroom setting. Not until you are in a gallery or a museum do you really understand the dynamics of the team, the hierarchy of command, as well as the technical teachings of the institutions. I mean, you can talk about museum theory all day but…"
and at this point her partner in crime, Jaclyn, interjects: "really until you experience it, it doesn't make sense." Kait continues, "I think a lot of disciplines are like that but this one in particular is a really valuable experience because it can really change your view on what you want to do…It gives you a different perspective and there's quite a difference between a gallery educator and a school art educator. I think the gallery really gives you a different perspective and different options."
Prospective students are often unaware of the number of jobs that are available with this kind of education and in the art field as a whole, "I think only through this internship would you know that." New students considering studying Fine Arts at the U of L may also be unaware of just how dynamic the Lethbridge arts community really is. "Lethbridge is a small community but the art community is particularly exceptional. It is really close-knit but also very dynamic with close connections between the various institutions. This creates a strong bond that really assists in networking as well as higher learning." With academic conversations taking place at the university through the Art Now visiting speakers series, as well as coordinated exhibitions openings, it is this interconnectedness that really "brings it all together," according to Kait.
Jesse Redekop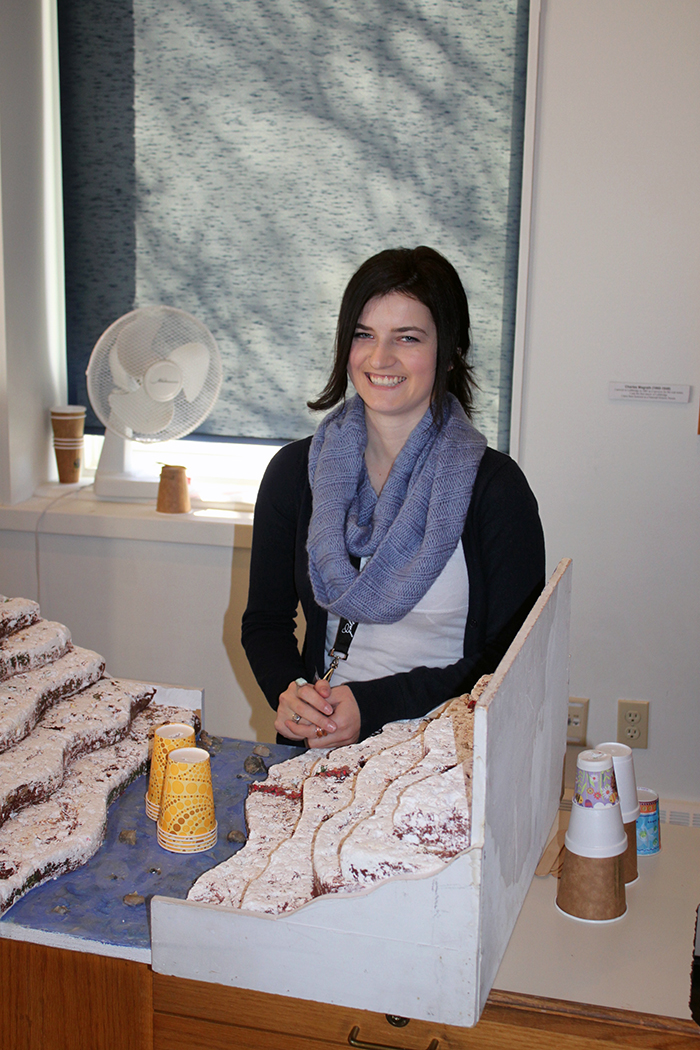 Image: Jesse Redekop at work at the Sir Alexander Galt Museum and Archives.
Originally a transfer student from the U of C, Jesse Redekop intended to pursue the studio major and was actually admitted to the Art History and Museum Studies program by mistake. Upon attending her first Art History lecture, she knew the mishap had been for the best. "I went to my first class, and I was toast." She loves history and art, and the AHMS program at the U of L was the perfect way to combine both of those interests, while fostering a more recent interest in education.
Working closely with Belinda Crowston, Museum Educator, Jesse is fulfilling her internship at the Sir Alexander Galt Museum and Archives, specializing in public programming for elementary school children. Despite her interest in pursuing education after her AHMS degree, Jesse admits that she has never been involved in the educational or classroom side of things and through her internship is learning "tons" about what she possibly wants to do.
"It's really cool to see how Belinda can use any subject and link it to something in the museum…anything!"
"So I'm not just learning about art or museums: I'm learning about engineering, and how kids think, and what programs work with different types of learning."
"Belinda was a teacher before she worked here so I get to work with a person that's been in both aspects of my job. She's kind of more of an historian so as an art history major I find it fascinating to be able to work with her and as a teacher, I'm also learning tons bout what I possibly want to do."
What Jesse considers to be the most valuable aspect of the internship program is that it allows you to test-drive different areas of specialization, to see what you are interested in or what you might excel at. "It's a valuable experience because it shows you where your strengths and weaknesses are. It alters your perceptions on 'Can I actually do this?' or 'Ok, I'm not as interested in this as I thought it was….' You just don't understand the application or the variety in a classroom setting."
Although demanding, Jesse confesses that her hours spent at the Galt are her favorite part of the week. "It's a different environment where you're not only responsible for your own actions but you are actually responsible for participating in something…I'm not just learning about art or museums, I'm learning about everything from engineering to coal mining, and ultimately how kids think and interact."
Tomi Oluwatomilayo
Tomi Oluwatomilayo is one of the few interns who is not an Art major, but rather is pursuing a combined degree in Art and Psychology. For her internship she is working with the Community Programs Coordinator at the Galt Museum and doing background research into various cultural aspects of Southwestern Alberta as well as how to attract groups that are not frequent museum goers. She then transforms this information into community programming for families. A substantial area of focus for her programming is the Bhutanese community; many of them refuges who have recently immigrated to Canada. Tomi elaborates: "I feel like the museum can help them by educating them on western Alberta culture so they can adapt to Canadian culture."
Tomi sees her internship as combining both her interests in Psychology and Art because she gets to integrate the social work/community involvement to create public programming and potentially art related activities into one project.
"It's good to go and test out what you might like. You don't just want to go through school and finish it, get a job then find out your not interested in it."
Her advice?
"Find an area that you think you will enjoy because it will motivate you to do your work and you will enjoy doing it. Just have fun with it."
Celina Osborne-Dasilva

Image: Celina Osborne-DaSilva at work at the Sir Alexander Galt Museum and Archives.
Celina Osborne-Dasilva first heard about the Art program at the U of L while flipping through an issue of Canadian Art magazine. Starting out her education in a Fine Arts program in Ontario, Celina ultimately transferred to the U of L to pursue a BFA in Art History and Museum Studies. "I wanted to learn more about the history and the U of L was the only institution to combine art history AND museum studies; it really intrigued me."
Celina identified that she wanted to work behind the scenes and has been completing her internship at the Galt Museum and Archives, working primarily in collections. The majority of her internship has been research based and she has been particularly focused on researching Lethbridge's first policewomen, whose uniforms are in the Galt's collection.
"Here it is really about the object and the story behind the objects. The museum tries to build upon the local history through the objects they collect."
Although Celina is certain she wants to work in a museum, she is still getting a feel for the options that are available and she identifies the internship program as a great way for testing to see what you might like.
"I'm developing career-building skills while I try to figure out which path to take, I'll do more internships to help figure it out."
Megan Farebrother
Megan Farebrother is in her final semester of study at the University of Lethbridge and was interested in participating in the internship program to get a taste for what opportunities may be available upon graduating with a BFA in Art studio. An intern at CASA, there is very little that Megan doesn't have a hand in: she helps prep the gallery and install exhibitions, she does administrative work and stocks the gallery's gift shop, she even teaches art classes and runs her own workshops. It may sound like a lot but Megan claims she is happy with the range of knowledge she is receiving, she exclaims: "I feel sorry for the other interns who are forced to specialize!"
The broad mix of services that CASA provides for the arts community in Lethbridge makes for an interesting and dynamic place to work. Megan particularly enjoys the mix of professionalism associated with curatorial work and the more laidback and free spirited approach when teaching kids how to work with clay.
"I'm more comfortable in the gallery because its familiar to me; I'm used to installing my own work and its where my education starts to make sense. The gallery feels more professional, whereas the teaching is just fun…I find I really look forward to teaching the kids."
Another great thing about CASA is how open they are to new ideas. Megan says, "You can pitch an idea and they will help you get it off the ground." This opportunity resulted in Megan creating and teaching her own painting workshop, which she was responsible for marketing and promoting herself. This was quite the learning experience, and forced her to try her hand at things about which she had little or no knowledge.
Megan acknowledges that its good to have a general knowledge to know you're going in the right direction.
"There's a mix to find what you like, what your good at, what you excel at…and work experience is always good on a résumé!"
Bianca Elke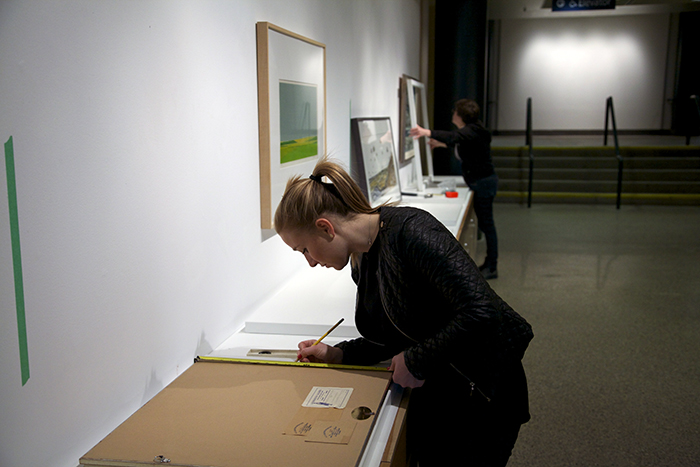 Image: Bianca Elke at work installing an exhibition at the U of L Art Gallery's satellite space, the Helen Christou Gallery.
Bianca Elke is well versed in the ways of the University of Lethbridge Art Gallery. Having completed her first internship with the gallery in 2012 when she was only in her second year of study, Bianca has since continued to contribute to the gallery in a variety of ways.
"I went from interning, to volunteering, to being hired and then to becoming an intern again. So I actually have not stopped working at the gallery since my very first internship. So that's been awesome! I really feel like I'm a part of this team and it has opened a lot of other doors…It shows you're involved and helps you meet people."
Like any of us hoping to make it in this field, the importance of networking and establishing connections is not lost on Bianca. She identifies how working with the U of L Art Gallery has helped her to meet people, as they recognize her from being part of specific projects. There is one project in particular which has spanned her entire time at the gallery. With the donation of the gift from Jim Coutts during her first internship, Bianca was involved in everything from the processing the new acquisition and collections care side of things to a final curatorial project to produce an exhibition.
"I was one of the only people who got to see it grow and evolve from the very beginning," says Bianca. "I was volunteering when the Coutts gift came. Then I was working the next year documenting it…I had become so knowledgeable about it that I was asked to intern again and do an exhibition of the Coutts gift, so I was thrilled that [the gallery] wanted me back."
Bianca is always thinking about the next step, and the next opportunity that may arise from opening another door. Having gained experience in everything from working with a collection—in terms of documenting and photographing artworks, to curating her own exhibitions and even public programming—it is clear that Bianca has assumed a well-rounded approach in order to make the most of her experiences and to open as many doors as possible. To be successful in your internship, Bianca swears by one thing:
"Be open and willing to put a lot of time into it and explore things that you might not necessarily be interested in, but don't close the door on it."
Bianca was also the photographer behind this project.
Maria Livingston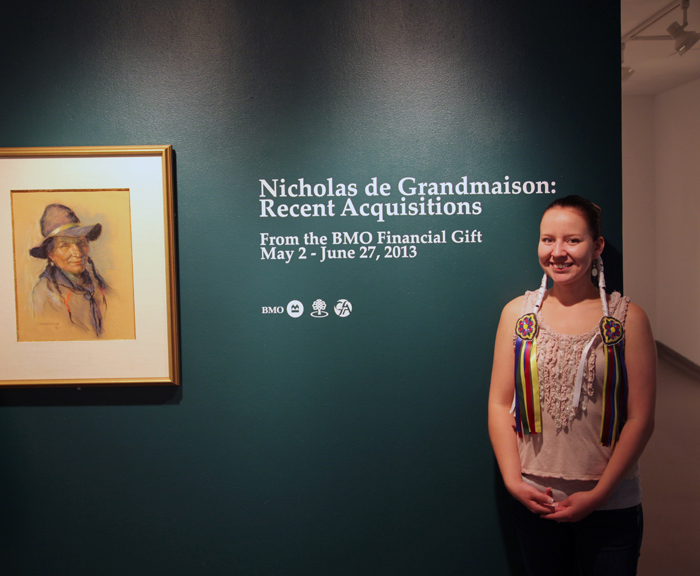 Image: Maria Livingston stands in front of the title wall of the Nicholas de Grandmaison: Recent Acquisitions exhibition.
Maria Livingston was first employed by the University of Lethbridge Art Gallery last summer. Working with the Nicholas de Grandmaison oral history project, she then pursued the project into the fall as an applied study and for her internship continued working on the project but in a different capacity. This semester, Maria has been focusing more on the education side of things, creating lesson plans to accompany the de Grandmaison acquisitions which will be added to the U of L Art Gallery's website and explored through a pilot project with a group of middle school students.
A Native American Studies student who is immersed in Native culture, she recognizes that her personal experience is well suited to what she is working on and that she has the capacity to approach the project with the appropriate level of respect it demands.
Maria acknowledges that the internship program is a unique experience, which provides valuable lessons that one simply does not learn in the classroom. "I really try to promote the internship because you can never get the same thing from a classroom. It's a one-on-one, hands-on experience. You are building your own personal skills and your own experience; its nothing you could ever get from sitting in a classroom and listening to lectures."
According to Maria, the internship teaches you not only practical, career-building skills, but personal skills that can strengthen other aspects of your more general work ethic, such as motivation, independence, responsibility and time management, "Which is a challenge, but a huge asset."
Noemi Guzman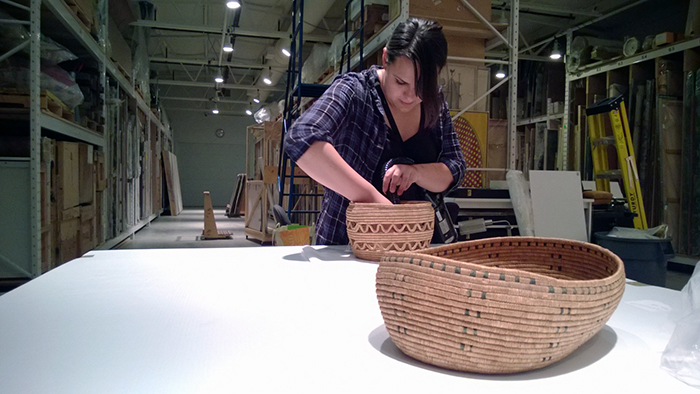 Image: Noemi Guzman working with objects in the U of L Art Collection.
An Art studio major in her final semester of study at the University of Lethbridge, Noemi Guzman was thrilled to participate in the internship program before graduation. Wanting to get "both sides of the story," Noemi decided to fulfill her internship at the University of Lethbridge Art Gallery, focusing on collections and exhibitions.
"I wanted to see what happened behind the scenes and how museums are run. I was so interested in how museums really work."
Working closely with the gallery's conservator, Juliet Graham, Noemi has kept herself busy by contributing to the gallery's database, cataloguing and photographing recent acquisitions, as well as conducting research to prepare for the de-accessioning of prints that have multiples within the collection. "The focus is really on caring for and maintaining the collection." She is also co-curating her own exhibition in the Helen Christou Gallery on campus, with works from the 1970s, selected from the university collection.
Noemi was surprised to find that the experience was a lot different from what she had expected: "It is really busy, really hands on. You are always learning new things, which are very practical…they're things you can take into a future career." She also acknowledges that her internship has helped her personally and professionally, in more ways than one. "It's actually changed my perspective on how I make my own work. Like the acidic properties of the paper, matting, and how to make sure my work withstands the test of time… I wasn't aware of these things before." She also identifies how it has given her more confidence to pursue similar projects: "I'm starting to realize its not a scary as I thought it would be. It's something that I can do and I feel more empowerment to be able to do it again."
Noemi hopes to one day teach at the college or university level as well as be a free-lance artist. She is also now open to the idea of working in a collections capacity with the confidence and skills she has acquired through her internship at the University of Lethbridge Art Gallery. Noemi see's her internship experience as not only valuable to her, but something that could be equally valuable for other Studio majors. "I would especially recommend it to people who want to do an actual art career."
If there is one thing Noemi has learned through her experience, it is not to underestimate herself. "I've learned there are no stupid questions because when it comes to these really old objects and you are not sure about something, that's when you have to ask questions…ask as many questions as you can and take lots of notes for future reference."
Kaitlynn Smart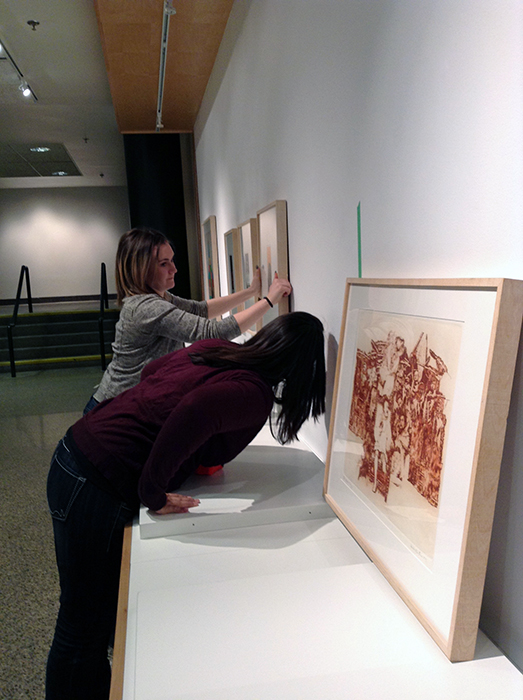 Image: Kaitlynn Smart at work installing an exhibition in the U of L Art Gallery's satellite space, the Helen Christou Gallery.
This article was written by Kaitlynn Smart – who had this to add about her own experience:
Currently completing my third year of study in the Art History and Museum Studies program, I am also pursuing a minor in General Management and wanted to participate in an internship that could supplement both of these interests. Josephine Mills, Director/Curator of the U of L Art Gallery and supervising professor of the internship program, created two areas of focus to fully integrate my areas of interest. One of the projects was focused on collections and exhibitions and the other in promotions and marketing.
My exhibition experience involved selecting work, writing texts and installing "On the Flip Side," an exhibition exploring work from the 1970s for the U of L Art Gallery's satellite space, the Helen Christou Gallery. This exhibition was co-curated with fellow intern, Noemi Guzman. The whole thing was both a rewarding and intimidating experience.
I liked seeing it all come together but I almost enjoyed the process more: looking for the work, drafting and revising the text panels, making the decisions. The physical installation I was less comfortable with so I would definitely like to pursue more internships that I could do a little bit more of that and get a little bit more comfortable with it because I think its important to have that skill.
The bulk of my internship at the U of L Art gallery has been involved with promoting the value of the internship program through interviewing my peers, then writing profiles about them for the gallery's website. During the interviews, I noticed two common threads that linked the experiences of the interns: the importance of networking and the rewards of testing out the various areas in the field. I can attest to the fact that these experiences were relevant in my internship as well, and it was particularly helpful to see how my Art History and Management backgrounds could be fused together. The networking on the other hand, was a different story.
At Professor Mills behest, I was encouraged to embrace social media as a means for furthering my marketing/promotion capabilities as well as for promoting my professional self. I was less than thrilled with the prospect of creating a Twitter profile, but I quickly saw the potential value of having a social media presence; future employers expect our generation to have these skills and I was surprised to find just how useful it could be in connecting me to various professionals and institutions.
With Twitter and social media I've really been able to see how I can use it as a different type of networking. And for me it's really interesting because when a gallery starts following you and is looking at what you're doing…that's pretty cool. It's cool to see that you're on their radar in a sense and that there is the potential for them to recognize you and notice what you're doing and be interested in what you're doing.
Kaitlynn also interviewed two previous interns who are now working at the U of L Art Gallery after completing their degrees:
Andrea Kremenik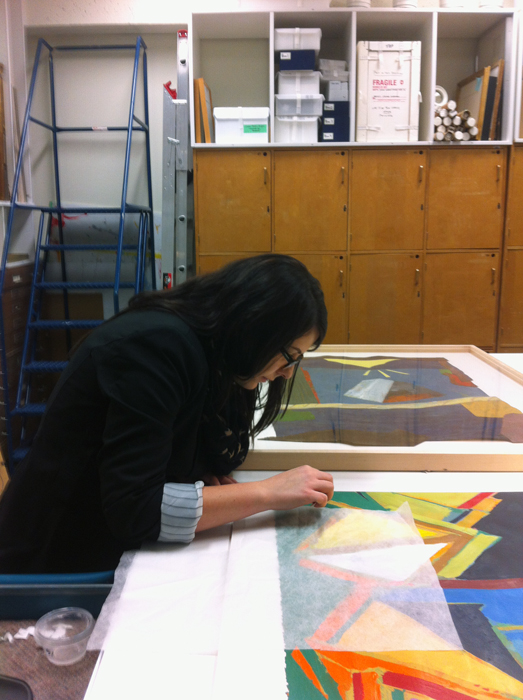 Image: Andrea Kremenik working with a work from the U of L Art Collection.
A recent graduate of the Art History and Museum Studies program, Andrea Kremenik always knew she wanted to pursue art at the U of L but was unsure of what capacity. "I kind of stumbled upon the Art History program and it was not until I was here that I really found out there was all this potential for internships."
When pursuing an education in Art History, your career options are not as clearly defined.
"A lot of our classes are theory based and you don't really get a good look into the practical side" says Andrea. "And that's why internships are really important."
Having completed internships at both the SAAG and U of L Art Gallery, her experience and willingness to learn paid off, resulting in a contract position with the U of L Art Gallery in her final year of study. Her experience covers everything from curatorial work, to collections management and conservation. With a minor in General Management, Andrea acknowledges how this has been particularly useful in her work during her employment at the gallery.
"Management comes in with the collections management, as well as the loan agreements and copyright, and all those things that you don't really think about when you go to the gallery. Its all kind of behind the scenes work so its not really obvious… I've really been interested in learning more about those things."
Andrea describes her experience as being very hands on and very involved; she has really felt like apart of the ULAG team. She expresses that all interns may experience some anxiety and uncertainty as to where they fit into the organization in the beginning, but with the right tools in place, it's easy to succeed and move up.
"It's a really great experience. You feel completely comfortable, right at home working with them… They understand it's a learning experience, they don't expect you to know everything and they want to teach you and help you grow to where you want to be in your career."
Andrea encourages future students to "Do as many internships as you can. Make as many connections as you can because it's all about who you know, who they know, to help you move forward."
David Smith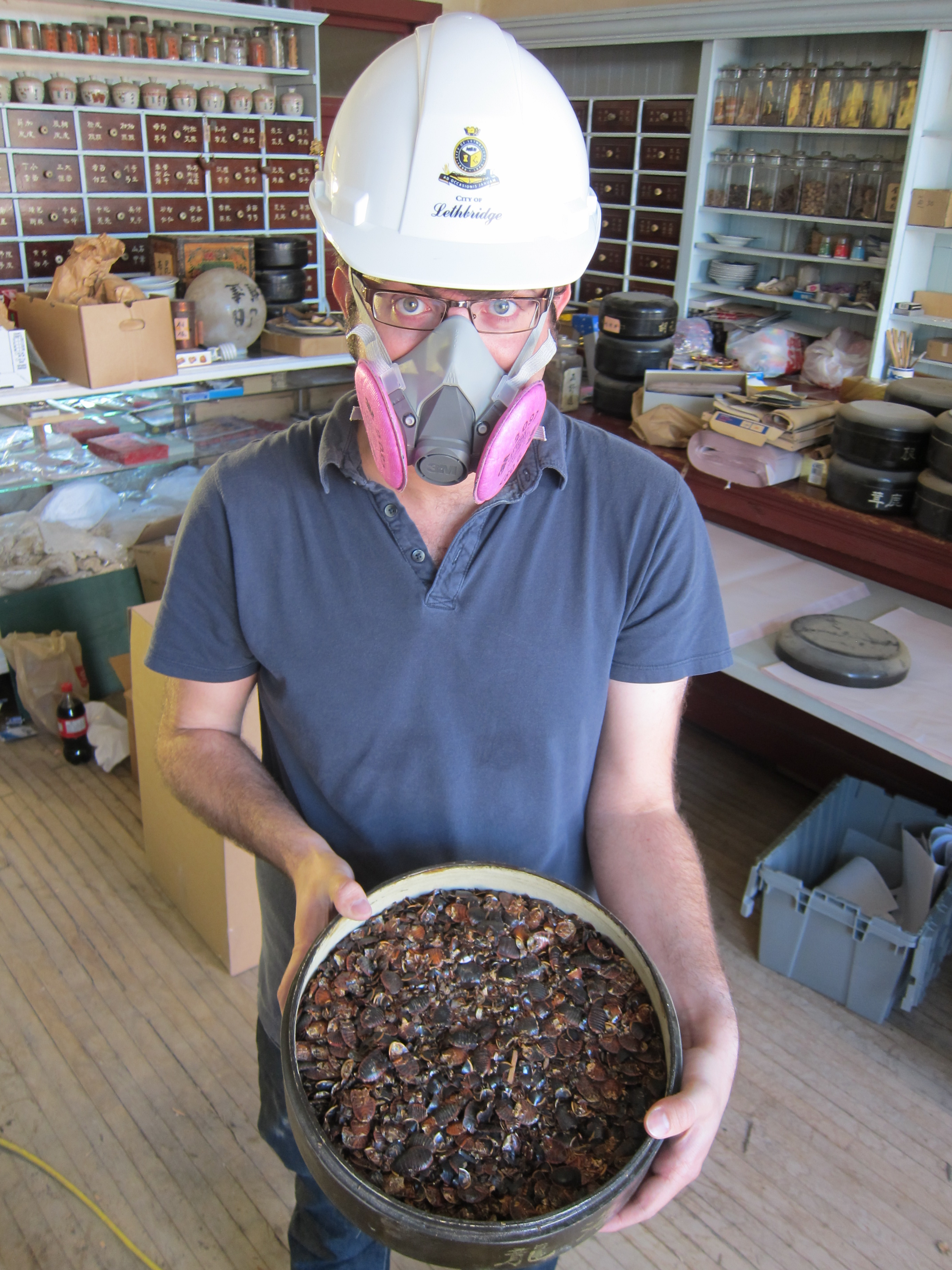 Image: David Smith at work at the Sir Alexander Galt Museum and Archives.
Contemporary galleries, galleries with a collection, museum collections, and artist run centers—recent AHMS graduate, David Smith, has covered every corner for art experience through his 6 internships as a student at the U of L. Completing his first internship with the U of L Art Gallery in only his second year, he saw the potential that internships could provide him through developing skills and experience in the arts, and took advantage early.
"I think sometimes—with the internship being a 4000 level—people think its something they should do in their 4th year…No! You should do it much sooner. I had to either wait till my fourth year or do it in my second year and so I did it in my second year because I didn't want to wait that long and that just kept opening doors, so the earlier you can do it, the better."
And when David says his internship "just kept opening doors," he's not kidding. His first internship and "just that one little Inuit case" led him across the country to complete a summer internship at the Acadia University Art Gallery in Nova Scotia where David focused on research and exhibition planning for a show of historic Inuit sculpture that they had in their collection. "It was a 4 month curatorial and research internship directly based on what I did in my internship here (at the U of L)."
Upon his return to the U of L in the fall, David continued to take internships every semester until his convocation from the AHMS program, and several internships led to paid employment. He completed his second internship at the Galt and was hired for two different contracts in their collections department, doing provenance research as well as cataloguing, data entry, documentation photographs, labeling…"Absolutely everything from getting the object from the donors hands, to the shelf."
David also completed several more internships at the U of L Art Gallery and not wanting to leave a single stone unturned, he was quick to seek out resources and create even more opportunities for himself. Grant writing, and working with a contemporary artist to curate a travelling exhibition of their work are just a few of the skills that David's picked up to enhance his overall work experience.
"Some of my internships seem to overlap…I think they've provided me with really great opportunities: in terms of employment, but also just skills in general—they're very transferrable in our line of work."
David is currently employed by the U of L Art Gallery as a Curatorial Assistant.