Jarrett Duncan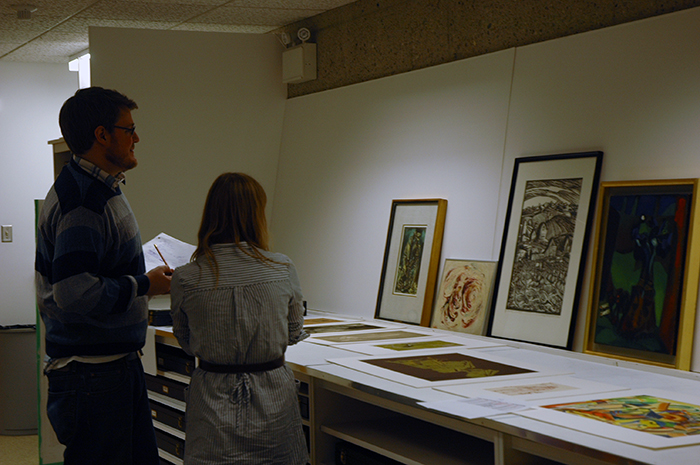 Image: Jarrett Duncan, with co-curator and fellow intern Kasia Sosnowski, curate the selected works for his exhibition The 1940s.
I became an intern because of my own interest in the workings of a gallery. Through a variety of Museum Studies courses, I have come to realize that the artwork on the walls of a gallery doesn't get magically selected and placed there by elves. While I established the groundwork for understanding the process of putting together an art show for public consumption in previous courses, this is the best opportunity to put that knowledge into practice before graduating and finding myself in the real world. I wanted to make myself that much more appealing to future employers.
Rosalind Jeffery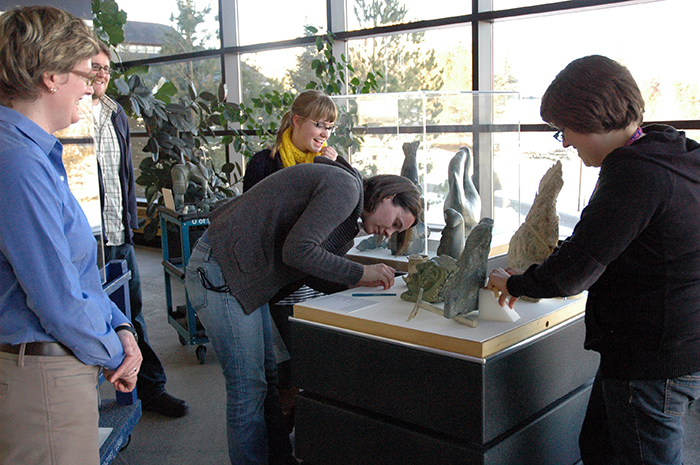 Image: Rosalind Jeffery (centre) putting the finishing touches on her curated Inuit Art display case.
While in the past my studies and work experience has focused on programming and visitor services in museums and art galleries, this semester I felt it was important to gain a working knowledge on aspects of collecting institutions from a "behind the scenes" aspect. The position of Registrar is one that is misunderstood by the general public but is important to the day to day operations of the art gallery. Performing duties such as data entry, records management, copyright procedure, and policy management, this internship is a unique opportunity to apply the academic knowledge I have about artists and works in the collection in a new context.
Emily McCormick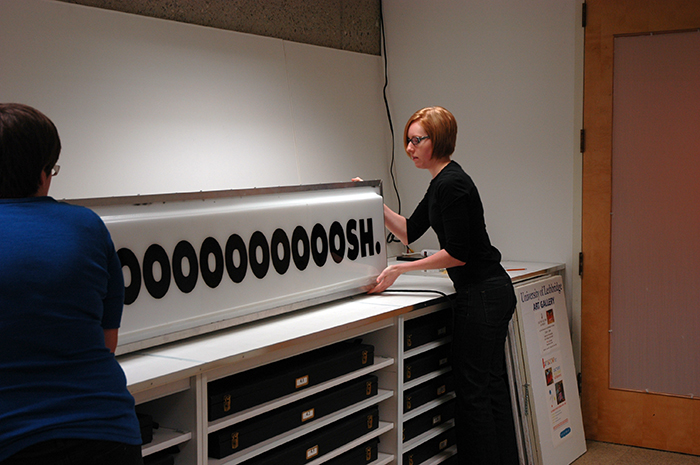 Image: Emily McCormick (right) moving a selected work from her curated exhibition Semiotica.
My experience as an Art History/Museum Studies major at the University of Lethbridge has been filled with numerous opportunities. I have worked at the Southern Alberta Art Gallery (SAAG) and University of Lethbridge Art Gallery as a curatorial intern. Both galleries have allowed me to gain an invaluable amount of work experience for my future career.
My first two internships were completed at the SAAG, where I worked with every staff member to further understand all aspects of the gallery. My responsibilities included installing exhibitions, contributing to public programming, assisting with special events and fundraising efforts, and interacting with the public.
My final two internships were done at the University of Lethbridge Art Gallery. At this institution I organized a public perception project, assisted with installations, wrote a passage for a university newspaper, and curated an exhibition using the gallery's extensive collection.
The Museum Studies program has given me the opportunity to apply the knowledge gained in class and work in my chosen field before I finish my degree. This experience will definitely help me attain my career goals quicker.
Sara McKarney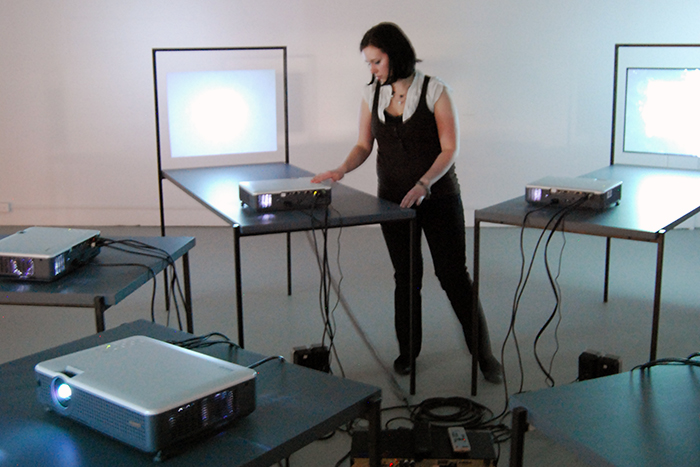 Image: Sara McKarney installing an art installation.
My internship gave me the opportunity to work with the curator of the SAAG, Ryan Doherty. Working with Ryan, we customized the internship to fit both my career goals and the mandate of the SAAG. Working closely with the artists the SAAG exhibits, I have learned about professional artists' practices and the various tasks of a gallery assistant. Planning the layout of exhibitions and installing artworks have been a great hands-on experience on top of the administrative duties which include creating support materials and submission packages, and assisting with public relations. This internship has been a fantastic way to enhance my previous volunteer experience, giving me a more in-depth understanding of how a gallery works behind the scenes and , as a practicing artist, how to make my work stand out.
Kasia Sosnowski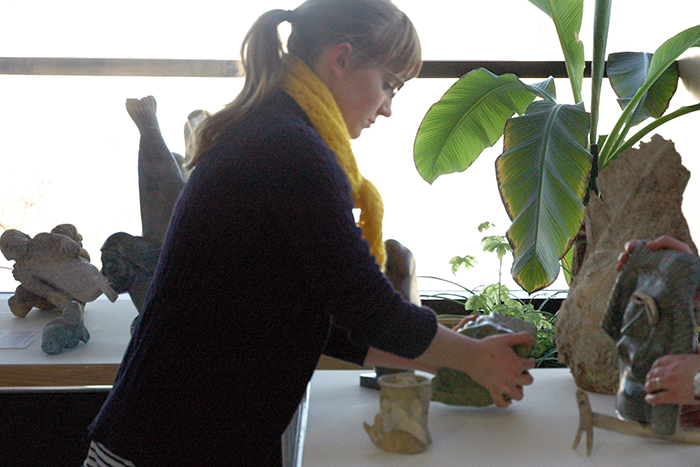 Image: Kasia Sosnowski placing one of the objects for her curated Inuit Art display case.
This is my third year in the Art History and Museum Studies program and I'm taking the Museum Studies Internship so I can better understand the finer points of my degree. I am interested in all aspects of art and art history, and the Internship has provided practical exposure to the world of museums and art galleries, allowing me to gain a wider understanding of installation practices and exhibition creation. I'm looking forward to applying what I learned during my internship to the preparation and installation of my own work and the challenges that accompany it. Through the program I have met and worked alongside interesting and knowledgeable people who introduced me to the many different aspects of my chosen subject of study, providing me with a new experience and a better understanding of all that the art field can offer.
Tyler Stewart

Image: Tyler Stewart happily working with a piece from The Galt Museum & Archives collection.
My internship consists of working at the Galt Musem in the Collections department with staff member Kevin MacLean. I have gained valuable knowledge in regards to proper handling of artifacts and have had the opportunity to handle many pieces in preparation for the upcoming exhibition to be displayed. Seeing what happens on a day to day basis in the Galt has been very revealing, letting me know what to expect should I choose to continue on a career path towards working in a cultural institution.
Archives