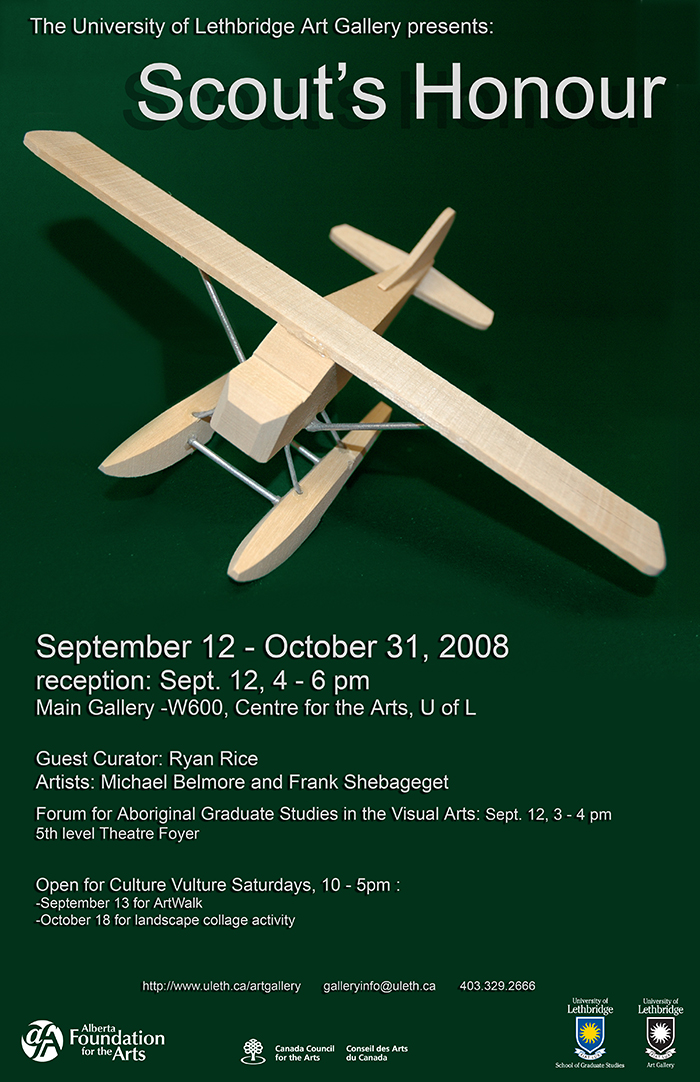 Scout's Honour
Main Gallery
reception: Sept. 12, 4 – 6 pm
Guest Curator: Ryan Rice
Artists: Michael Belmore and Frank Shebageget
" A trained scout will see little signs and tracks, he puts them together in his mind and quickly reads a meaning from them such as an untrained man would never arrive at."
Robert Baden-Powell from Scouting for Boys (1908)
In August 2006, long-time high-school friends Michael Belmore and Frank Shebageget reunited, planned and set out on an expedition leading them back home to the northern community of Upsala, Ontario. The artists, both from the Anishnaabe First Nation, came together to unravel truths and their desire to honour their interrelated histories and encounters within a place integral to their nation, families and selves. Along the paths of the social, environmental and cultural landscapes forever inhabited by their ancestors and occupied by settlers, Belmore and Shebageget scouted their respective places of origin: Lac Seul and Lac Des Mille Lacs in Indian country, Northern Ontario. They found the onetime familiar landscape between Thunder Bay and Kenora a place with a dwindling population and for the most part, abandoned. Even as their immediate families have moved away, this landscape stays etched in their memory as the place where they find sources of inspiration, respect, dignity and integrity from the land, water, trees and rocks that guide them far and wide.
Ryan Rice, Guest Curator
Michael Belmore and Frank Shebageget
Frank Shebageget (Ojibway) is from northwestern Ontario, and currently resides in Ottawa.
As an installation artist, his work reflects his continued interest in the geography of the Canadian Shield and the aesthetic qualities of everyday materials. Through the use of repetition, he explores the tense relationships between production, consumption, and the economics of beauty, often by playing with the incongruity of mass production versus the handcrafted object.
Shebageget graduated with his A.O.C.A. from the Ontario College of Art in 1996, and received his Master of Fine Arts degree from the University of Victoria in 2000. He has participated in the group exhibitions RED EYE, Art Gallery of Calgary, Calgary AB (2007); Au fils de mes jours (In My Lifetime), Museum of Civilization, Gatineau (2006-07), Musee de Quebec, Quebec City (2005); Making Sense of Things, McMaster Museum, Hamilton/C.N. Gorman Museum, Davis, CA (2006); Kosmos, Ottawa Art Gallery, Ottawa (2006); Dezhan Ejan, Canadian Embassy, Washington, DC (2004); Remote Access, A Space Gallery, Toronto (2004); 3, Ottawa Art Gallery, Ottawa (2003). Solo exhibitions include: Quantification, Tribe Artist Run Centre, Saskatoon (2003), and Home Made, Gallery 101, Ottawa (2002). His work can be found in the collections of the Ottawa Art Gallery, the Canada Council Art Bank, the Dorothy Hoover Library of the Ontario College of Art, the National Aboriginal Achievement Foundation, as well as several private collections.
Michael Belmore was born in 1971 north of Thunder Bay and graduated with an A.O.C.A. in Sculpture/Installation from the Ontario College of Art in Toronto, Ontario in 1994. Belmore's materials are key to his work and bring into account how we view nature as commodity. For several years his work has evolved around our use of technology and how it has affected our relationship to the environment. Previous exhibitions have included First Nations Art at the Woodland Cultural Centre, Brantford, Ontario (1992), Naked State at the Power Plant Contemporary Art Gallery at Harbourfront, Toronto, Ontario (1994), Staking Land Claims at the Walter Phillips Gallery, Banff, Alberta (1997), lichen at the Toronto Sculpture Garden (1998), and Vantage Point at Sacred Circle Art Gallery, Seattle, Washington (2002). As well, Belmore has shown with several artist-run-centres and collectives across Canada and created site-specific public art installations for Thunder Bay Art Gallery, University of Western Ontario in London and for the City of Peterborough. A member of the Royal Canadian Academy of Arts, Belmore's work is represented in the permanent and private collections.
Ryan Rice, a Mohawk of Kahnawake, Quebec is an artist and independent curator. Rice received a Master of Arts degree in Curatorial Studies from the Center for Curatorial Studies, Bard College, New York, graduated from Concordia University with a Bachelor of Fine Arts and received an Associate of Fine Arts from the Institute of American Indian Arts, Santa Fe, New Mexico. He has worked for the past 12 years within the museum/art gallery milieu as an educator, intern, technician, curator (assistant, guest, resident, fellow, independent and Chief) at the Iroquois Indian Museum, Canadian Museum of Civilization, Indian Art Centre (DIAND), Carleton University Art Gallery and the Walter Phillips Gallery. Rice is a co-founder /coordinator of Nation To Nation ( www.nation2nation.org), a First Nations artist collective and co-founder and chair of the Aboriginal Curatorial Collective (www.aboriginalcuratoialcollective.org). In 2008/2009, Rice will tour his exhibitions ANTHEM: Perspectives on Home and Native Land and Oh So Iroquois, and will be opening new exhibitions in Lethbridge, Alberta, Toronto, Ontario and Montreal, Quebec. His work has been exhibited internationally and is in numerous collections.