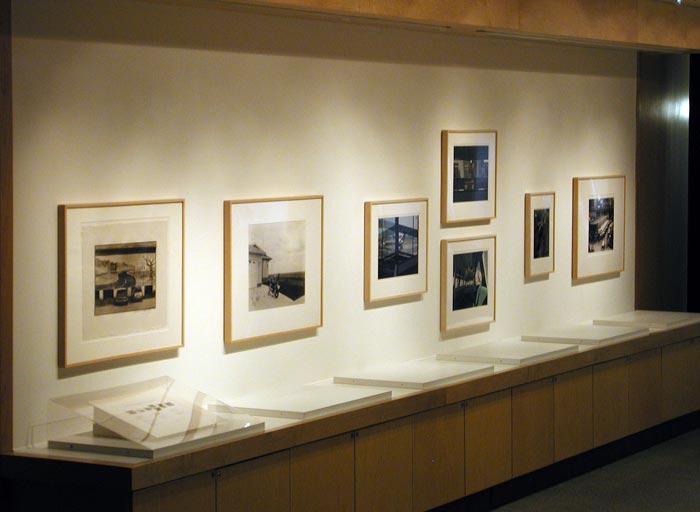 Planes, Trains and Automobiles: the art of transportation
Helen Christou Gallery
Guest Curator: Ryan Doherty
In a country as immense as Canada, people quickly learned to have a great respect for vehicles – cars, trucks, buses, bicycles, skidoos, boats, horses, canoes, trains, ships, motorcycles – anything to help make our landscape a bit more manageable. Since dropping anchor in the 17th Century, Canadians have depended on various modes of transportation to enable their success in a new land. This reliance continued as vehicles became inseparable from modern life, embedded in daily routines, travel, tourism, trade and lifestyle. This exhibition features a selection of works from the University of Lethbridge Art Collection that recognize the significance of transportation to our culture whether deliberately drawn to our attention or innately integrated within another context.
In modern times transportation has been inextricably linked with the development of the city. As such, it can be aligned with the modernist project as a reflection of mankind's progress. Artists such as Edward Steichen and Berenice Abbott are renowned for their articulation of urban life in New York, in particular noting the speed at which it was changing. It was not unusual for them to include modes of transportation
to help demonstrate the machinations of the city. Similarly, Richard Estes has included subways, buses and airports as backdrops for his photo-realistic prints. With meticulous detail he captures the complex structures and surfaces of urbanity within anonymous, yet familiar cityscapes. Robert Rauschenberg further acknowledges the implications of transportation in the fabric of our culture. His playful portrayal of two cars parked in front of a fading mural of the open road succeeds as a representation of contemporary America while doubling as a symbol of the limitations of modernism.
As automobiles became more affordable, their popularity led to the reconstruction of the cityscape with widened streets, parking lots and gas stations. More menacing was their role in the development of freeways, which blasted through the foundations of the city – an insatiable beast which sped people through the city instead of immersing them within. From the off ramps of these new and improved roadways emerged the suburbs and a distaste for urban life. A new lifestyle had emerged that was accessible to the suburban dweller. The automobile and its ubiquitous highways allowed for unprecedented freedom for traveling across North America. A summer fling in Christopher Pratt's Karmann Ghia, a family excursion in Ralph Goings' camper, or perhaps some soul-searching on Larry Stark's motorcycle – all are indicative of a different direction in transportation – one motivated less by efficiency and necessity than leisure and convenience.
The artists in this exhibition draw upon our intimate relationship with transportation and remind us of its enormous impact. Some deliberately use transportation as symbols of progress or the complexity of modern life, while others prefer to evoke a sentiment of nostalgia. In either case, the works in this exhibition will feel familiar whether living in the country, city or suburbs – sure to be a moving experience.
Ryan Doherty
Guest Curator