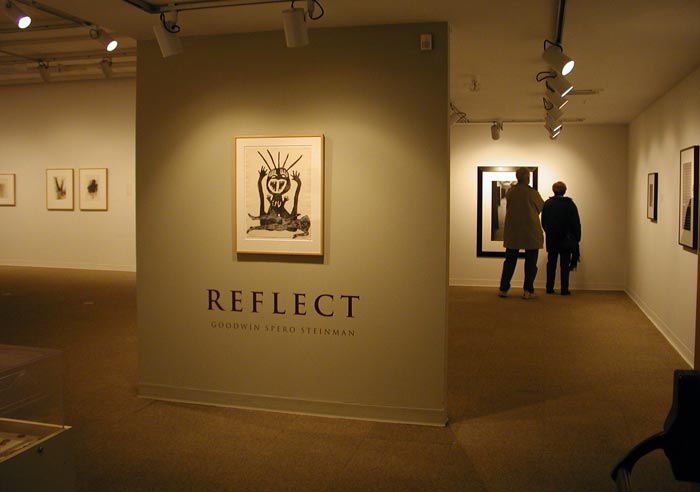 Reflect: Goodwin, Spero and Steinman
Main Gallery
Reception: October 27 and also 29, 2005
Reflect is part of the Genocide Generation project at the University of Lethbridge. This project focuses on 20th century genocides – their history and the healing that follows. As the title of this exhibition suggests, I selected artists whose work inspires thought, encourages contemplation and thereby goes beyond individual events.
Canadian artist Barbara Steinman addresses the residue of the WWII holocaust by reworking archival images and visiting key sites built by the Nazis. Photography has a strong basis in documentary, but Steinman wants her works to exist outside this tradition and so she does not make a direct reference to the locations in the title of her works. Instead, her photographs are open to many readings and emphasise the hope and inspiration of the people who occupied these places – the series of doors left ajar in "Doors" suggest both imprisonment and escape.
Nancy Spero is internationally renowned for her work as an artist and as a feminist. The works in Reflect, borrowed from the Vancouver Art Gallery, include pieces from the 1960s through 1980s. Returning to the U.S. in the 1960s after living in Paris, she was horrified by the images of the Vietnam war and particularly by the representation of gender. She produced a major series critiquing such aspects as the assignment of women's names to the planes and helicopters dropping bombs. Later in her career she expanded to address the treatment of women in wars and conflicts around the world. Another component of her practice is her poetic and abstract approach to these powerful events. I have included three drawings from her 1960's series in which she worked with ideas from writer and actor Antonin Artaud.
Betty Goodwin's subtle and beautifully rendered drawings and prints explore the fragility of human existence rather than representing specific events. Based in personal experience, Goodwin conveys powerful emotions through her works. The selection displayed here is also borrowed from the Vancouver Art Gallery and focuses on her small scale practice. Building on the connections between these three artists' approaches, I selected two quotes for the walls. Balzac's famous phrase echoes the implication in Steinman's work that it is important to be aware of history in order to see what is happening today while Keats's lines speak to the feelings evoked by all three artists.
Josephine Mills
Director/Curator of the University of Lethbridge Art Gallery