Guest Curator: Ann MacDonald
Selected artwork from Senior and Advanced Studio Students.
The U of L Art Gallery brings an established curator to select work by student artists and help them acquire professional experience while also showcasing the best of student art production that year.
The Annual Curated Student Exhibition provides an exceptional opportunity for the professional development of Art Studio majors as they near completion of their degree. The exhibition gives students a realistic experience with the process of submitting their work and receiving feedback from an established curator. The exhibition is only open to Senior and Advanced Studio students in order to focus attention on those with the goal of becoming professional artists. In applying for this exhibition, the students follow the same process and standards for documenting, describing and proposing their art work as they will when applying to public art galleries, artist run-centres, or for government grants. Staff from the Art Gallery provide advice on preparing the proposals and share insights into what curators look for when deciding to book a studio visit and choose art work for an exhibition.
An established curator from outside of Lethbridge is invited to create the exhibition. The curator views the proposals and selects a short-list of students for follow-up meetings during a visit to Lethbridge. From these studio visits, the curator makes the final selection and works with the Art Gallery staff to lay-out and install the exhibition.
The Annual Curated Student Exhibition provides a showcase of excellent work by Art Studio majors in that year and gives the students a valuable achievement to list on their résumés. As well, the students who are not selected receive feedback on their proposals and can learn how to improve as they prepare to begin their careers.
Visit the Faculty of Fine Arts.
Artists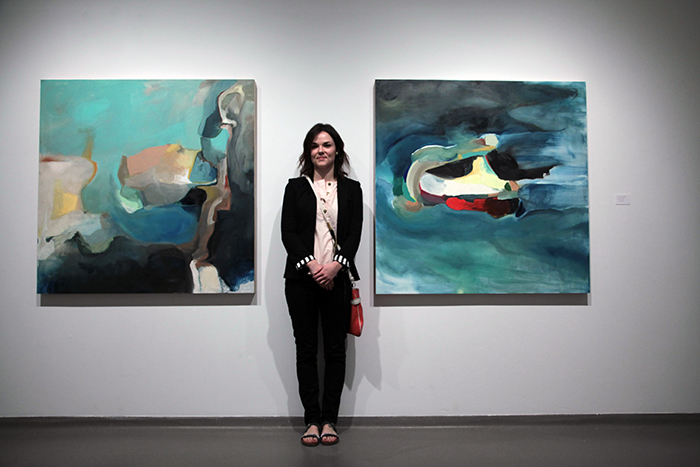 Kelsey Galbraith
Exceeding/Receding, 2014, Oil on hardboard (pictured left)Equivocal, 2014, Oil on hardboard (pictured right)Ephemeral, 2014, Oil on hardboard Nuts and Bolts, 2014, Oil on hardboard
Currently I am in my fourth year of the BFA/B.Ed. program at the University of Lethbridge. I completed the first two years of this program at the Medicine Hat College. My artistic voice speaks in the form of abstract painting where I engage questions about the language of painting and process.
Through painting I explore the realms of consciousness and sub-consciousness using a method of process and reaction; thus leaving analytical and formal thinking for later in the process. I believe that creating art should come from deep within the being, allowing many important factors to work with one another. All of the choices I make are based upon the reaction I get from the painting during its development; I rarely have a clear vision, or plan when I start a painting. In part, my emotions, my perspective, my subconscious, and my mood will be portrayed through such paintings. I believe in a universal energy within all beings, things, and spaces. Whether they are natural or architectural, I search for a connection to my surroundings, allowing multiple influences to inform my creative process and translating subtle awareness' upon the surface.
The attached body of work is the result of this intuitive production process which aims to reveal the valuable dialogue not only between myself and my medium, but also between the paintings themselves. By installing the paintings in inter-related and experimental formations, I further accentuate this notion of correlation between artist and art.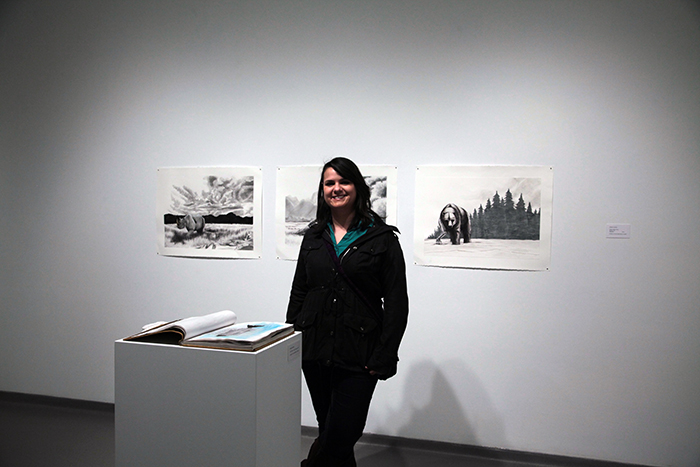 Noemi Guzman
Western Black Rhino Barbary Lion Atlas Bear, 2014, Graphite, ink and watercolour on paper (pictured)
Untold Tales of Extinct Creatures, 2014, Graphite, ink and watercolour on paper (pictured on plinth)
I have always had an interest in telling stories. This is reflected in my current work, which is a series of large drawings and a book of illustrations and stories that deal with extinct animals and issues of violence, exploitation, and current balances of power between the environment, wildlife, machinery, and modern concepts of hybridity. There is often a stark contrast and division between the powers of nature and those of advancement technologies. I draw on the power struggles between man and wild creatures: Confrontations between life, death, control, and freedom, seeking to find the point where they both awkwardly crash into each other.
My husband, who is studying to become an environmental enforcement officer, greatly inspired this body of work. I have learned much from him and have developed a great interest in the sustainability of wildlife and became intrigued by the intervention and exploitation of wildlife and natural resources around the world.
My process includes a vast amount of research that progressively moves into selecting a set of extinct species based on historical and visual elements. I use graphite, ink, and watercolors; also, the decision to do this series of works on paper is due to its nature: Paper is a produced commodity that originates mostly from organic sources and is then worked into a useful item. It is in a similar way that the animals I am depicting originated from nature and, throughout history, have been processed by the human hand. The content of my work, in a way, is a direct appeal to validate these unacknowledged species and their struggles into extinction. By bringing them back in an altered and not completely natural form, I hope to draw attention to the issues at hand, while producing visually stimulating art.
I desire to further develop this topic by diving deeper into my research and to effectively produce a visual language in which to communicate my interests and concerns.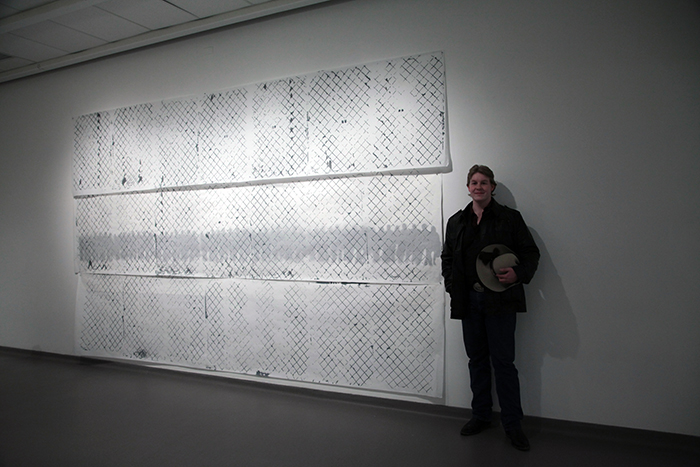 Charles Lee Harris
Together, 2014, Silkscreen on paper and vellum (pictured)
I enjoy work that involves the idea of physical labour, wood block printing and metal work, and working in analogue processes such as photography. Labour intensive work releases frustrations and helps to fuel my creative process. I create works using printmaking methods, such as the wood block. This allows me to have a physical investment in my work while also producing in multiples. I use the wood block print to represent a redundancy of repetition, which is necessary for the support of the original image. What I mean by a redundancy of repetition is that in order to operate the system becomes redundant, more excessive, thwarting its own processes. By themselves my designs hold no real significance, however placed together on the wall, in multiples, allows me to create a dependent system of redundancy. The more the system needs the support of itself, the more redundant the system is until it becomes impossible for it to function. By materially and metaphorically Carving away at the surface of the industrially produced product, I relate this idea of a redundant system to the over-complication of life today; socially, politically, and institutionally.
In everyday life we are assaulted with images and ideas through various means of technology; as well as being assaulted by those who expect to always be able to contact us no matter the time of day, through our numerous devices. Technologies that are suppose to make life easier, instead make things more complicated, juxtaposing their purpose. Numbing us when we are in immediate contact with people or viewing an image in person. The digital assault of imagery I am to represent, in a redundant system, by using older forms of industrial production. The closer inspection of my work reveals the artist's hand, but as a whole the work operates as a machine so large that the flaws of production no longer matter.
In general the work that I produce replicates two systems; one a large and one small scale. One is not able to exist without the other; they are joined in their repetition, while separate in their existence.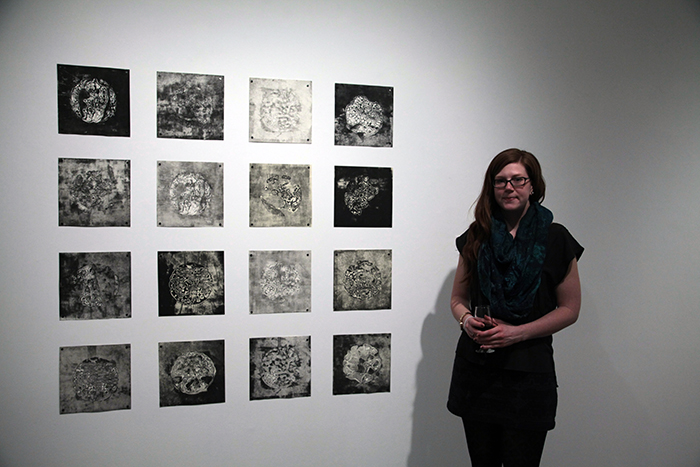 Angela McPeake
Untitled, 2014, Ink on paper (pictured)
The unknown discoveries found by looking through a microscope have developed into an obsession in my art work. My current art work is influenced by microscopic slide studies of blood cells gathered from family and friends. I photograph the slides as a foundation for the composition of my works. The photographs are then generated into large scale oil paintings and ink prints. The application of oil paint in my work is layered from thin washes to thick layers. Similar to the black ink prints which vary in ink concentration. My work investigates material processes and intuitive response, in which the final outcome of my work is not predetermined. Often the final products of my works are not identified as microscopic studies. The lines, colors, and textures become their own object to the viewer and leave space for imagination and curiosity.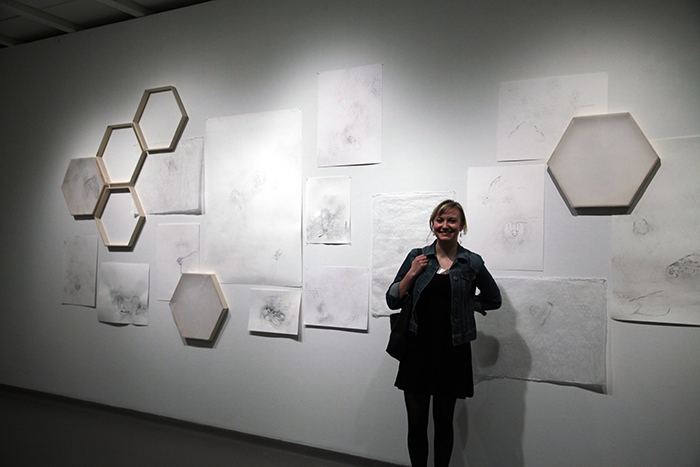 Claire Peterson
Magnifying the Hive, 2013, Graphite on various papers, birch (pictured)
Endangered Subsistence, 2014, Vinyl lettering
My work is an exploration of the interconnected relationship of honeybees and human beings. I am interested in the way these explorations question the significance of small things which may easily go unnoticed. Using scientific diagrams as an underlying structure for a series of drawn studies of honeybees provides a scientific context for my artistic practice.
Capitalist industry has a constant desire for increased efficiency and more often than not this process leads to unprecedented negative ecological affects. Mono-crop farming, the use of pesticides and the movement of bumblebee populations between continents (resulting in a transfer of new disease) are just a few of the many human 'shortcuts' threatening bee
populations. The Guide to the Chemicals Used in Crop Protection (E.Y. Spencer, Guide to the Chemicals Used in Crop Protection, publication 1093, Ottawa, ON: Information Canada, 1982) is a valuable resource for this works evolution.
I believe that our insatiable standards of production combined with our apparent personal acceptance of our own ignorance will lead us to our own demise. If we allow our selves to
continue to misuse our Earth this way, the endangerment of pollinators will soon enough become their extinction and our ability to produce food will be left to plants which self pollinate. Our food supplies will be reduced to almost one quarter of what they were and we will not be able to sustain our current human population. Apathy and resistance to change will be much more difficult to justify at that point.
The simplicity of drawing lends itself to the delicate nature of my subject matter. My art, at its very core, is about my hand and its relationship with paper and graphite; however the lines drawn are still very cognizant representations. Drawing is an intimate practice and one that is, in this way, quite remarkable. There is a directness shared between linear drawings and the careful, technical diagrams of scientific documentation. What is science if not the work of a different kind of artist's hand?
The ironic repetition of the hexagon, present in the honeycomb structure of the beehive and also the chemical structure of pesticide diagrams, creates another aesthetic parallel. This link in imagery produces a quiet cohesiveness between two vastly conflicting entities, one designed to destroy the other.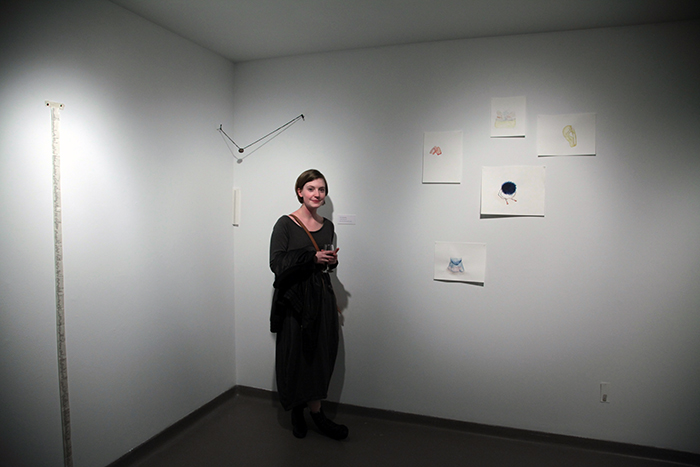 Kasia Sosnowski
Corner/Coroner, 2014, Rock, tape, nails, pins, paper and text (pictured)
Untitled, 2014, Ribbon, tape, brass tacks and text
Deal with your ugly babies., 2014, Watercolour, ink, pencil, pastel, paper and straight pins
The position of the body is proportional to its perception., 2013, Pencil, marker, paint, watercolour, pencil crayon, paint, and ink on paper (co-author: Kara Henry)
We split our time between our heads and bodies shifting between the cerebral and the present. Thinking about body and mind in a binary is limiting; they are not separate they are circular.
I make work intuitively, sparked by journaling or writing, conversations, or fleeting moments. My work is a balance between making, understanding materials, and working intuitively. I don't want to present my work as didactic, but as an invitation; I invite people to spend time contemplating that which might not be easily wrapped up.
We forget to look, to breathe, we remind ourselves not to lose our bodies. I hope that the objects I make, the moments I construct give pause to the viewer and take them to a quiet place of contemplation. And allow for them to engage with their body, explore their mind, and take them to a safe place.
Quiet is important, reflection time is important, being in your body and being reminded of your body is important. I love making art and playing in the overlap between the body and mind.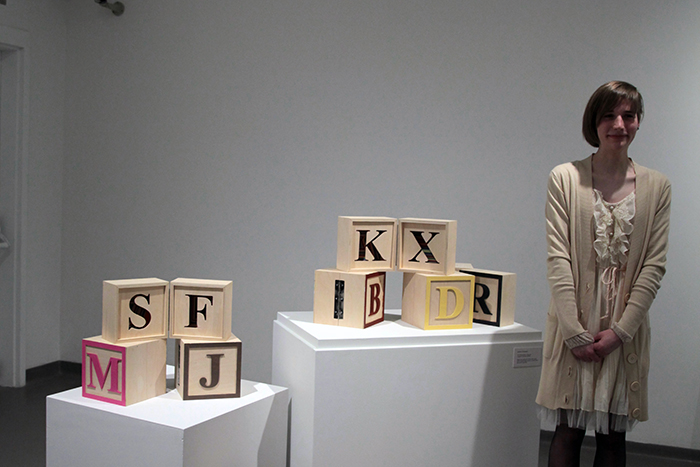 Sarah Stringham
For some reason, there are magenta Tuesdays, 2013, Baltic birch plywood, acrylic paint, card stock, acrylic matte medium, double sided tape and fir plywood (pictured)
Nihilists With Good Imaginations, 2013, Card stock, acrylic matte medium, double sided tape
I'm always so dubious of your intent, 2014, Baltic birch plywood, fir plywood, maple plywood and wood glue
My hands facilitate the erection of sculptures inspired by the overlooked potential of common objects, the perceptual variations produced by synesthesia and other visual anomalies, and the visceral, physical eruptions of other bodies.
Nabokov's writing accosted me with the ugly. The ugly promoted my recession, a withdrawing. Its physicality was repelling and, conversely, it was alluring. It threatened to seep formless stuff into my immaculate world. The ugly stuff was too close to me, it was threatening to break down my fabricated spatial isolation and dissolve distance. Then, I realized that I am this heap of nasty stuff barely contained by a fragile and fallible surface. I have a body of flesh and blood. There is this ugly aspect of my body, and conversely this delightfully wonderful aspect. I have the capacity to process visual stimuli. I shiver, tremble, and gawk when I see Carmen Ruchiensky's visceral, juicy paintings. I smell cinnamon, nutmeg and the lignin induced discoloration of older novels when I thrust plywood through glutinous band-saw teeth. I can process information about surface material obtained from tactile exploration. I feel wood chips brush against my skin, and taste the sawdust that is powdered sugar. I experience these statements through tangible modes. I use this inspiration to satiate my appetite to create.
In the body of work, With Regards to Nabokov, I marveled at my own capacity to see shapes and colors and read letters. I was even more so awe struck when I discovered a particular perceptual anomaly of Vladimir Nabokov's as described in his biography Speak, Memory; synesthesia. Synesthesia, as a perceptual condition in which stimulation of one sense activates the simultaneous stimulation of one or more sense(s) is constituted in the aforementioned book by the grapheme to color form of synesthesia that Nabokov experiences; an inherently colored alphabet. From "huckleberry 'k'" to "steely 'x'", "noodle limp 'l'", and "the ivory-backed hand mirror of 'o'", I was completely and irrevocably dazzled. Nabokov discovered his unique color associations while playing with a set of alphabet blocks as a child. He complained to his doting mother that the colors which the manufacturers applied to the surface of each letter were completely wrong. This experience resonated with me, and I felt compelled to construct his cubes with an additional surprise inside. With mundane materials at hand, I individually sculpted pieces of colored construction paper into pulsing, volumetric forms and inserted them behind grapheme silhouettes secured inside the cubes. The exterior of the cube resembles that of a generic alphabet block, with one distinct deviation; the color applied to the letters more or less matches the color Nabokov describes in his own fanciful way. The colors on the inside, however, apply to the color associations experienced by other synesthetes, as there is variation within similar forms of synesthesia.
Curatorial Statement
Conjugation
The artists in Conjugation go beyond the myth of the lone artist in the studio and reflect the worlds they witness with concern and compassion. Interdependence and the search for linkages run thematically throughout the works in the exhibition.
Peterson's quiet drawing installation, Magnifying the Hive, and text piece Endangered Subsistence ask that the viewer move in closely to consider how society's careless choices can impact the ecosystem, of which our species is a part.
Reminiscent of copious media images, Harris's foreboding chain-link fence blockades a collective that has formed on the other side. The work alludes to the remarkable social cohesion that can result in the face of adversity.
In her exquisite drawings, Guzman eulogizes lost species and offers them elaborate prosthetic devices that could magically alleviate their challenges.
Through her remarkably crafted, and custom-coloured, childrens' wooden blocks, Stringam ventures to accommodate the sensitivities of a synesthete. The exterior to assist Vladimir Nabokov, and on the inside, a myriad of choices to provide for all.
McPeake's Untitled are representations of blood cells originating with friends and members of her family. Reconstructing the microscopic images pays tribute to the almost unknowable aspects of her clan.
Likewise, Galbraith has requested images from family and friends whose livelihood depends on the contested oil industry. In painting them, her approach is not to accuse or defend, but to consider the complexities of survival in a highly complicated world.
Sosnowski's installation is a warm-hearted look at a collection of outsiders who seem to struggle with ways of being in the world, and her text pieces deftly communicate the anxieties that are intertwined with existence.
Consistent with the themes evident in these works, the students exhibiting in Conjugation are creating a visionary environment fed by shared curiosity, support, and enthusiasm for one another's production.
– Ann MacDonald
Guest Curator
About the Curator
Ann MacDonald is Director/Curator of the Doris McCarthy Gallery at the University of Toronto Scarborough. She has worked with a number of Canadian artists on exhibitions including David R. Harper: Entre le chien et le loup (2013), Mélanie Rocan: Souvenir involontaire (2013), Jon Sasaki: Good Intentions (2010), Liz Magor: Storage Facilities (2009), Bill Burns: Bird Radio (2008), Euan Macdonald: Two Places at Once (2005), and Doris McCarthy: Everything Which Is Yes (2004). The Doris McCarthy Gallery is a collecting institution, and Ann has assisted in notable acquisitions including works by Robin Collyer, Liz Magor, Doris McCarthy, Ed Pien, Sasha Pierce, Zalmaï, and others. Ann has also been a key participant in the commissioning of permanent installations at the University of Toronto Scarborough by Daniel Young & Christian Giroux and Kim Adams. She co-authored Shiva's Really Scary Gifts (Coach House Books, 2002) with Governor General's Visual and Media Arts Award recipient John Scott. Ann is a faculty member in the Arts, Culture and Media department at the University of Toronto Scarborough as well as U of T's Masters of Visual Studies, Curatorial Stream.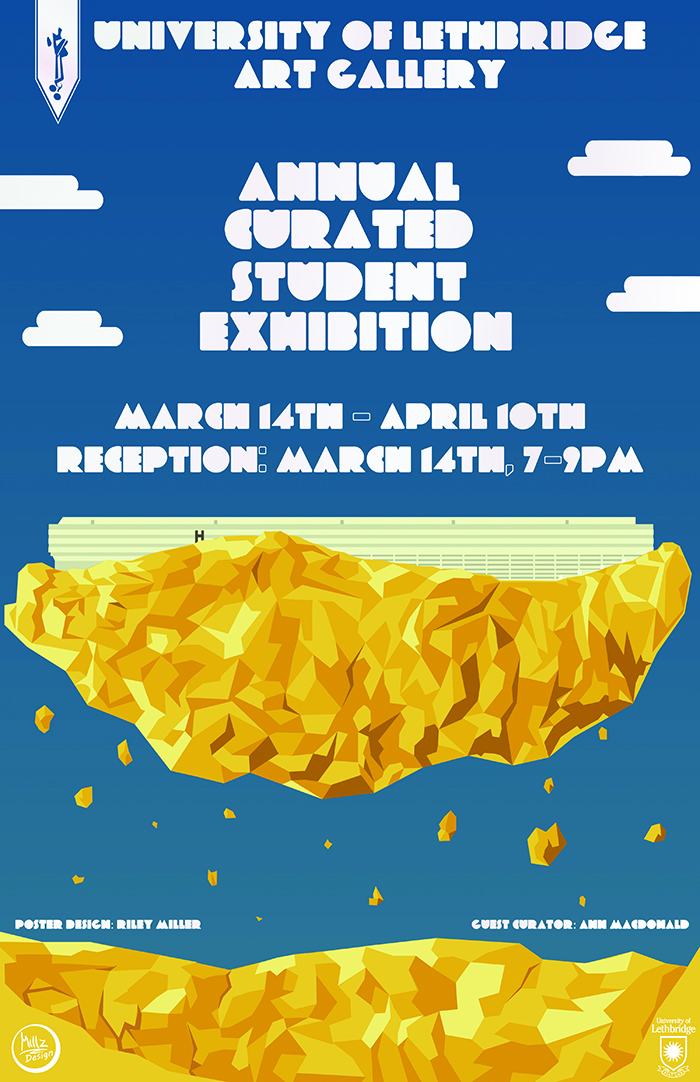 Exhibition Poster Design by Riley Miller, 4th year student, Dept. of New Media