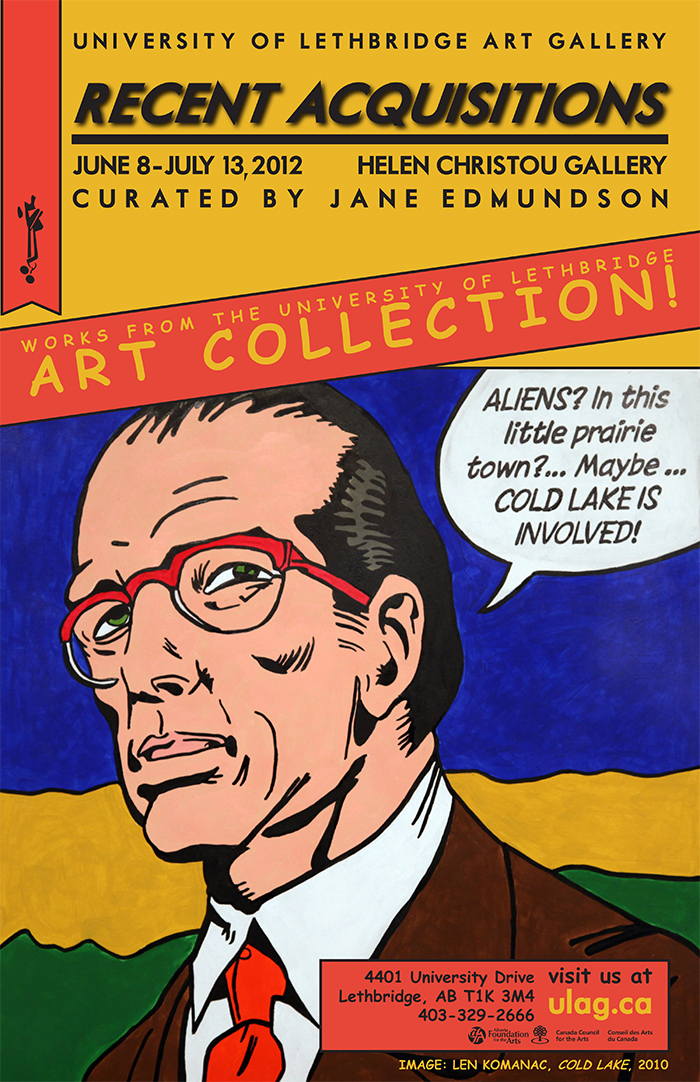 Recent Acquisitions
June 8 – July 13, 2012
Curator: Jane Edmundson
Works from the U of L Art Collection.
The University of Lethbridge Art Gallery houses one of the most significant art collections in Canada. Numbering over 13,000 objects, the holdings include works from Canada, America and Europe, span the 19th and 20th centuries, and continue to grow with 21st century additions. The collection's major strength is its diversity, which not only represents a wide range of geographic locations, but also the full spectrum of media, artistic movements, genres and approaches. Initiated at the earliest stages of the University's development to help facilitate the liberal education of students on campus, the collection stands as the backbone of the Art Gallery's exhibition programming, with rotating collection displays accompanied by contemporary exhibitions in various Gallery spaces and public site installations throughout campus. The art collection continues to grow today through the generous gifts of artists and art collectors and focused, grant-funded purchases. In recent years, efforts have been made to strengthen the holdings of artworks of specific movements or genres that were formerly underrepresented within the collection.
Recent Acquisitions features a selection of works from the University of Lethbridge Art Collection that have been acquired over the past three years. These works were chosen for their historic, conceptual and geographical links to Lethbridge. Artists Chai Duncan and Len Komanac both have ties to our campus community; Duncan worked as a Technician in the Faculty of Fine Arts and Komanac is an alumnus of the BFA program. Carl Granzow was one of the earliest instructors in Visual Arts at the University, and animated campus for over 30 years with his vision for the Papokan Sculpture Park and Gushul Studio Residency Program before his untimely passing in 2009. Prairie artists Joe Fafard, Don Proch and Russell Yuristy are associated with the Regina Clay movement, which sought to depict everyday objects and scenes from rural life with humour, colour, and quirkiness. George Hunter's photographs of mining operations in Lethbridge and urban life in burgeoning, post-war Albertan towns have documentary merit while also being beautifully composed and visually compelling. Finally, Calgary painter and printmaker John Will is one of the artists that the University of Lethbridge Art Gallery has committed to collecting in-depth; the collection holds over 120 works by Will, spanning over 45 years of his self-deprecating, neurotic and expressive art practice.
– Jane Edmundson