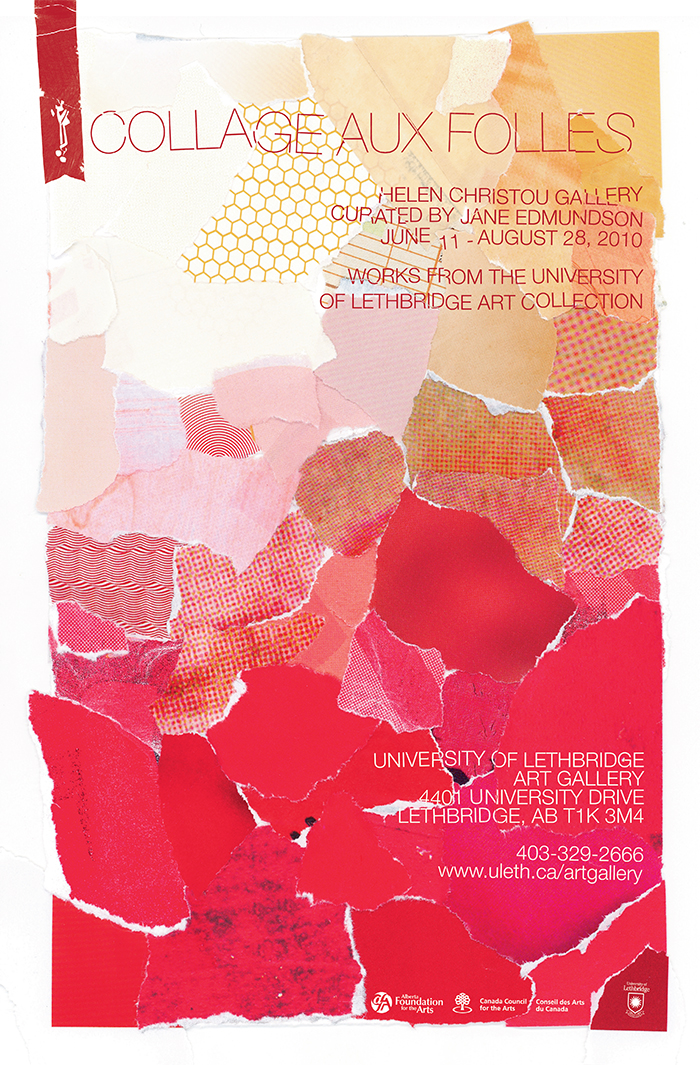 Collage aux folles
Helen Christou Gallery
Curator: Jane Edmundson
Featuring work from the University of Lethbridge Art Collection, this exhibition explores collage as a both a formative creative process and elevated fine art technique. Artists include Ron Kitaj, Deborah Shackleton, Takao Tanabe, Tony Urquhart and Kim Kozzi of Fast Wurms.
Statement
The collage process embodies the ideas of postmodernism more perfectly than perhaps any other in contemporary artmaking. Though the technique is as ancient as paper itself, collage rose to fine art status in the early 20th century when Pablo Picasso and Georges Braque employed it in their Cubist compositions to heighten the visual collision between media and the surface plane of the canvas. The technique continued to be popular with Dada artists, who created the first photomontages that have since become ubiquitous in our current digital age of Photoshop pastiche. Collage's sustained popularity with conceptual artists has not been limited to visual media; cinematic montage and the samples and remixes of popular music also demonstrate how this process of appropriated layering is prevalent in our daily lives.
The artworks chosen for Collage aux folles range from quick sketches to fully realized objects, demonstrating how collage has been utilized as both a formative creative process and elevated fine art technique. While some make use of found objects or re-appropriated print images, others focus on overlapping texture, colour and shape to arrive at a more abstract final product. The postmodern tenets of appropriation, assemblage, fragmentation and pluralism are examined while the artists challenge the hierarchy of what can be deemed fine art.
-Jane Edmundson