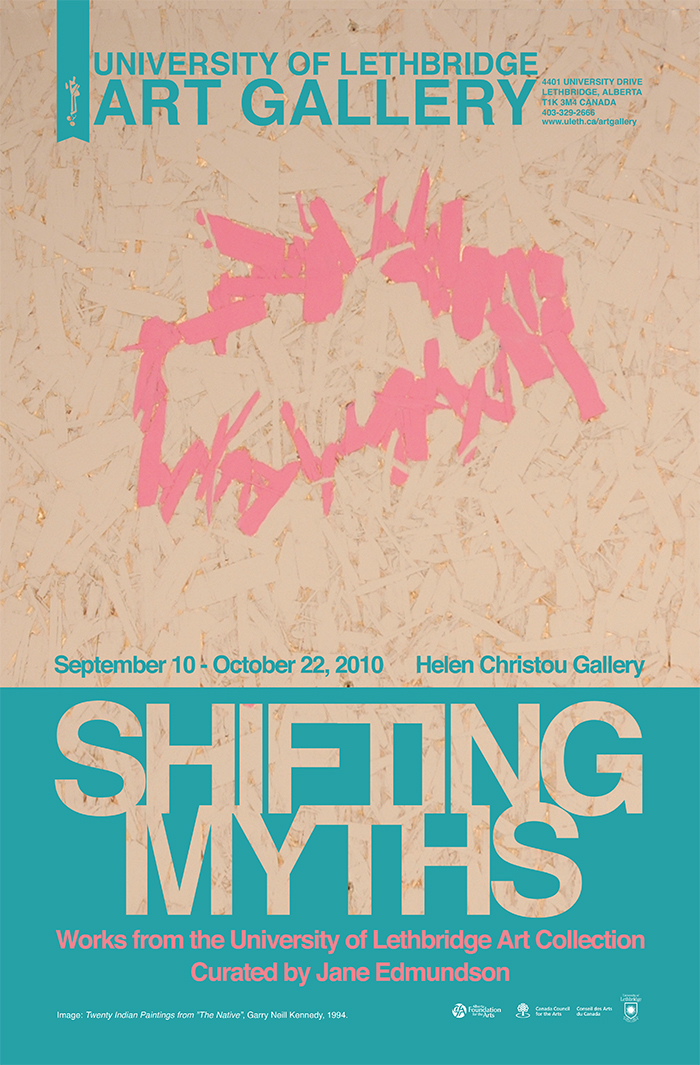 Shifting Myths
Helen Christou Gallery
Curator: Jane Edmundson
This exhibition features work from the U of L Art Collection by three artists whose work conceptually addresses the perceptions and labels laid on Canada's First Nations peoples. The varied and acclaimed practices of Alex Janvier and Carl Beam stand in juxtaposition with Garry Neill Kennedy's painting series entitled "The Native", for which the artist chose paint colours by their racially coded, commercially assigned names.
Statement

"… Canadian galleries outline a national narrative. Our goal should not be simply to expand it by including Aboriginal art. Our art can do much more – it can disrupt and challenge that narrative, be against it and at the same time be part of it, but not subsumed within it." (i)
– Richard William Hill
"Let us remember that we are all related."
– Carl Beam, 1992
It is no secret that the majority of Canada's public cultural institutions have only very recently begun exhibiting work by First Nations artists as fine art rather than archeological artifacts. Even contemporary artworks were often treated as relics of cultures that for hundreds of years were falsely identified as racing toward complete assimilation, if not outright extinction. Over the past 20 years, many art galleries have chosen to appease this sordid history by holding exhibitions that exclusively featured work by First Nations artists, and Carl Beam's October 2010 retrospective at the National Gallery of Canada is the gallery's third large-scale solo exhibition devoted to a Canadian aboriginal artist in the past four years (the first and second being Norval Morrisseau and Daphne Odjig, respectively).
This shift in thought and policy is clearly necessary. However, there has most recently been a move toward integration of artwork by aboriginal artists into the larger, previously Euro-centric gallery exhibition system. By focusing on the subject matter or concept of the artwork itself, rather than the cultural identity of its creator, artists that have previously been "ghettoized" in repetitious "multicultural" exhibitions are finally having their work examined from a myriad of viewpoints. (ii)
Utilizing this idea, the works chosen for Shifting Myths were selected based not only on their examination of the construction of aboriginal cultural history, but also for the artists' common approach to symbolic abstraction and formalism. Alex Janvier and Bob Boyer both utilize their background in formal art school training as a springboard to infuse highly abstract imagery with personal spiritualism and critique of colonialism. Janvier has made direct associations between his paint colour choices and particular events in his life, while Boyer's specific use of blankets as canvases references both Plains native hide painting and the brutal history of trading post blankets that carried the European diseases that decimated Canada's aboriginal population. Carl Beam's complexly layered monoprints hearken back to the lithographs of American Pop artist Robert Rauschenberg, and indeed, incorporate many pop cultural and Judeo-Christian images. Each print is also rife with stereotypical representations of "the Native", with Beam inserting his own portrait to both validate his existence and challenge the viewer to examine their notions of fine art and aboriginal identity.
It is for these reasons then that the work of Janvier, Boyer and Beam serves as an effective and necessary foil to Garry Neill Kennedy's Twenty Indian Paintings from 'The Native'. Kennedy's conceptualist, formalist art practice allows him to explore the complicated nature of language and cultural construction, but from a removed standpoint. Janvier, Boyer and Beam are responding to the same history with a related strategy of combining First Nations approaches with European-based contemporary art forms. Exhibited opposite to Kennedy's project, a dialogue is created between the artists and their paradoxical approaches to ideas of cultural oppression, linguistic taxonomy, and the modern state of cross-cultural hybridity.
Jane Edmundson
———————
i. Richard William Hill, 'Getting Unpinned: Collecting Aboriginal Art and the Potential for Hybrid Public Discourse in Art Museums", Obsession, Compulsion, Collection, ed. Anthony Kiendl. Banff Centre Press, 2004.
ii. Carol Podedworny, Reading / The Language of Culture. Art Gallery of Hamilton, 1994.