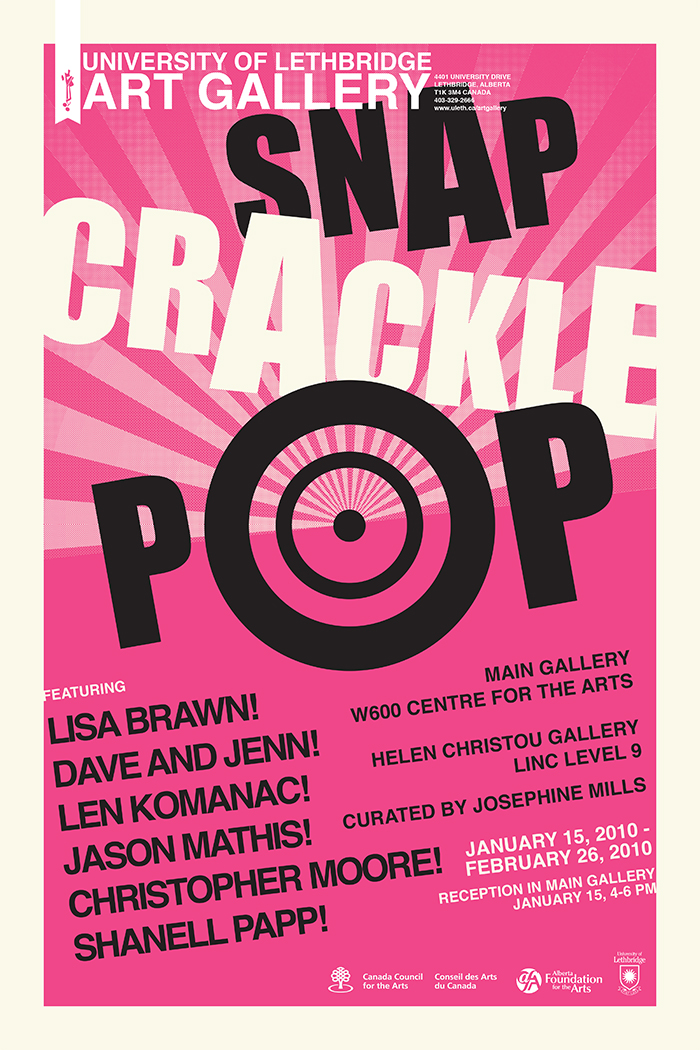 Snap, Crackle, Pop
Curated by Josephine Mills
Main Gallery
Reception: January 15, 4-6 PM
Snap, Crackle, Pop brings together a sample of new directions by artists in Southern Alberta who are exploring the themes and iconography in popular culture. This exhibition is not meant to be an exhaustive survey, but rather a snapshot of this activity. The focus on Southern Alberta is also more of a starting point, given that half of the featured artists are residents of the area while the others started this work while living in Calgary or Lethbridge, but have since moved to other places.
There are some common themes that connect the works in this exhibition: disaster, machismo, and Canadiana appear in different combinations and forms. The first two fit with the temperament of our time. The huge scale of the financial crisis, global warming, and the wars in Iraq and Afghanistan produce an anxiety that is too big to address directly while pervading contemporary experience. In the same way that mass media addresses these issues through metaphors of aliens, vampires and werewolves, fashion, and super heroes, the artists in this exhibition are also looking to more playful and humorous ways of exploring catastrophe, war and anxiety. Instead of tornadoes or floods, a giant squid and angry trees attack the trailers in Len Komanac's sculpture, while Christopher Moore's hot pink flocking and cute shapes used within camouflage transform the aggressive nature of military weapons and uniforms.
These artists also assert the local in various ways and bring in a Canadian perspective that is often missing from mass media forms. Shanell Papp uses cozy fabrics (familiar to Canadians during cold winters) to soften the presence of large blood pools sewn for the gallery floor. Jason Mathis brings our characteristic self-deprecating sensibility to his portraits of friends dressed in a Batman costume, while Lisa Brawn compares the various options of macho in Canadian and American manly men in her woodcut portraits. Dave and Jenn draw on the quintessentially Canadian imagery of the Group of Seven in their colourful, layered landscapes. Seen together, the works in this exhibition display the eclectic range of approaches by artists of this region to explore the experience of popular culture and everyday life.
Josephine Mills
Director/Curator,
University of Lethbridge Art Gallery
Lisa Brawn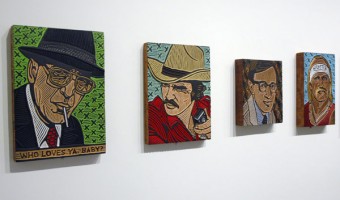 I have been experimenting with primarily figurative, portrait genre woodcuts for almost twenty years since being introduced to the medium by the printmakers at ACAD. Recently, I have been working with salvaged century-old rough Douglas Fir beams from the restoration of the Alberta Block, and from the dismantling of grain elevators. This wood is interesting not only in its history, but also in that it is oddly shaped and ornery. It has holes, knots, gouges and protruding rusty nails and is unlike the traditional flawless and smooth woodcut material that I also work with such as cherry or walnut. I don't make prints from the woodcuts, but prefer the blocks themselves.
To find suitably rustic and rugged subjects for this wood, I have been referencing popular culture personas and archetypes from 1920s silent film cowboys to 1970s tough guys for my recent series ¿Quién es más macho? Then I started thinking about Canadian icons, Leonard Cohen, Don Cherry, David Suzuki: Who is more macho, Bobby Hull or Stompin' Tom? Then cross-border comparisons, Rex Murphy or Hunter S.Thompson? A ¿Quién es más macha? series evolved, with Edith Piaf, Maria Callas, Margaret Atwood, Nana Mouskouri, then a cross-gender series: Patty Hearst or Bob Dylan? The Patty Hearst woodcuts sparked an interest in researching cults, and specifically their leaders, Reverend Moon, Jim Jones, Maria Devi Christos, and so on. A trip to Coney Island inspired a series of sideshow portraits, and a recent trip to Havana renewed my long-standing love of propaganda. I am endlessly interested in and fascinated by the subject of celebrity and am acutely nostalgic about the popular culture I consumed voraciously as a kid in the 70s and 80s.
For the past nine years, a major component of my art practice has been finding and developing alternative venues out of which to operate art societies, art salons and interdisciplinary project spaces: Sugarmobile – in a 1935 silver trailer, Sugar Gallery – in a 300 sq ft. office in the Grain Exchange, Sugar Estate Art Salon and Museum of Oddities (with Milo Dlouhy and Angela Inglis) in a 1905 warehouse in downtown Calgary, and Portrait Estate (with Milo Dlouhy) in a 100 sq ft. former space for an ATM at Art Central. I currently operate Museo Poco, a diminutive display window gallery on 17th Avenue in Calgary, a new artmobile in a 1962 Airstream Bambi, and the Sugar Shack Winter Art Salon with Angie Inglis and Jane Grace in a turn-of-the-century cottage in NW Calgary. My future plans include facilitating artmobile convoys which would initially make appearances in Alberta and, hopefully, gain momentum for a cross-Canada Artmobile expedition.
Dave and Jenn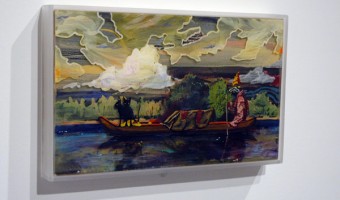 "Dave and Jenn" are our adventuring not so alter-Alter Egos, they are the shadows of us walking through a world where the landscape is the main protagonist, a place created by our shared and over-saturated minds.
The world of Dave and Jenn is real and it is not. Make-believe, Technology, real time, Science, the Internet, the Art world, history and hearsay: it all makes its way into our inner world. And in turn these things will eventually escape into the outside again.
Our work is about inner landscapes, predominately the one the two of us share, as well as the mythology that arises from this.
Our practice is one of co-authourship and so we have chosen to lose our individual identities in favour of a team moniker. We like landscape art, and we are focusing on the mutation of our subject and genre. We look to the history of painting to find our position on the map, using the what we find as a means to move on and in our own direction. We often make paintings that are double-sided, paintings that split apart and infect the space around them with their own reality. We wonder what the world would look like if our imaginations rebelled and the things in our minds became very real and autonomous.
David Foy and Jennifer Saleik both received their Fine Art Diplomas in 2003 from Grant MacEwan College in Edmonton. In 2004 they formed as the team Dave and Jenn. Together they went on to earn their BFAs with distinction from the Alberta College of Art and Design in Calgary, Alberta, Canada in 2006. That same year their work was selected as a semi-finalist for the RBC Canadian Painting Competition. Their work has been collected by such institutions as the Royal Bank of Canada and the Alberta Foundation for the Arts. They were recently included in Carte Blanche 2: Painting, published by Magenta House Publishing. David and Jennifer currently live and work in Calgary, Alberta where they are represented by Skew Gallery
Len Komanac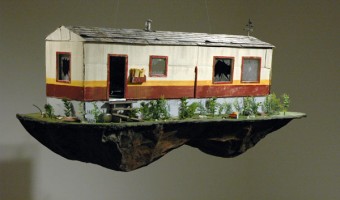 Born in a lean-to and raised by wolves in the Alps, Len was introduced to art through cave paintings and some old comic books he found in a haunted house. When he assumed human form (i.e.: adulthood) he left his underworld tribe and made the long journey across the Atlantic ice shelf to Canada. Along this journey he learned English from vampire polar bears and learned the mysterious ways of pop art from the ghost of Andy Warhol.
Len later attended the University of Lethbridge, graduating with a Fine Arts degree after failing out of Math, Geology, Pre-Med, Psychology , Sociology , Physical Education, Business Administration and even Drama. Making all sorts of art is like a wonderful buffet for him, just not as edible.
Jason Mathis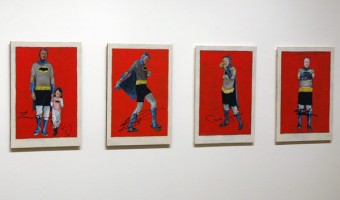 I have maintained a diligent studio practice of both art production and observation. I believe in the Duchampian ideal that no artwork can exist without an audience, and by extension, that the audience plays a contributing role in the creation of the artwork. With that, when I am looking at art, I try to note the minute details that pull me in as much as the overall effect of the work. I wonder if other people are enthralled with the same moments within a piece as am I, or if I'm overlooking the beauty of other specific parts to the whole. I'm always curious as to what I'm looking at and then, more importantly, why? My studio practice builds on this exercise of looking and I ask myself the same series of questions when working – Why that brushstroke? Why that colour? – with the hopes of creating works that have multiple layers of interest within them, regardless of materials, technique, or subject matter.
The 'Ersatz Bats' portraits were created over a period of about six months. Set in a colour field format surrounded by a white border, I wanted to depict personal characters from my life all wearing an ill-fitting, thrift store bought, Halloween costume Batman suit. The signature of the 'suitor' would be painted on the surface of each panel, pushing the question of authorship. Much in the same way that art can't exists without an audience, how can a portrait exist without the sitter? They are as much a part of the artistic process as the artist. This is why I am using influences in my life as subjects. They're the ones to blame.
Christopher Moore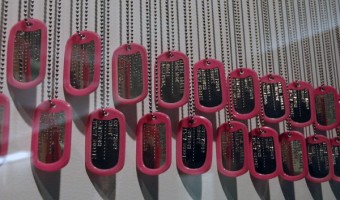 Christopher Moore is a Montréal-based artist, designer, and educator whose cross-disciplinary practice ranges from print publication to sculpture and media installation. His creative research currently focuses on satire as a progressive form of social critique, utilizing performance and absurdist humour to engage media-savvy public audiences. Snap, Crackle, Pop is the first major presentation of the Cuddle Commandos and Passive Passive Pink bodies of work in western Canada.
Christopher Moore studied illustration at the Ontario College of Art, and received a Master of Fine Arts from the Nova Scotia College of Art and Design in 1999. For the past ten years, he has taught at a number of institutions across Canada, including NSCAD University, the School of Interactive Arts and Technology at Simon Fraser University, and the University of Lethbridge. Moore currently holds the position of Assistant Professor in Design & Computation Arts at Concordia University, and is a member of the Hexagram Research Institute.
Shanell Papp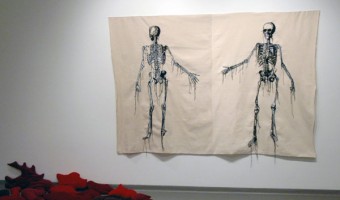 Shanell B. Papp grew up primarily in Lethbridge, Alberta. She began her studies at the University of Lethbridge 2001 and graduated with her BFA in 2006. Papp works with various media Photography, Video, Sculpture and Textiles. Papp's sculptural and textile work is often made from remnant, discarded, perishable and "non-art" materials. Her work is informed by her interests in the 19th century, the history of science, human anatomy and crime. In the show Papp has two works Blood pools and Bone Book. Blood Pools was influenced by Papp's interest in crime scene photography in which the deceased appears be sleeping and Bone Book Papp was interested in making a life sized replica of an anatomy book. In 2008, she left Lethbridge, to pursue graduate studies at the University of Saskatchewan, She will graduate in the fall of 2010.