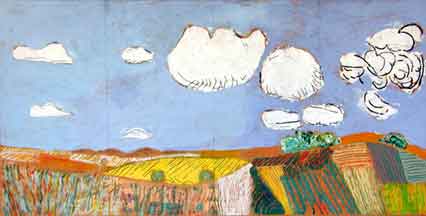 Home and Away
June 6 – October 31, 2003
Main Gallery
Curator: Josephine Mills
Both the familiar territory of home and the new scenery found while travelling are core subject matter for artists. This exhibition, drawn from The University of Lethbridge Art Collection, compares these two aspects of landscape in the work of Canadian artists from the late 19th century through to today. As you look through Home and Away, you will see a range of images from the artists' own regions or from their travels within Canada and further a field. The selection of Illingworth Kerr drawings includes a mix of both his native landscape and trips to other countries.
The relationship between identity and a sense of belonging is central to the landscape genre. In the historical works, this relationship is implied rather than directly addressed. Travelling abroad was important for developing artistic skill and professional reputations, thus the exhibition includes several works produced by Canadians as they studied or worked in Europe. In the latter 20th century, identity is often emphasised and artists use the landscape genre to investigate social and personal issues. Instead of focussing on spectacular or famous locations, recent landscape artists frequently explore the everyday – the sites we take for granted and yet which profoundly affect our sense of belonging and of self.
Allyson Clay's two paintings are from a larger series in which she contrasts a minimal abstract panel with fragments of personal narrative written over images of sky. Her texts arise from the experience of situating oneself in relation to the surrounding geography and structures as well as our habits and practices associated with a specific terrain. Working from a similar area of concern, in 1989 Ed Bader systematically drew the urban landscape of Lethbridge. These images serve as a record both of the structures in this city, but also of Bader's relationship to what was then his home.
– Josephine Mills, Director/Curator
Artists:
William Atkinson
Ed Bader
J.M. Barnsley
Iain Baxter&
J.W. Beatty
Franklin Carmichael
Paul Caron
Emily Carr
Allyson Clay
Paterson Ewen
Illingworth Kerr
Marmaduke Matthews
Marion Nicoll
George Pepper
Mary Scott