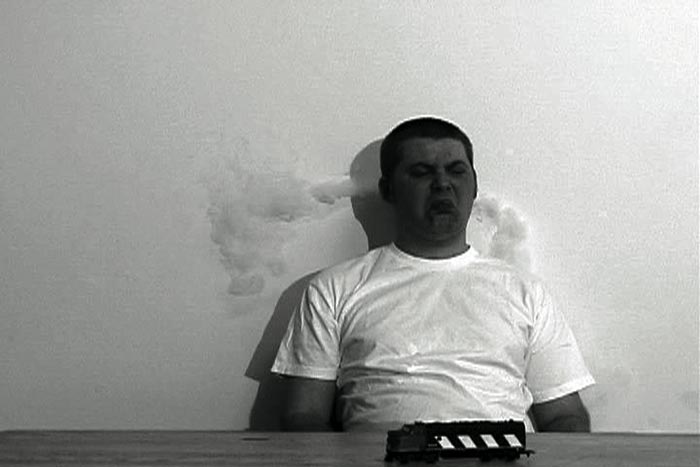 Narrative Threads and Other Yarns
Guest Curator: Trap\Door artist-run centre
Main Gallery
Reception 4:00pm, Friday, January 27, 2006
Dana Inkster
David Poolman
Kathryn Ruppert-Dazai
The three artists represented in this exhibition come from diverse backgrounds and work with distinct themes yet, they all employ narrative as a tool to address their audience and encourage a personal engagement with their work. This by no means implies that they tell a story from start to finish, offering closure for the viewer. Quite the opposite. The works in Narrative Threads and Other Yarns give us a glimpse into another's experience of cultural and racial isolation; into a sense of negotiating the fears that challenge and often immobilize us; or into the implications of a social and geographic population shift. By refusing narrative pleasure, these works offer us an opportunity to focus on the discourses that shape our perceptions of difference, of our shared experiences, and of our lived realities.
The Art of Autobiography: Redux I (2006) is the first in a series of video shorts Dana Inkster is developing from her documentary The Art of Autobiography (2003). The original work, which explores the complexities of the social phenomenon of adoption, was produced for a mainstream audience and thus touches on many of the issues raised by this theme. Subsequent to its completion, Inkster wanted to re-envision certain aspects of the work as a whole, extracting scenes out of their broader context to more accurately reflect the tone of her lived experience. Inkster states, "By excerpting the piece there is an added textual resonance that I, as the artist, could not realize within the context of the traditional dimensions of the longer work." Redux I explores the format of contemporary oral histories to address issues of cultural and racial isolation.
Kathryn Ruppert-Dazai draws on her interdisciplinary background and combines painting techniques, composition and colour theory as well as the story-telling components of traditional craft to animate large-scale personal narratives in yarn. La crainte de la mort et d'autres craintes (2005) is a series of semi-autobiographical works which Ruppert-Dazai explains as "depicting the disquieted existence of the creatures that roam my land." Her efforts to identify and qualify her fears, their origins and their consequences – including the fear of death, of small animals being harmed, or of dropping one's child – are played out by rudimentary figures. The materiality of the large textiles interwoven with substances culled from her environment, such as dog hair and unbleached paper towels, provoke a tactile response engaging viewers and inviting them into her fantastical vignettes.
David Poolman's the last word in lonesome is me (2003-5) is a three channel video work that contrasts images of rural and urban life against a soundtrack of classic country-western music. Images of birthday cakes and suburban furniture are featured along with blackened eyes and beefsteaks or leaky ceilings and lonely highways. In this way, Poolman traces the geographic and psychological move of country music from the remote countryside to the city. Utilizing songs such as Faron Young's cover of "Hello Walls" and Jim Reeves's "Make the World Go Away," with their themes of loss, detachment and melancholia, this work references the fragmented persona of the lonesome, detached traveler. The last word in lonesome is me plays with the genre's heavy reliance on nostalgia to analyze the social implications of industry, post-war capitalism, and urban development on both the music and the listeners who enjoy it.
Trap\door Artist Run Centre
Trap\door is a non-profit artist run centre founded in 2004. Dedicated to the promotion of contemporary visual art, Trap\door encourages experimentation by artists whose work challenges and explores the peripheries of their discipline. We provide opportunities for creative research, development and exploration with a specific focus on emerging artists. Through the presentation of innovative contemporary works, Trap\door acts as a forum for the exchange of ideas. We are committed to assessing and servicing the needs of our membership and to contributing to the cultural richness and diversity of our community.
www.trapdoorarc.com
Trap\door would like to thank Josephine Mills for inviting us to curate an exhibition for the University of Lethbridge Art Gallery. We would also like to express our appreciation to the gallery staff — Fred Greene, Adrian Cooke, Lucie Linhart, Dana Harrison, and Jane Edmundson — for their support.
Trap\door and the University of Lethbridge Art Gallery gratefully acknowledge the assistance of the Alberta Foundation for the Arts for this exhibition and publication.
The accompanying brochure for this exhibition is available by
going to the U of L Art Gallery's PUBLICATIONS PAGE.