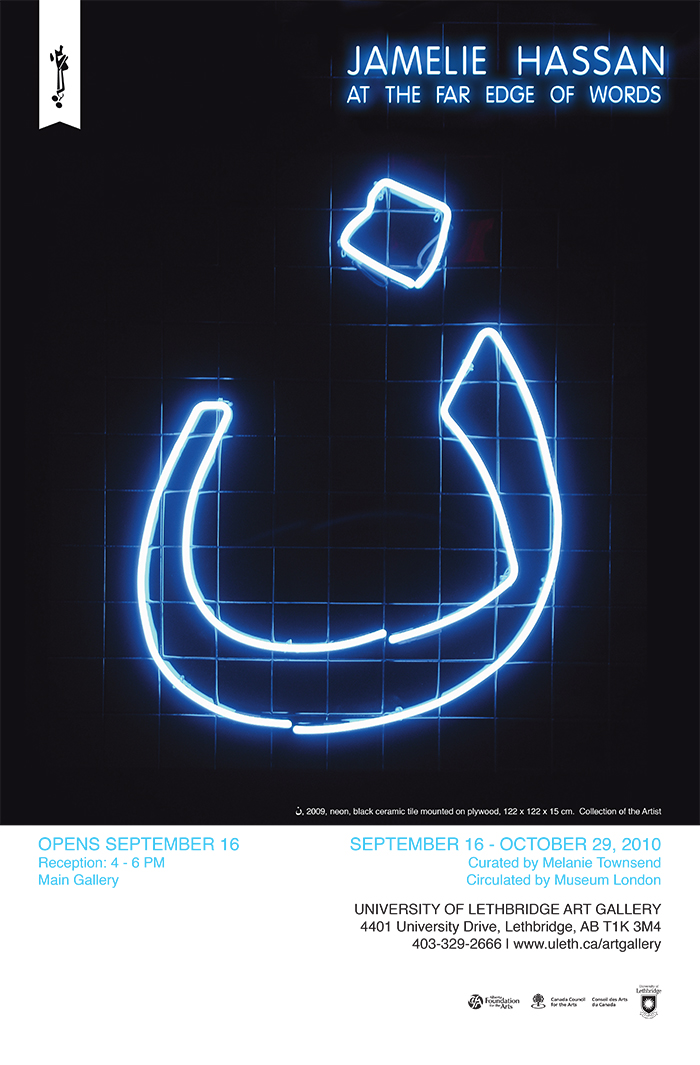 Jamelie Hassan: At the Far Edge of Words
Main Gallery
Curator: Melanie Townsend, circulated by Museum London
This survey exhibition includes works that trace four decades of art-making by London, Ontario artist Jamelie Hassan. At the Far Edge of Words is comprised of key pieces that intertwine her work as an artist with an enduring interest in text, language, memory, personal history and identity.
Hassan's practice has been distinguished by her use of a wide range of media—ceramics, watercolours, bookworks, photographs, video, and installations—from which she selects an approach best suited to the task at hand. Watercolours, for example—swift and portable—occupy much of her work made on the road while robust installations are often employed to confront the complexity of cultural politics and personal history.
While travel exercises a significant influence on Hassan's creative output, equally important to her practice is her view on the world from London, Ontario. Her pioneering practice has steadfastly asserted that artists have a responsibility to address the critical issues of our time while her geographical location in the "regions" of Southwestern Ontario grounds her practice. And yet despite the influence of here, Hassan's work is equally influenced by there: her research and travels in Asia, the Americas, the Middle East, and of Lebanon, the homeland of her parents.
The title of the exhibition, At the Far Edge of Words, pays homage to Palestinian poet laureate Mahmoud Darwish, evoking a line from his poem, "I am from there." The poem begins "I come from there and I remember" but concludes "I learned and dismantled all the words to construct a single one: Home." Beyond the apparent issues of cultural identity and displacement, the poem also makes reference to Hassan's recurring use of text and language in her work.
-Melanie Townsend
Hassan's work is represented in numerous collections including the National Gallery of Canada (Ottawa); the Art Gallery of Ontario (Toronto); the Glenbow Museum (Calgary); the Morris and Helen Belkin Art Gallery (Vancouver) and Museum London (London) among many others. In 2001, she was a recipient of the Governor General's Award in Visual Arts.
This exhibition is accompanied by the first comprehensive publication on Hassan's work, co-published by Museum London and the Morris and Helen Belkin Art Gallery. The catalogue features new texts by Monika Kin Gagnon, Dot Tuer and Andy Patton. Also included are reprinted, but not widely circulated, texts by Cliff Eyland, Mireya Folch-Serra and Scott Toguri McFarlane. Curated by Melanie Townsend, this exhibition is circulated by Museum London.