Jessica Humphries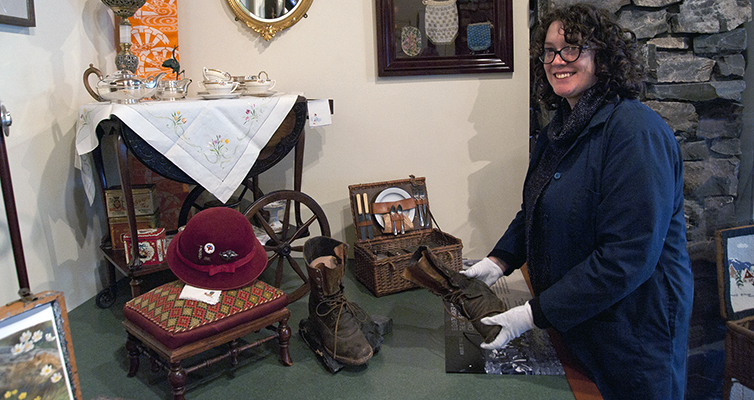 For the final step in my education I am ecstatic to be the second student to partake in the growing relationship between the University of Lethbridge Faculty of Fine Arts and the Whyte Museum of the Canadian Rockies. Working with the curatorial department I am excited by the prospects of my placement since it furthers my opportunity to learn and work with a museum staff. These opportunities provided by the University are excellent ways to gain practical experience in my field and enforce how important it is to be active in the Museum Studies internship program. As a graduating student after this internship, this placement and my previous ones have become invaluable parts of my education and the skills I take into my future.
Being at the Whyte Museum is a fantastic opportunity to assist in a larger museum – in reference to it having multiple gallery spaces, a long-term exhibition space, and it being a popular tourist destination. During previous internships I have participated in multiple aspects of developing an exhibition; however, I am looking forward to the opportunity to pull artwork, install, and being helping wherever needed. Learning their curatorial and installation processes will expand my existing knowledge and provide me with additional skills.
A significant portion of my time at the Whyte Museum will be cataloguing Peter and Catharine Whyte's drawings in anticipation of the museum's 50th Anniversary in 2018. While working on this project I should gain insight into using databases and cataloguing artwork properly. Moreover, this project allows me to expand my interest in history, and learning about collections. Since I am entering a town and museum where my knowledge will be limited, I want to build up my expertise of the collection's history whenever I am able. With an extensive research library and Archives to utilize I am enthusiastic about the knowledge I will gain while there.
Overall, for the next few months I hope to engage with the museum and the community. By making the most of my time in Banff I intend on being involved in as many events as possible. Integrating myself into the community will help me discover more of the town's rich vibrant history in the arts. More importantly, it will reinforce my interest in arts and help me actively participate in understanding my local, provincial, and national history.
Courteny Green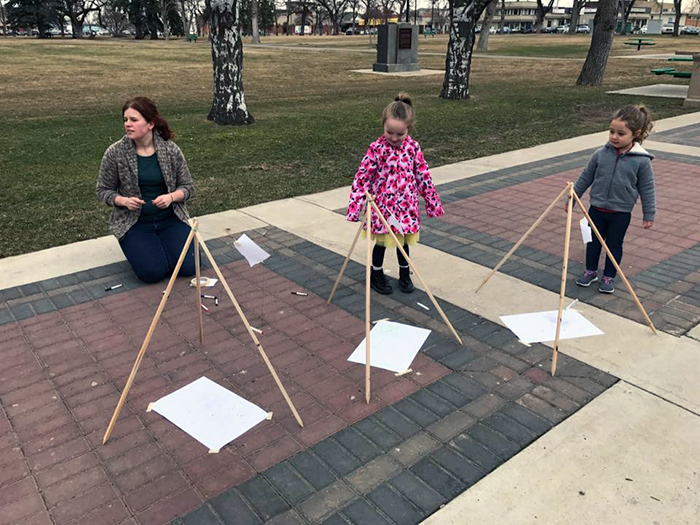 As a Museum Studies student, my primary goal is becoming more involved in the practices of the arts community. An internship is a fundamental way of gaining work experience in a controlled learning environment. It is through these internships I intend to narrow down my expectations for any potential job opportunities once I have completed my degree.
I am excited to be back working with the Southern Alberta Art Gallery (SAAG). In my last project working with them, my primary goal had been to learn about the hands-on production of an exhibition. I was fortunate enough to develop the exhibition: Then and Now: The Buchanan Collection seen through Emerging Artists, May 1 – June 12, 2016. It was a significant and fruitful experience.
This term at the SAAG I will be more focused on public programming. I have a goal to improve my communication skills with young children so I can better explain the complex themes and ideas of contemporary artists. Specifically, through the SAAG I will be under the supervision of the Assistant Curator Christina Cuthbertson and the direct supervision of the Public Engagement Coordinator Taylor Crozon. Taylor will be coaching me through teaching four of seven of the children's program Tender Fingers. It is a program for ages three to five with a primary objective to introduce skills and creative thinking through the use of big ideas and artistic crafts. The program includes snack time, story time and an outside playtime. The art of the children is stored at the gallery for a year-end exhibition to display all the big ideas they have worked through and the projects completed. Some examples of this year's program, of big ideas, include identity, space, perception and light.
Furthermore, I have set out a goal to help the newer students to Art History and Museum Studies at the University of Lethbridge be more involved with the projects during the year. I know from my experience getting involved can be daunting. I will be assisting with the annual Student Exhibition this coming March with a team of Museum Studies Students under the supervision of Dr. Devon Smither. The team will be responsible for design, theme, promotions, communications, installation and take down the exhibition after its term.
Additionally to the internship, I have begun the process of becoming an in-school mentor through the Big Brothers Big Sisters program in the Lethbridge district. This experience provides an insight into an another organization in the community that may offer a chance for a community building project later on. It also provides additional coaching for handling young children.
In the end, the core values of the internships are intended as an educational experience to better transfer students from the academic environment to the work environment. These experiences will inform my decisions after graduation and solve the problem that you need a job to gain experience, but you need experience to get a job.
Daniel Moxon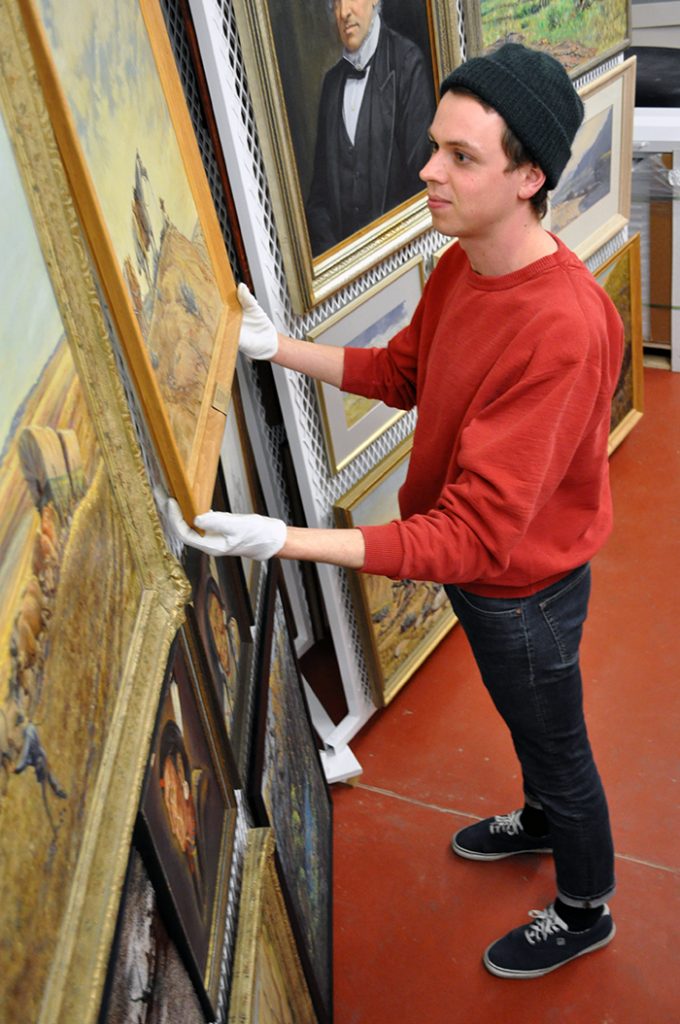 I am a third-year University of Lethbridge student pursuing a Bachelor of Fine Arts in Art History and Museum Studies. As part of my degree I am taking advantage of the department's Museum Studies Internship program; my first-ever internship is in the collections department of Lethbridge's Galt Museum and Archives. Here, I hope to gain practical experience and knowledge to supplement, and enhance, the theoretical basis gained in the university environment. After switching my major several times and remaining slightly uncertain about the future of my own academic career, as, I presume, many students are, it is of great consequence that I know what I am "getting myself into." To grasp the practical, day-to-day methodology of the collections department is important to me because it provides a picture from which to judge if this is, in fact, a desired career trajectory.
The department has four main operational activities: registration, research, preservation, and access. Registration entails the collection of objects deemed cultural significant, in terms of Lethbridge history, by the institution. Though it primarily concerns the acquisition of objects, it could also require their deaccessioning. Research involves the ongoing contextualization of the physical object through the experiences of Lethbridge residents. Preservation demands that the objects "life" be extended as much as possible to ensure it access to future Galt goers. Finally, access means that the objects in the collection be made accessible to the public. This is predominantly done through exhibitions and the Galt's online database. My primary internship goal, therefore, is to gain experience in and knowledge of the procedures and practices that constitute these four operational activities. Though the Galt's mandate may differ from other institutions, I aim to gain experience and knowledge invaluable across the museological landscape.
Elise Pundyk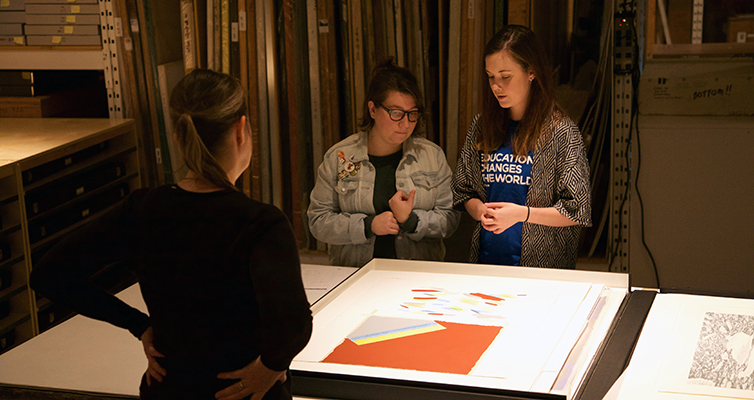 This semester, I am embarking on my fourth internship through the Art History/Museum Studies (AHMS) program at the University of Lethbridge. I am very thankful for the opportunity to further apply my education in a practical setting, this time at the University of Lethbridge Art Gallery (ULAG) working on a curatorial project for the University's 50th Anniversary.
Titled Looking Back / Looking Forward, this project will be much different from the others I have encountered as a museum studies intern. In my previous placements at ULAG and at the Galt Museum and Archives, the work I did was more focused on the collection practices of those institutions. For this upcoming internship, Grace Wirzba – the curatorial intern I am partnered with this semester – and I will be using the gallery's collection to put together an exhibition to celebrate the anniversary of the university. This internship will challenge us to put our varied skills together to develop an art exhibition that is interesting and creative.
My primary goal for this internship is to successfully curate the Main Gallery exhibition. Success for me would be that people are able to meaningfully engage with the collection and the notion of the 50th anniversary through the exhibition. I hope Grace and I are able to develop a theme that challenges us to look in a variety of places for information that we feel presents an authentic representation of the art gallery. The art gallery plays a significant role in the university and it is important to highlight its contribution to the university's growth. I would like to work toward an exhibition that is unexpected, one where visitors are able to learn something new, or perhaps, shift their perspective in some way. I think being a part of an experience that directly impacts even one person, in a thought provoking way, would be a great achievement.
This anniversary exhibition will be a good chance to learn about and showcase those who have shaped, and continue to shape the university, which will enable me to become more engaged with the surrounding community. There are a number of ways to interact with the public in the process of organizing Looking Back / Looking Forward, including community-based research during the planning stages of the exhibition and public programming relating to the exhibition after its opening. I am interested in the idea of incorporating radio and podcast development as a way to further engage visitors with the exhibition.
Curating a main gallery exhibition will be a valuable opportunity, and I hope to utilize this experience to develop professionally. A major project like this will enable me to learn more about my strengths – and weaknesses – when it comes to the various different skills necessary to complete the exhibition planning and execution. As I near the end of my degree, I hope this project will help me realize the best career direction for me, as it will require me to look back at a number of things I have learned throughout the AHMS program. I look forward to working through the challenges faced when curating an exhibition, and I am excited to see where the project takes us.
Grace Wirzba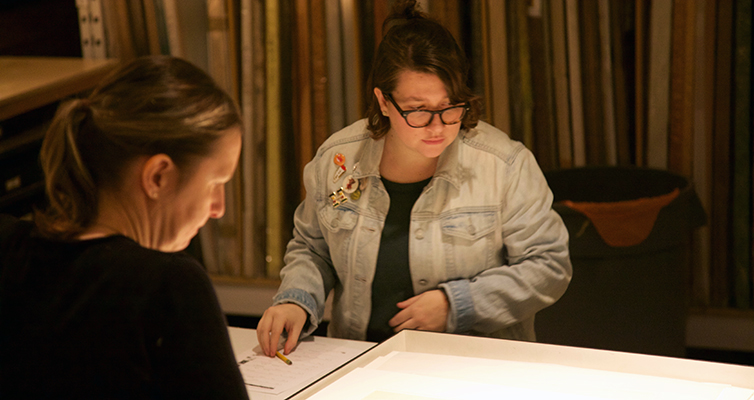 The internship that I am partaking in over the next four months consists of the curatorial preparation and installation of a main gallery exhibition focusing on the University of Lethbridge's 50th Anniversary. In order to best create goals for myself this semester, I returned to my first internship record and goals statement. I soon came to the realization that I have been lucky enough to have been working with the gallery for two years. From this knowledge, I knew that my goals for this senior internship were going to be somewhat more specific and instead of developing new skills, would focus on utilizing acquired skills.
This internship's focus on a Main Gallery exhibition is an excellent opportunity to employ the abilities I have developed through previous intern, employment and course projects. A significant goal I am working towards is one of adaptation. I hope to use these previously developed skills such as writing, installation, and database knowledge to pull together an exhibition. In order to juggle and pull from each of these skills it is necessary to have a vision and understanding of the work ahead and prepare to utilize these abilities.
Although it was important to recognize my shift in ability and skillset since my initial internship, I was pleased to relate quite closely to one of my key goals. That is, that I am still dedicated to being an "ambassador" on behalf of the gallery to the university community. Though I am not certain this is the correct term for this aspect of my aspirations, it is meant to communicate that I hope to integrate the University of Lethbridge Art Gallery's presence into other aspects of the university community. I am interested in the public engagement aspect of working in a gallery setting. I have a significant amount of experience working in public programming and education and I hope to use these assets in curating this exhibition. I am still extremely enthusiastic about considering ways in which the gallery's extensive collection and team of resources can best serve and be served by the university community. I am particularly interested in getting fine arts students to be more engaged with the gallery.
I hope to work on this goal by incorporating community engagement, story telling and oral history into the 50th exhibition. The exhibition will focus on ULAG's influence and contribution to the local arts community. I am particularly passionate about connecting with students, alumni, faculty, and staff through listening to their ULAG stories. This will be carried out by work with CKXU on podcasts, the Meliorist and interviews about individual connections to the gallery and collection. In simple terms I want students to know about the gallery and collection and be excited about it. I believe so strongly in what an excellent resource it is and I am confident in my skill to convince others of this.
In tying together the skills I have previously learned from internships and experiences with work in public programming I hope to create an engaging and exciting exhibition.
Ildikó Barraclough
During my last semester at the University of Lethbridge, I will be interning at the Southern Alberta Art Gallery (SAAG) through the University's Art History/Museum Studies program. I am thrilled and grateful for the chance to gain experience as a curatorial assistant at this institution, one that I admire wholly, and to work with assistant curator Christina Cuthbertson as we co-curate the SAAG's annual MFA/BFA student art exhibition.
With the majority of my curatorial knowledge coming from lectures and readings, this internship will allow me the chance to gain in-depth, hands-on experience in the field I plan to pursue in the future. For the project, Christina and I will conduct studio visits with artists, brainstorm a theme for the exhibition, write about the works and the exhibition for newsletters and other publications, determine the physical requirements and layout of the exhibition, as well as coordinate with the SAAG's various departments, such as public programming, communications, and installation. This internship will truly challenge me to practice a variety of skills in order to reach the ultimate goal of a successful exhibition.
The chance to co-curate an exhibition at the SAAG will give me an opportunity to more actively engage with the University's own art world; through discussing works with student artists and professors, as well as doing my own research into current themes in contemporary art and in the community, I will be able to develop skills and relationships that will assist me in furthering my curatorial practices, now and in the future.
This internship will not only be a valuable and meaningful university experience, but also a guide to assist me in determining a career that coincides my strengths and personal and professional goals. I am excited to learn about what it takes to curate a successful exhibition, and utilize the knowledge I have gained while earning my degree in a practical manner. I am looking forward to becoming an active part of Lethbridge's dynamic arts community, working through and learning from the challenges inherent to cooperative and collaborative projects, and developing my skills as a student and a professional.
Kirstan Schamuhn
Three years ago, I took a summer job at my hometown museum in Drayton Valley, Alberta, thinking that it would be a pleasant experience as I have always loved history. Two years later, I decided to attend the University of Lethbridge and to undertake a Fine Arts degree in Art History/Museum Studies with the goal of pursuing a career in museum curation. During my first year (2015), I participated in a student curation project that involved curating two art exhibits for the University of Lethbridge, one of which featured Fine Arts faculty artworks while the other showcased artworks from ULethbridge students. As I enter the spring semester of my second year at ULethbridge, I can build further upon my passion for working in museums with an internship placement at the Galt Museum and Archives.
For my internship, I will be working with the curator of the Galt Museum, Aimee Benoit, to produce an exhibit that focuses on the Galt family and their early impact on the area that would become Lethbridge. The project requires conducting research into the Galt family, which will allow me to utilize the Galt Archives to study texts, photographs and maps to implement in the exhibit. The exhibit will open at the museum on June 10, 2017 and will be featured in conjunction with the unveiling of a statue of Sir Alexander Tilloch Galt that will be installed at the Galt Museum. I am excited to work at the Galt and have direct experience with curating that will provide knowledge for future endeavours. The opportunity to work with multiple museums and galleries over the course of my degree—gathering insight into different approaches and facets of museum operations—will be especially beneficial as I pursue employment following completion of my degree.
Three years ago, what started as a simple summer student employment opportunity grew into something bigger than I could have anticipated, and I am excited to see where the University of Lethbridge—and the internships I continue to work on in the future—will take me.
Sheila Shaw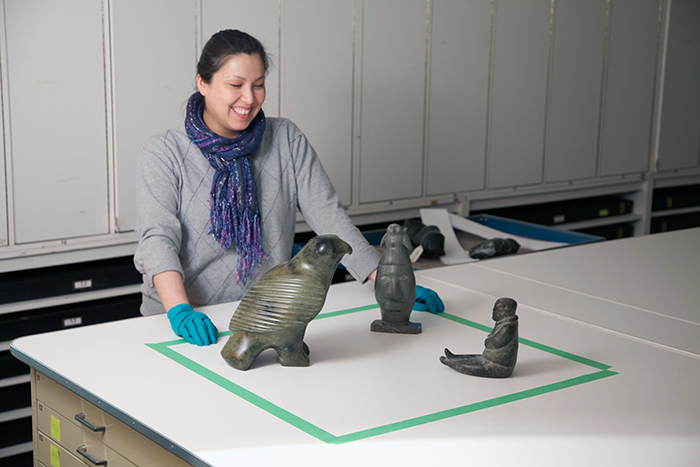 I am currently in my fourth year of studies in the Bachelor of Fine Arts in Native American Art Program at the University of Lethbridge, majoring in Studio. I chose to do an Internship at the University of Lethbridge Art Gallery as one of my electives, made possible with the help of Professor Josephine Mills and the Applied Studies office. As an artist, I have always been curious about how art galleries maintained their art collections, so I was excited to have the opportunity to work in collections with Juliet Graham, Registrar. I was originally conflicted about having to decide between a major in Museum Studies or Studio, but as a lifelong artist who is passionate about art, I decided to pursue a formal education in Art. I someday hope to own and operate an art gallery that specializes in Aboriginal art as a way for me to preserve and promote my culture. This chance to have hands on experience and training by seasoned professionals will give me insight into the day-to-day operations of an established art gallery. With this Internship, I hope to gain a better understanding of the operations involved with the management of an art gallery and at the same time, enjoy majoring in Studio.
During the course of my Internship, I am looking forward to learning about the proper intake methods of artworks for exhibitions or collections such as condition reporting, keeping track of artwork, proper packaging and shipping methods as well as installation and de-installation of art exhibits. This is beneficial knowledge to an artist who hopes to exhibit work in art galleries. I hope to learn about the tasks involved in the management of loaned exhibitions, as well as the preparation of artworks to be loaned to other institutions. The preparation for travelling exhibitions and for incoming loaned artworks, as well as database management will involve particular skills that will be relevant if I have to ship artworks to different locations in the future. Procedures for hinging and matting and proper handling and preservation of artworks is an essential skillset to learn for any studio artist or gallery worker as not all art works are suitable for framing and matting. Proper handling and preservation techniques play a crucial role in conserving a collection, whether it is a personal collection or a gallery collection.
I hope to learn more about photographing art, as this skill will be relevant to collections management when working in an art gallery setting. Proper photographing techniques are also skills that a practicing studio artist should have, which will assist in the management of websites, art grants or gallery submissions. Curating duties are other skills that I wish to learn more about during my Internship. By the end of my Internship, I hope to have gained knowledge that will assist me in my future career plans and I am looking forward to meeting future exhibiting artists, curators, and other students because building up a network of people relevant in the arts community is one other key element in achieving my goals.