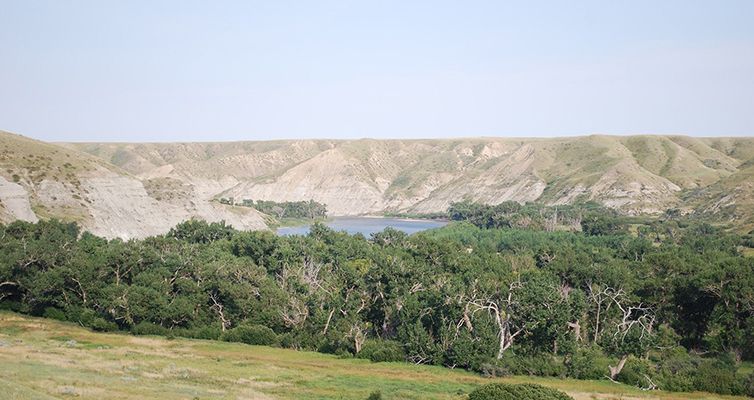 Photograph by Mel Lefebvre.
How have we impacted our environment over the past 150 years?
What is the state of our environment today?
What will it look like in the future?
These are the questions that Environment Lethbridge attempts to answer in Past Present Future, an online exhibit currently being featured on "Project Channel", uLethbridge Art Gallery's multimedia satellite space.
Past Present Future explores Lethbridge's relationship with water, parks, wildlife, waste, energy, and food. In connection with these themes, the site gives visitors a rare chance to browse environmental realities of the past through a unique collection of stories, news clippings and photos from the Galt Museum and Archives and the uLethbridge Archives. The Present section of the site pulls key insights from the 2017 State of the Environment Report that highlight Lethbridge's strengths as well as areas that need our attention, like species at risk and waste per capita. Lastly, visitors are invited to speculate about our environment in the future: what new water policies will we have? What species will be extinct? What will our parks look like?
The site design organizes the content into a modular grid that enables the user to move through themes and time periods by following the connecting lines. Using the new CSS Grid layout specification, each section has its own arrangement to balance the unique set of materials in the space and adapts for various screen sizes or devices.
The project was led by Environment Lethbridge, a community group that inspires and equips people to create community action towards sustainability, with design and concept development by Tyler Stewart (BFA – Multidisciplinary '11) and Christine Clark, Assistant Professor in the Department of New Media. Working from the materials acquired by Environment Lethbridge, Stewart produced the physical exhibition that was on display in the Fall of 2017 at the Helen Schuler Nature Centre in 2017 and Clark designed and developed the website, on display here.
Past, Present, & Future Website
Past Present Future is funded by Alberta Culture and Tourism through the Community Initiatives Program Alberta Canada 150 grant fund.