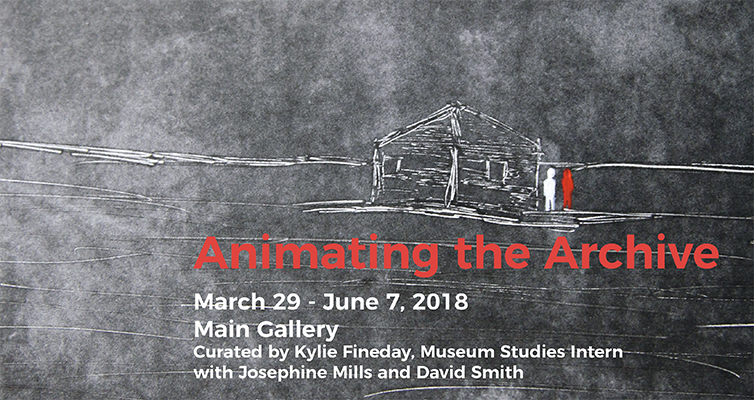 Image: Marissa Knife, Indigenous Landscapes (detail), 2017. Monoprint and acrylic.
Curated by Kylie Fineday, Museum Studies Intern
with Josephine Mills and David Smith
Works from University of Lethbridge Fine Arts students created in response to the uLethbridge Art Collection.
This exhibition was inspired by the work of leading Indigenous artists such as Jeff Thomas who explore museum collections and archives and then produce their work to address the assumptions and practices within historical images about Canada, Indigenous people, and the land. Museum Studies Intern Kylie Fineday selected works from the 14,500 objects in the uLethbridge Art Collection to provide inspiration, reference, or context for the students enrolled in the Native American Studio class. The students then chose which works interested them and created a range of responses that build on this history and add contemporary perspectives to our collection. The exhibition includes works Fineday selected from the collection alongside the new work by the students.
Curatorial Statement
This exhibition consists of works selected from the collection of the University of Lethbridge Art Gallery along with art works made in response to them by students of the Native American Art Studio course, under the instruction of Assistant Professor Jackson Twobears. The art gallery houses a collection of over 14000 works, making it one of the most important collections in Canada.
For a student intern and first-time curator, the task of selecting works from the collection for this exhibition was a daunting one. While navigating the extensive and diverse collection through the digital database, I focused on selecting works that I felt had relevance to the subject matter of the Native American Art Studio course, which addresses such topics as: assertions of Indigenous identity, the colonial context in Canada, contemporary Native perspectives in art, and performative strategies of creative resistance. I chose to include works by Indigenous artists of various backgrounds and practices, works by settler artists that are representative of Indigenous people and culture, as well as works that address themes of land and nationalism. Given that this institution is located on the traditional territory of the Blackfoot, I felt that it was also important to include works with depictions of the local landscape.
As an art student of Cree heritage, I believe that representation of Indigenous perspectives within art institutions is of great importance. I hoped that the works I selected would allow for a variety of responses from the students, both Indigenous and non-Indigenous, to build on the history of the collection works and incorporate fresh perspectives. From the selected collection works, the students chose the ones that interested them the most, and created new art works in response. The student-made works, displayed alongside the collection works, depict enlightened responses to the history of Canada's colonial legacy as well as contemporary portrayals of Indigenous perspectives.
– Kylie Fineday, uLethbridge Fine Arts Museum Studies Intern