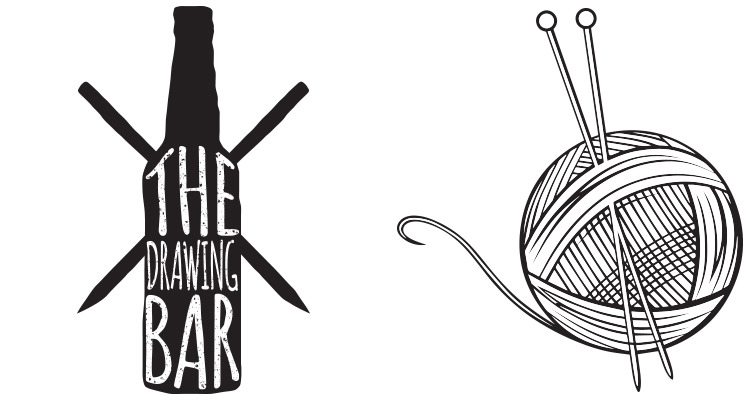 Why should kids have all the fun? When art galleries have hands-on events, there is an automatic assumption that these are just for children. Parents and care-givers might be able to surreptitiously join in, but they aren't assumed to be the primary audience.
The U of L Art Gallery is pleased to launch new public programs for Fall, 2014 that are of particular interest to artists and grown-up art fans. Starting in October, we will have a noon hour "Knit 'n' Knatter / Crochet 'n' Chatter" as well as a Thursday evening "Drawing Bar".
Inspired by programs at galleries in England, the "Knit 'n' Knatter / Crochet 'n' Chatter" will be open to all. Experienced crafty folk can bring their own materials and projects or new comers can come and try making a granny square with the assistance of gallery staff and volunteers. The program will provide an opportunity for an informal social event to view the exhibitions, swap knitting tips, and enjoy the public space of the gallery. As a day time event, we know that it will probably be easier for on-campus people to attend, but everyone is welcome. Perhaps avid knitters could see it as a combined craft and exercise program – the hike to and from the visitor parking lot is an added bonus! The first event is October 7 at 12 pm in the Main Gallery.
On October 16, we will launch "The Drawing Bar". As the title suggests, there will be a cash bar to go along with the drawing activities. Each event will have a loose theme to give a starting point, however, people can also simply come for some social art-making. The gallery will provide basic materials for new comers, or those who are less picky, and staff and volunteers will be on hand if assistance is required. Artists and the more choosy drawing fans can also bring their own clean drawing materials – the event is in the gallery during exhibitions so pastels, charcoal, or other dust generating media are not compatible with the exhibited art. Knitters are also welcome if they prefer an evening event (and the closer parking that is available at night).
The third new activity will be a social media artist-in-residence. The "in-residence" part is about the artist taking over the U of L Art Gallery's Twitter and Facebook feeds, rather than actually being in town, and so some of the artists will be in Lethbridge and others will log in from other cities. The project will invite our social media audiences, whether local or not, to respond to questions and discussion. The artist will then create responses that will be posted on-line and also projected on the wall adjacent to the Main Gallery's entrance. The topics will be connected to the on-going Complex Social Change series and will start by addressing a range of issues related to our built and natural environments as well as the upcoming Selfies exhibition.
The "Knit 'n' Knatter / Crochet 'n' Chatter" is slated for Tuesdays at 12 pm, October 7 and November 18, 2014 – and more will be planned for 2015. "The Drawing Bar" is scheduled for Thursday evenings, 7 – 9 pm, October 16 and November 20, 2014 and January 29 and February 26, 2015.
The U of L Art Gallery will continue with our existing successful programs such as Culture Vulture Saturdays, our on-line education component, and the various connecting to collections projects, such as MmmPop. As always, all the activities will be free of charge and there is no need to book – just drop in (or follow the U of L Art Gallery on social media).