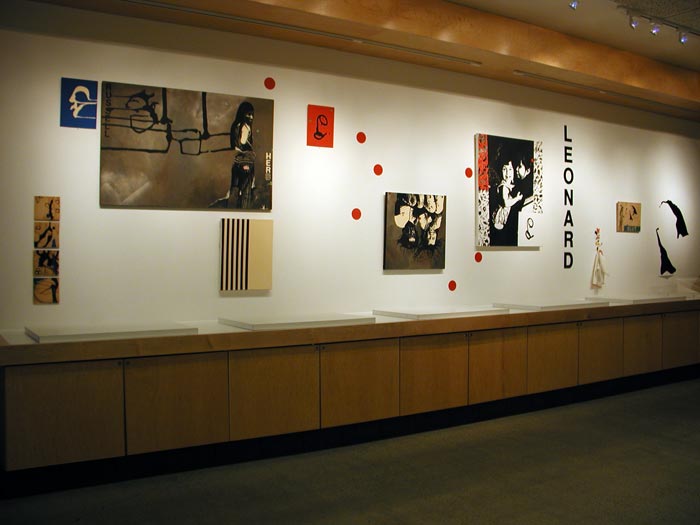 Nana'b'oozoo in Progress
Helen Christou Gallery
Reception, Wednesday March 20, 2005 in conjunction with Native Awareness Week
Featuring new work by:
Jaime Warn
And selected works from the following artists, held by the U of L Art Collection:
Harry Fonseca
Stan Greene
Norval Morrisseau
Daphne Odjig
Tim Paul
Oki, Boozhoo (hello), my name is Jaime Warn and I am a band member of the Chippewa of the Thames First Nations from southern Ontario. I moved to Blackfoot territory in 1989 to complete my B.F.A in painting in 2000 and continued on with a B.A in Native American Studies and graduated in 2002. I am currently working on a Master of Arts with the Native American Studies Department and my thesis entitled The Trickster Paradigm in First Nations Visual Arts: A Contemporary Application. I owe much of my success to the University of Lethbridge, the pedagogy of Blackfoot stories, my elders, my professors, and in particular my thesis supervisor Dr. Alfred Young Man as well as my thesis committee members Dr. Leroy Little Bear and Dagmar Dahle. I have also had the opportunity to learn from Amethyst First Rider, Dr. Craig Womack, Yvonne Lamerich, Michel Daigneault, Jan Newberry and Carl Granzow whose words always guide my thoughts.
My body of work was the result of embracing the trickster paradigm within my independent studio undergraduate and graduate work. For many First Nations, animate beings are not always defined by their physical make-up, but more so by their spiritual being. This is the case for the trickster, making the trickster definition "tricky" in itself. The trickster cannot be defined, as scholars have attempted to do with age-old debates surrounding his role. This is a Native perspective of the trickster, a shifter of boundaries and embodiment of Native Science/Philosophy, teaching "the people" through his own example of how to live and survive. Oral traditions often depict tricksters making humorous errors that entertain and educate at the same time.
When I began to consciously take notice of the trickster's influence on my life and work, it enabled me to view my work from a collectively-based, traditional experience, one that I was not privileged to in my formative years due to western assimilation. This realization also altered my own creative process in that I recognized my role as an artist was akin to the trickster character and that I could draw on theories of oral stories that include: creation, humor, irony, constant flux, interrelationship and transformation. This lead me to begin to locate the trickster in the "other", especially in the work of acclaimed influential contemporary Native artists, which in turn prompted a closer examination of the trickster discourse reflected in various disciplines with regards to creation and creativity.
In my own oral traditions of the trickster his name is Nana'b'oozoo. For me, the art works that I selected from the University of Lethbridge Art Collection for this exhibition also address this trickster paradigm. However, it must be noted how these artists derive their approach from their own Native perspective, taught to them by their own tribal trickster stories that may vary from my own interpretation.
Recently, contemporary First Nations artists have been utilizing the trickster roles to inform their audiences of how to laugh at the world around them, while simultaneously exposing the serious results of cultural genocide that have affected the First Nations people and their communities since contact. I feel trickster humour is "good medicine" and needed now more than ever with generations of Native people going through the healing process, empowering us and future generations to retain our traditional values. As a First Nations woman I feel it is my responsibility to return some traditional teachings to my audience – especially those of the trickster, who has guided "my people" since the beginning.
Miigwech