Part of the
Complex Social Change
Series
Curator: Josephine Mills
A public engagement project with art/design duo DodoLab featured on the University of Lethbridge Art Gallery's "Project Wall" outside the Main Gallery.
DodoLab: The Anatomy and Etiquette of Social Change
As part of the Complex Social Change series, from March 18th to 22nd DodoLab shared the story of the Dodo with faculty, students and staff at the University of Lethbridge, which explained how the dodo went extinct because it adapted to the unique conditions on the island of Mauritius and couldn't cope with change. For example, the dodo laid its eggs on the ground because there were originally no predators on the island. This meant that when new predators were introduced, the eggs became easy prey.
DodoLab used this story to instigate discussion about how the university adapted to change. They asked people where they thought the university was "laying eggs on the ground." They collected numerous responses and noticed some common themes about the university culture and the changing role of higher education, which included observations about an aversion to taking risks, the barriers to learning from each other and the numerous challenges that are arising from a changing economic and political landscape.
For this second phase of the project, DodoLab has used these themes as the inspiration to find six animals with survival strategies from which we could learn. These stories will again be used to collect stories and ideas about where similar strategies have been, or could be, used.
Digital Pamphlet: Animals We Could Learn From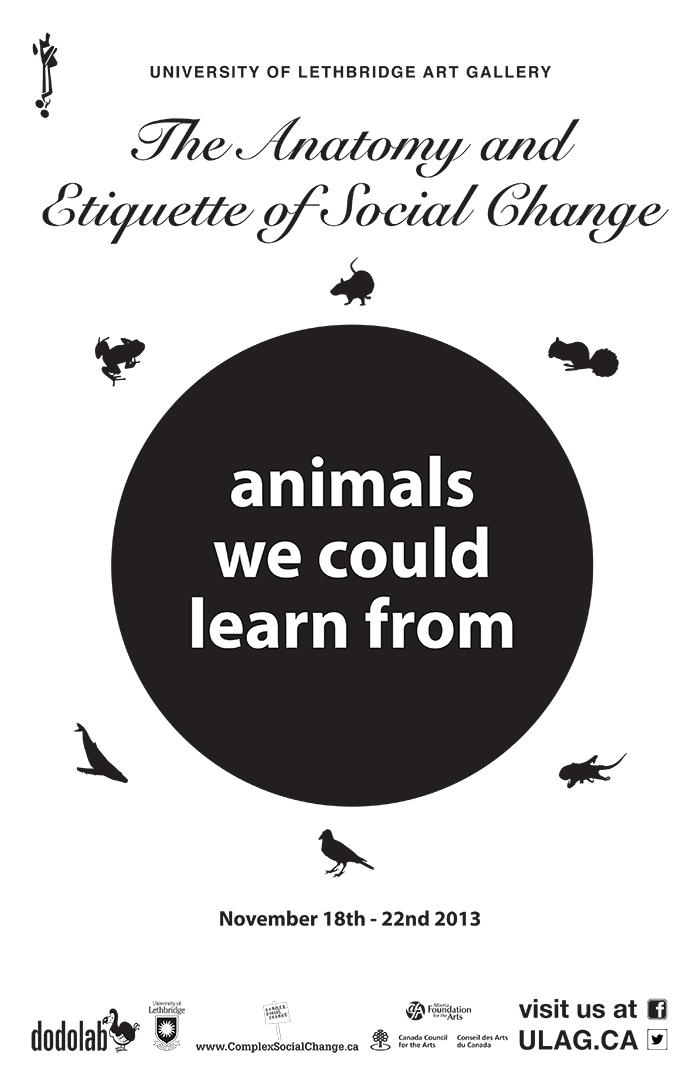 ***
DodoLab is an evolving creative practice directed by artist Lisa Hirmer, which has been producing experimental socially engaged projects and art-based public research since 2009. DodoLab is focused on developing provocative approaches to public engagement, creative research and community action that investigate and respond to the public's relationship with contemporary issues. DodoLab's work always emphasizes open participation and exchange and aims to create opportunities for meaningful, inclusive conversation in the public sphere. DodoLab's projects are always highly public and though often playful or humorous remain critically engaged. DodoLab employs a range of mediums including exhibition, creative intervention, surprise encounter, performance, workshops, creative surveying, graphic/product design, and innovative publishing. Themes of particular interest include the state of the ecological world, the barriers to adaptation and change within communities, our relationship to complex environments, the limitations of popular identity narratives and the role of public debate and critical conversation in contemporary life. DodoLab's work is supported by commissioned collaborations. DodoLab has been commissioned to create projects across Canada, in the United Kingdom and in Europe by art galleries, including Confederation Centre Art Gallery (Charlottetown, Canada), Harbourfront Centre (Toronto, Canada), Kitchener-Waterloo Art Gallery (Kitchener, Canada) and University of Lethbridge Art Gallery (Lethbridge, Canada), as well as other public institutions including municipalities, museums and public service organizations.
More info at dodolab.ca and Facebook and Twitter
More Info About Project Wall