Tracing the Elusive Past of the Chinarians
January 10 – February 22, 2013
Helen Christou Gallery
Reception: January 10, 4 – 6pm
Curator: Josephine Mills
Works from the Collection of Lana Gabor
Courtesy of Museum of Chinarian Art & Artifact (MOCAA)
Current research focuses on synthesizing available evidence of different kinds, to try to find the answer to one of the oldest and most exciting questions of all time: Where do Chinarians come from? The roots of Chinarian culture may be traced to the little-known, but documented, history of the Huns (Xiongnu): a tribe of nomads that emerged from ancient Tongwancheng and whose descendents are said to be Hungarians and Turks.
In 1993, the discovery of relics inside the caves of Tongwancheng (Fig. 1, Fig. 2, Fig. 3) led to much speculation about the origin of the Chinarians, as it was the only documented settlement ever found. Previously, the elusive Chinarians were identified as primarily nomadic. The reason for the abandonment of Tongwancheng has been theorized by several scholars but with little conclusive evidence.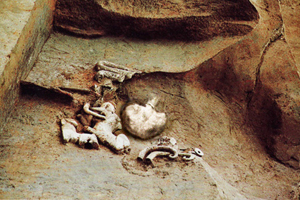 Fig. 1. Chinarian Headdress, Drinking Flask and Unidentified Fabric. 800 – 1200 A.D. Discovered at the Site of Tongwancheng. Photograph courtesy of Shinichi Barnum.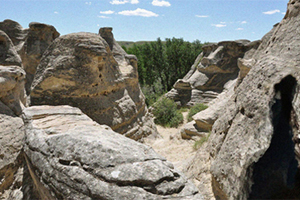 Fig. 2: Caves of Tongwancheng. Photograph courtesy of Shinichi Barnum.

Fig. 3.Chinarian Arrowheads Discovered Near the Site of Tongwancheng, 400 – 1300 A.D. Photograph courtesy of Archeologist Gade Schulman.
This revolutionary discovery inspired Gabor Elizalde's film Tracing Chinaria, an epic historical drama set against the spectacular backdrop of the Steppes. The movie tells the tale of the mythic figure Ki Nai as she makes her way through the Steppes after being left by her husband. The plotline twists around the Chinarians' mysterious desertion of the Tongwancheng caves. Elizalde is rumored to have spent one year wandering the vast Steppes to gain knowledge for Tracing Chinaria.
Many of the props used in Tracing Chinaria are reproductions of the relics found in the caves of Tongwancheng. On display is an array of photographic film stills, movie props and memorabilia from Elizalde's film, from the private collection of his distant niece Lana Gabor, courtesy of the Museum of Chinarian Art and Artifacts (MOCAA). Accompanying this exhibition is an original Chinarian dance (musical composition by Ivan Tucakov, choreography and performance by MOCAA's Lana Gabor), presented for the first time at the opening reception.
Museum of Chinarian Art & Artifacts (MOCAA)
I am delighted to have the opportunity to partner with the Museum of Chinarian Art and Artifacts (MOCAA) and present this exciting exhibition about the relatively unknown Chinarian culture.  It has been a pleasure working with Lana Gabor on developing the first presentation about the Chinarians in Lethbridge. I am sure few have heard of this culture and will have many questions. Hopefully this exhibition will help support further research and develop a broadening of knowledge about these people.  For those seeking more information, MOCAA is the primary site for information, although there could well be hitherto misidentified artifacts in other museum collections.  I am sure that Lana Gabor and the experts at MOCAA will welcome any questions and further discussion.
Josephine Mills
Director/Curator, U of L Art Gallery