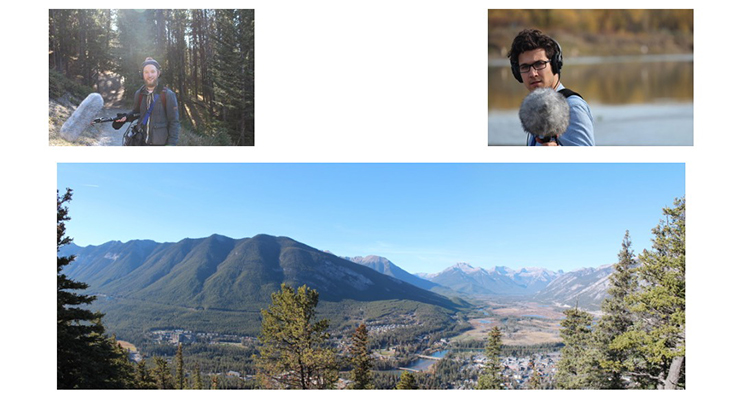 The IntraEnvironmental Sound Project
April 11 – December 21, 2016
Project Channel
Reception & Joyce and Ron Sakamoto Prize Research Presentation: Monday, April 11, 1 – 2:30 pm, Project Channel (LINC Level 11)
Project by Alex Bohn and Max Hopkins (U of L Fine Arts Music Department)
The IntraEnvironmental Sound Project
About the Project
IntraEnvironmental Sound Project is a sound mapping and electroacoustic music project exploring the soundscapes of three environments: Banff National Park, downtown Calgary, and the student campus of The University of Lethbridge, Lethbridge, Alberta.
Our research and creation goals consisted of listening to, and recording, environmental sound, which we edited, technologically filtered and mixed in order to create an original soundscape composition for each of the three recorded environments: Banff, Calgary, and Lethbridge. Furthermore, IntraEnvironmental Sound Project presents these three compositions and all of our recordings (source sounds) in the form of an online interactive sound map (presented on the adjacent wall).
A sound map can be used to "document" both our surroundings and the human actions and behaviours that "inhabit" our surroundings. A sound map encourages active listening by removing other sensory information (e.g., sight cue) upon which we may predominantly rely.
Soundscape composition is a form of electroacoustic music creation, featuring "found sounds" from natural and human-made environments. The composer organises, sculpts and casts found sounds in an effort to direct the listener's attention to certain elements of interest, re-contextualizing both the source sounds and the listener's perspective of the locations/environments in which the sounds are found.
This project was supported by the Joyce and Ron Sakamoto Prize for Research in Digital Audio Arts at the University of Lethbridge. The mandate of this prize is to acknowledge and foster research excellence in Digital Audio Arts at the University of Lethbridge.