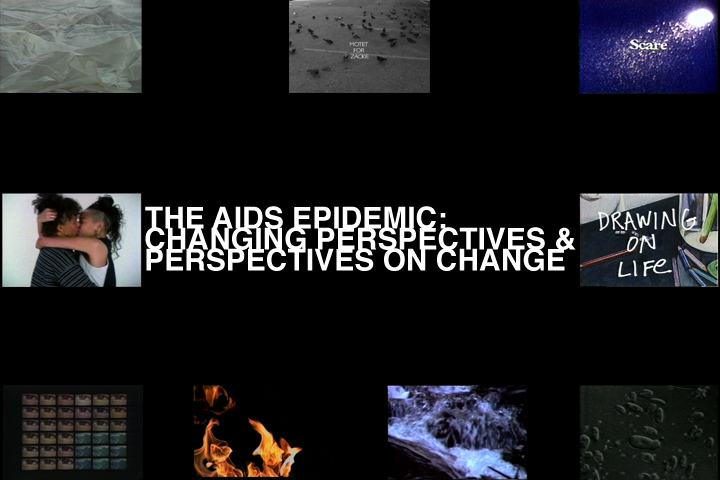 Added September, 2013
Project Channel
Curated by Josephine Mills
Video courtesy of Vtape
Seven of the videos included in this curated program were created between 1986 and 1994 and the other two are more recent. The videos from the late 1980s and early 1990s are all works that have been permanently entered into my imagination because they were integral in forming my approach as a curator and my commitment as an activist. I graduated with my B.A. in the late 1980s and also came out as a lesbian at this time. With changes in technology that made video accessible and portable (compared to television studio equipment of the 1970s, not the digital equipment of today), there was a wonderful proliferation of video work in this period and much of it was socially engaged and activist. As soon as I began producing video screenings and exhibitions from this selection of powerful works, I knew I wanted to be a curator and help connect this important area of art practice with audiences.
The late 1980s was also the terrifying period of the arrival of the HIV crisis with its related homophobia, discrimination, and fear mongering. Yet, it was also an exciting period that saw a whole new kind of activism and definition of identity as gay, lesbian, bi, and trans people worked together to fight against this discrimination. ACT UP (the Aids Coalition to Unleash Power) was formed and their innovative strategies to change public opinion included using clever combinations of short text and visual imagery. Before the advent of the internet and digital photos, they managed the equivalent of having their message go viral with posters, t-shirts, and video as well as with well-planned protests and interventions. I wore my ACT UP t-shirts until they fell apart – the bold pink "Silence = Death" and, my favourite, "read my lips" (parodying U. S. President Bush's catch phrase) emblazoned above an image of two gorgeous women kissing.
The selection of videos here includes "Kissing Doesn't Kill" (1990) which was the source of images for various versions of the "read my lips" t-shirts. With the proliferation of the imagery in many forms, this video is perhaps the most famous work by Tom Kalin and Gran Fury, who are often referred to as the media department for ACT UP. "They are lost to vision altogether" (1990) is by Tom Kalin alone. Renowned American artist Barbara Hammer's now classic "Snow Job"(1986) critiqued the ridiculous media hysteria of the time. There are two works by John Greyson — his humorous take on the chilling effect that AIDS had on people's feelings about sex, "The ADS Epidemic" (1987), and a more recent work reflecting on the continuation of AIDS activism, "Motet for Zackie" (2003). Toronto artist Greyson is well known for his commitment to creating social change on multiple issues, through the form of film and video, and currently there is much concern for him as he was arrested in Egypt in August, along with a Canadian doctor, as they were attempting to travel to Gaza.
Canadian artists Jan Peacock's "(Bliss) (dread) The road rises to meet you" (1987) and Zachary Longboy's "Water into Fire" (1994) are more poetic and abstract in nature and capture the emotion of the time. Paul Lang, working with Longboy, who was also a performance artist, address the combination of language and emotion in "Choose your plague" (1993). Richard L. Harrison's work "Drawing on Life" (2012) is a touching reflection on an artist living with HIV in the current era. This work helps to remind one that the AIDS epidemic has not gone away. The activism did succeed in diminishing the amount of vitriolic pronouncements, ignorance and intolerance, but pockets of these ideas still exist, as is evident in statements coming out of Russia around their current homophobic policies. While HIV/AIDS might not seem like the death sentence it first was, and people have become used to the disease being part of life, it is important to understand the crucial recent history of both the epidemic and the activism that was created in response.
On November 7, the U of L Art Gallery will launch another set of video, "Artists as Social Citizens," that focuses on a range of activist video work including more video by Greyson as well as work by Thirza Cuthand, Kent Monkman, Paul Wong and others. Both this current set and the works that will be launched in November are part of the Complex Social Change research project. Look for talks and performances related to this series as well as exhibitions in the U of L Art Gallery's Main and Helen Christou Gallery.
-Josephine Mills, Director/Curator, U of L Art Gallery