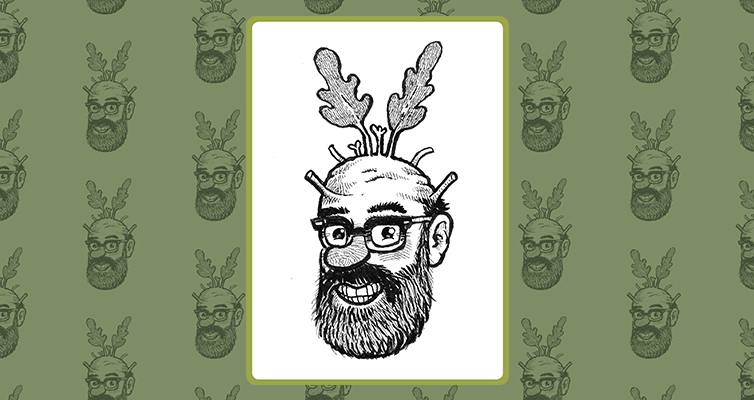 Drawing Live!
Jan 21-24 | 11am – 3pm | Christou & Hess Galleries
Jan 25 | 11am – 4pm | Culture Vulture, Centre for the Arts, Main Atrium
Feb 6 | 7 – 9pm | Drawing Bar, Hess Gallery
Back by popular demand, cartoonist Eric Dyck returns to draw live in the Helen Christou and Hess Galleries, accompanying his exhibition Kohlrabi and Foods with Stories to Share. His cartoons are going to be related to people's stories about kohlrabi, an often misunderstood vegetable whose mere mention elicits strong emotions from descendants of European settlers in Alberta. The project is part of the uLethbridge Art Gallery's art + people = x series, which involves local artists conducting research in our art collection. The exhibition combines Dyck's cartoons with his selections of works from the collection.
Eric Dyck is a cartoonist and art educator in Lethbridge, Alberta. Over the past 20 years, his professional and independent art-making has focused on interactions with the public and illustrated depictions or reportage of those interactions. His art practice has demonstrated a long-term commitment to sharing the sense of place and community he has experienced while living and working in Calgary, Lethbridge, and the Maritime provinces. http://www.ericdyck.com/
Dyck explains that his interest in, and exploration of, the kohlrabi began in 2013 when he was introduced to this brassica cultivar by a Hutterite street vendor in downtown Lethbridge. It became clear, from spontaneous conversations around him at the market that day, that the very mention of kohlrabi can elicit visceral emotional responses. He began to hear about the sights, smells, and family stories related to growing and consuming kohlrabi. Some Lethbridgians associate this vegetable with members of their family. For other locals, kohlrabi represents a period of struggle, or a reminder of being forced to eat kohlrabi because their family had been unable to afford more conventional foods. German-Canadians have told him of growing kohlrabi as a means of assertively expressing their ethnic identity to their neighbours. Are these stories as common in other Alberta communities? Does the climate, agricultural focus, or immigration history in Southern Alberta play a role in the perception that kohlrabi is more commonly associated with the Lethbridge area?
Dyck has spent many hours drawing in public spaces, presenting a live-drawing performance. The table is positioned for maximum visibility and accessibility so that folks of all ages and abilities can approach his drawings and him. The drawings that are created in this public space are depictions of the people in that space, the adults or children approaching him to chat, and the conversations he is witness to, helping to reinforce the themes or ideas he is investigating. As members of the public become comfortable talking with him, and as they find themselves emotionally invested in the development of the drawings, they begin to share stories about family, observations, or even relating personal experiences in their community. This process of public engagement relies on the high visibility of the act of physically drawing with ink on paper; his table creates a focal point, and the drawings on the table encourage the community to approach and engage with him.