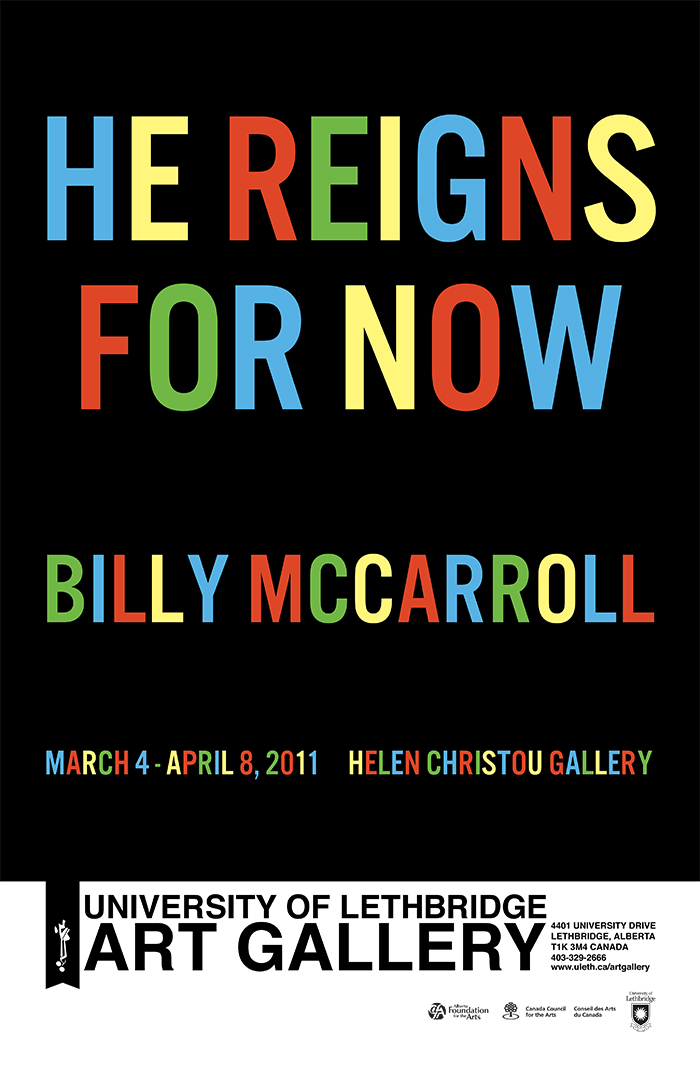 He Reigns for Now
Helen Christou Gallery
Curated by Jane Edmundson
Billy McCarroll's long and storied career in Southern Alberta began in 1971 when he answered the call for instructors of fine art at the newly minted University of Lethbridge. Moving northward from Santa Barbara, California, McCarroll taught printmaking, drawing and painting from 1971 to 1994 and was Director/Curator at the University of Lethbridge Art Gallery from 1972 to 1981, during the formative years of the Collection. During this time McCarroll also maintained a productive artistic practice and dominated the locals on the golf course.
McCarroll's early work focused on procedural abstraction; he created paintings composed of layer upon layer of paint that built up textured surfaces. His practice then became preoccupied with geometric abstraction until 1983, when Calgary artist (and McCarroll's frequent golf partner) John Will gave McCarroll a copy of the instructional book Sam Snead's Natural Golf. McCarroll began appropriating images from the book for the focus of his paintings, prints and drawings, and continued to do so for over 20 years. His use of stylized shapes, thick black outlines and vibrant colour palette often cause McCarroll's golf works to be categorized as Pop Art, referencing figurative art of the 1960s that drew on advertising imagery.
Much of the critical response to McCarroll's golf-themed work has made a link between his subject matter and life philosophy. The challenges inherent in the game of golf are often described as metaphors for the wins and losses we face on a daily basis. It has also been suggested, however, that McCarroll himself somewhat rejects the deep symbolism imparted upon his work. In examining the lesser-known, quirkier side of his artistic production (including many pieces that were created during the same time period as the acclaimed golf works), it becomes obvious that McCarroll takes joy in the pure act of creation and does not shy away from experimentation. The works selected for He Reigns for Now demonstrate the eclectic nature of McCarroll's 40 years of artmaking, spanning highly formalist abstract pieces, appropriations of Picasso's bulls and thrift store velvet paintings, and the Duchampian assemblage piece Landscape Opportunity: Troubled Sky. McCarroll's dry sense of humour and cutting wit is evident in his reworking of the aerial photo of the UofL he received upon his retirement in 1994, re-titled THANKS. This playful attitude can also be found in his relationships with other Southern Alberta artists; upon receiving the invitation to 'In Retrospect', an exhibition mounted on the eve of McCarroll's retirement, John Will painted over the original image with commentary about McCarroll's prowess on the golf course and promptly mailed it back (cleverly inspiring the title for this exhibition). McCarroll has also been the recipient of countless golf-themed gifts and reworked trophies, a testament to his being a gracious winner on the green.
He Reigns for Now accompanies a complete Billy McCarroll retrospective exhibition at the Southern Alberta Art Gallery, How to Play a Winning Game Your Natural Way, running March 12 – May 1, 2011.