Bianca Elke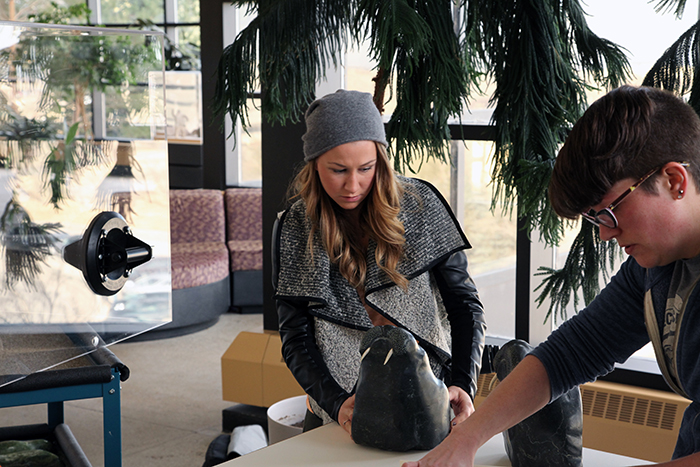 Image: Bianca Elke places Inuit sculpture on a plinth for her curated Inuit Sculpture display.
As a second year student, my main attention during the museum studies internship with the U of L Art Gallery will be directed towards curating my own exhibition in the Helen Christou gallery. This experience will provide the opportunity to select works from the U of L art collection as well as the Galt museum. I know that with curating my own exhibition and being allowed to select artwork for the gallery, I am given a lot of responsibility. Many students as well as professors are going to see what I have chosen to display and my evaluation will be based on these projects. I am excited to start this journey and work together with the Art Gallery staff. I aim to bring art closer to people who are not as involved through their classes or private interests in art, as well as trying to use the database to my advantage and to find hidden gems of art that have not been shown before.
Having grown up in Germany, I am also interested in learning about the day-to-day activities of a Canadian art gallery. I will be working with the collection, helping prepare work for travel to other galleries and participating in conservation projects. Besides assisting the Gallery with "hands on" operations, the Gallery also hosts functions that are designed to involve the community on many levels, in which I am also excited to be involved.
Andrea Kremenik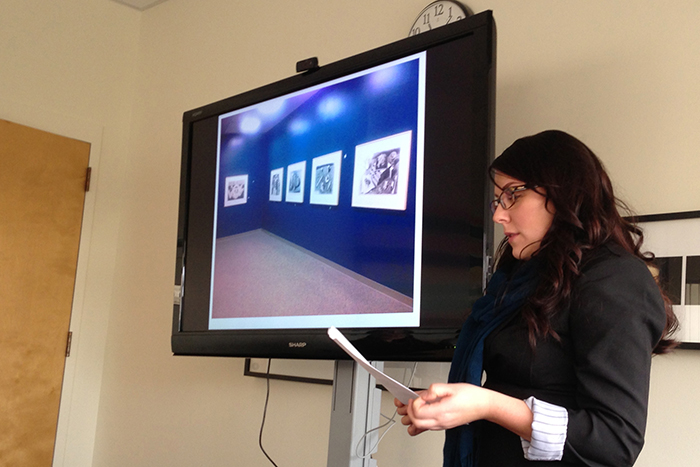 Image: Andrea Kremenik giving her Internship Presentation, an opportunity to reflect on everything she learned in the past semester.
As a fourth year Art History/ Museums Studies major and a Management minor I have not only been interested in learning about art itself, but also the business of art institutions. For that reason I hope to gain insight into how the University of Lethbridge art gallery, as a collecting gallery within an academic setting, differs from that of a civic gallery. I hope to understand this by comparing the knowledge gained from this Museum Studies internship to that of my previous internship at the Southern Alberta Art Gallery. The Museum Studies internship will allow me to learn many skills, such as basic curatorial responsibilities by entrusting me to navigate the U of L art database and find works from the University's acclaimed collection. For instance, I will have the opportunity to choose Inuit objects for display and will curate a small exhibit on John Clark plus write a feature on him for SAM magazine. Having these opportunities in comparison to my internship at the Southern Alberta Art Gallery, where I was able to gain insight into a non- collecting contemporary art gallery, will give me a well-rounded experience. These two opportunities will allow me to draw on theoretical knowledge within a hands-on environment which will give me an advantage when applying for potential jobs in the future.
Alysha Smith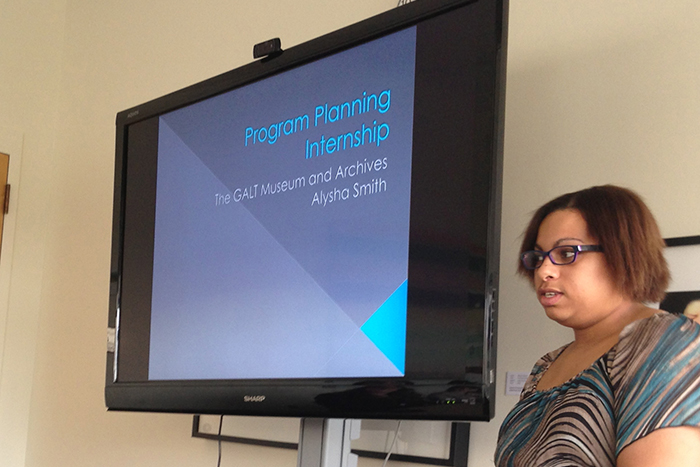 Image: Like, Andrea Kremenik, Alysha Smith gives her Internship Presentation also.
The Art History and Museum Studies internship is giving me the opportunity to research, draft, compose and conduct programs for the GALT Museum and Archives. I will be creating these programs based on the exhibit themes at the museum which will include science, wind and religion. I also have the opportunity to get hands on experience by running some of these programs with children and adults.
As a future teacher I hope to gain more experience in lesson planning and teaching from creating these programs. Academically I hope to gain better research skills and applied knowledge on the above topics. I also hope to learn more about how museums utilize their resources and their community outreach efforts.
David Smith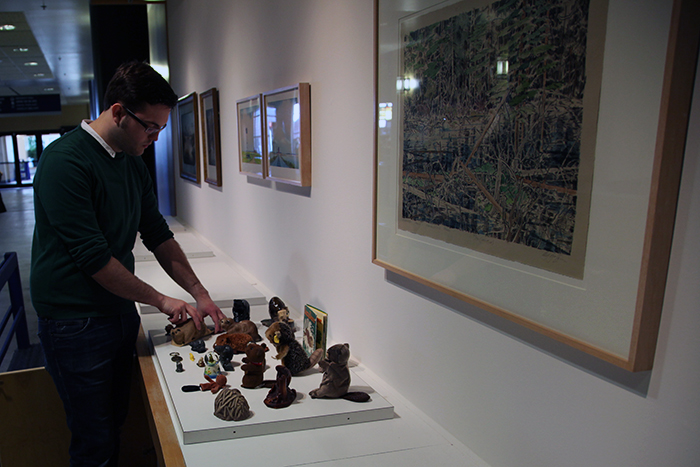 Image: David Smith arranging various beavers for his curated Glorious and Free exhibition.
Based on the positive experiences I have had in my five previously completed internships, I was eager to sign up for another! I can see how these opportunities have allowed me develop practical skills which have been reinforced by hands-on work. This semester I am building on the curatorial skills that I've been able to gain in my previous internships.
An area of personal interest that has arisen from my academic research is the subject of Canadian identity in art. Two curatorial projects have emerged from my investigation on the subject and are the basis for my current internship. The first, titled Glorious and Free, is an exhibition in the Helen Christou Gallery using works from the University of Lethbridge Art Gallery's permanent collection. The second is a multi-venue exhibition taking place in the summer of 2013 featuring Lethbridge artist Arianna Richardson. Both of these projects allow me to build on the skills afforded to me through previous internships.
It is beneficial for me to get as much experience as possible before graduation so that I will be empowered to contribute meaningfully to the contemporary art discourse through my curatorial practice. I am very grateful to the University of Lethbridge Art Gallery for the opportunity to do so.
Lauren Glenn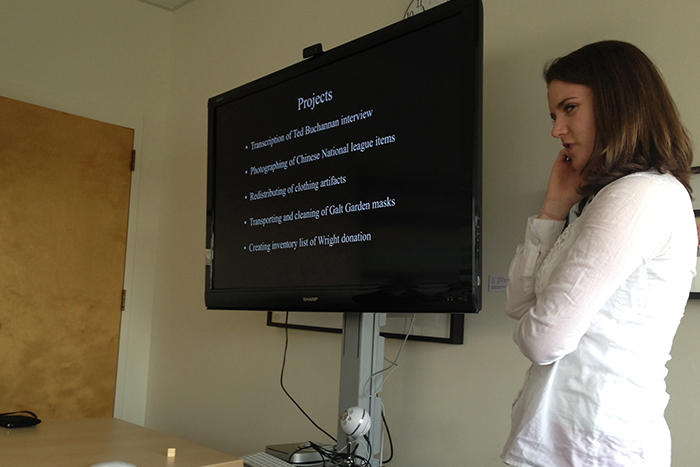 Image: Lauren Glenn giving her Internship Presentation, an opportunity to reflect on everything she learned in the past semester while she interned at The Galt Museum & Archives.
Art History was not something that I had every envisioned myself majoring in when I first began my university degree, let alone enrolling in museum studies as well. However after my first year of general studies and having randomly chosen art history classes, I very quickly fell in love and knew this was the career I want to pursue. I am delighted to have the opportunity this semester to be working at the Galt Museum in the collections department, with Kevin Maclean. There is an immense amount of history here in Southern Alberta and the Galt discovers this knowledge through acquisitions from the community. In working with Kevin, I will be able to understand and learn the great detail and skill that is required when dealing with artefacts; this includes the handling, storage, photographing and preservation of these items. In addition I will have the opportunity to be taught documentation and research methods that are done for objects to further understand their history and how they relate to this part of the province.
Along with learning new information and skills, there are other goals that I want to achieve during my internship at the Galt. There are many ways I could further my education and I hope this work experience will help me to pin point where I would like to go after my undergraduate degree is complete. I look forward to investigating career opportunities that are available and how the information I have learned in my studies can be applied in the work field. To extend my knowledge, I want to learn how museums operate when it comes to acquisitions and dealing with donors as well as storage and preservation of artifacts. Having the community involved in the museum is an essential part of the Galt's mission and I will be able to interact with its members through gathering information about donated objects. I have recently had the opportunity to sit in on an interview of a donor from the early 1990s when he was asked to come in and be interviewed more in-depth about the piece he donated. This was an eye opening experience for me and allowed me to understand how important gathering and documenting information about these artifacts can be and I wish to participate in more of these events. Most importantly I wish to understand the techniques to help preserve the vast history that is being housed in the Galt and to help acquire more information to further appreciate the pieces they hold.
Rachael Gough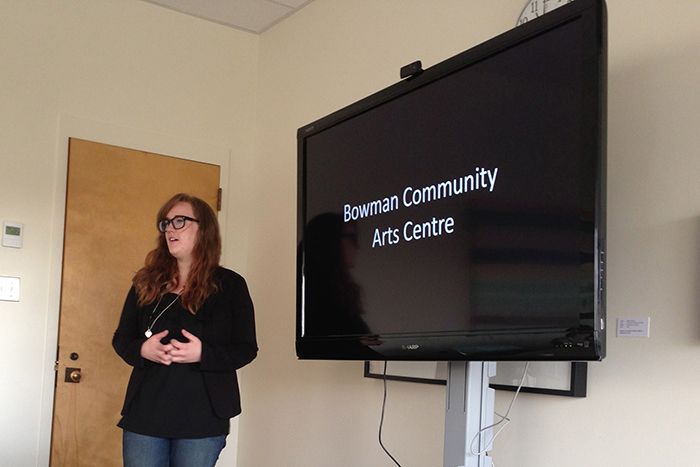 Image: Like, Lauren Glenn, Rachael Gough gives her Internship Presentation also.
Museums and galleries are critical in the maintenance and growth of the arts community. The future of museums and the arts as a whole rests in the hands of our up and coming generations. Young people possess a strong desire to learn and feel a constant thirst for knowledge. If we as a community wish to keep the arts alive and thriving, we must foster a love for the arts in the minds of young people. I believe a great way to get the upcoming generations interested in art is through public programming. As a third year studio major looking to get accepted into education, I have chosen a focus on public programming. Assisting with teaching classes at the Bowman Community Arts Center and helping with Culture Vulture Saturdays will give me insight into art education. My ultimate goal is to teach children and I believe art will always have a place in schools and in life. Therefore I believe gaining experience within the public programming spectrum will allow me to teach art effectively and instill it into the young children who will one day run the world in which we live. To further my education I have been learning several skills that will help me in both assisting with public programming, but also throughout my career, such as clay firing and clay recycling. I will also be assisting with the location change of the Bowman Community Arts Center in spring 2013. As well as a gaining a new, larger building, it will mean more classes, more options, and even more art experiences for children and the community as a whole.
Archives