Andrea Kremenik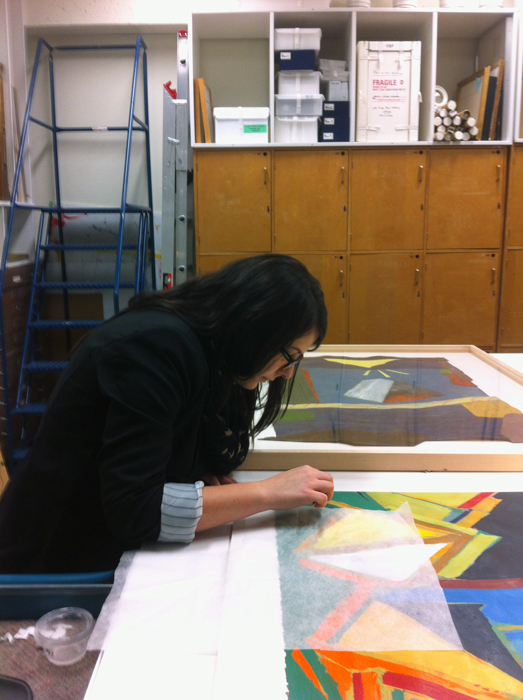 Image: Andrea Kremenik performs conservation work on a piece from the U of L Art Collection.
As a fourth year Art History/ Museums Studies major and a Management minor I am not only interested in learning about art itself, but also the business of art institutions. When I started my internship, I had hoped to gain insight into how the University of Lethbridge Art Gallery, as a collecting gallery within an academic setting, differs from that of a civic gallery. I expected to understand this by comparing the knowledge gained from my two previous internships to that of my current internship as an Art Collections Intern at the U of L.
Having completed the internship, I have been able to learn many skills, such as basic conservation by being entrusted to conduct condition reports on artworks from the University's acclaimed collection. I also had the opportunity to work at both locations in which the collection is stored, performing tasks such as finding temporary and permanent locations for works, learning how to mat artworks, tracking down artists' copyright information and changing artists' information on the database. The opportunity to work with the U of L's art collection, in comparison to my previous internship at the Southern Alberta Art Gallery, has given me a well-rounded experience. The combination of my internships have allowed me to draw on theoretical knowledge within a hands-on environment and will give me an advantage when attempting to pursue a career at an art gallery, preferably with a collection, after I complete my courses in December, 2013.
Archives