Ryley Gelinas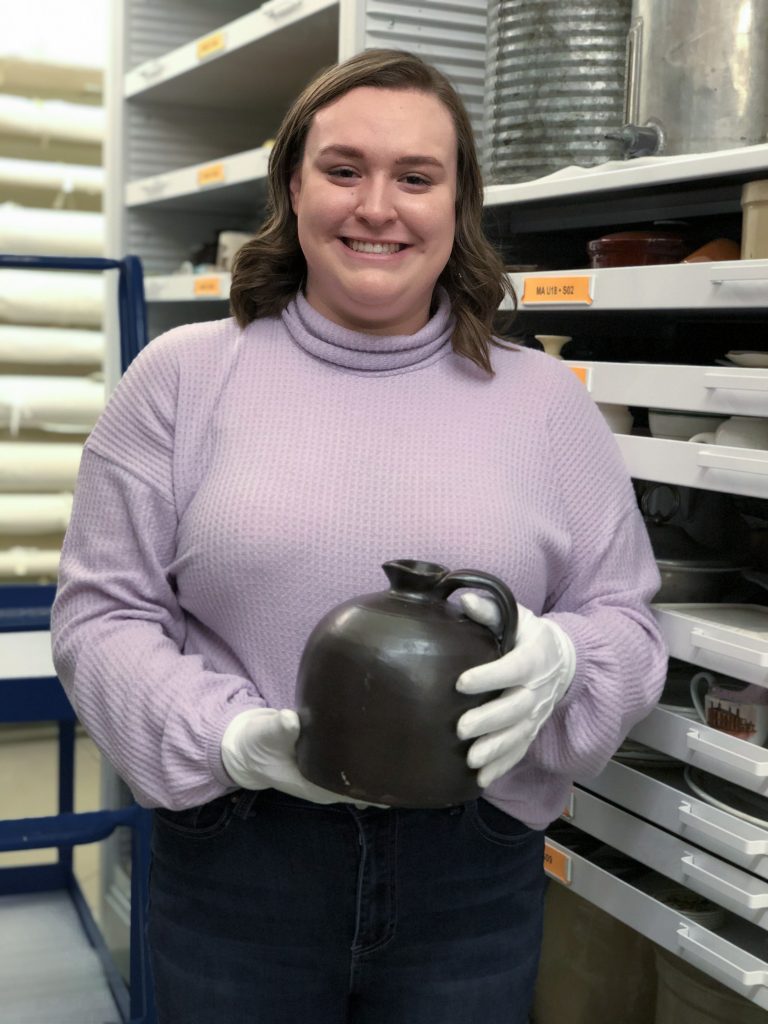 I am in the fifth (and final!) year of my degree, double majoring in English and History, with a minor in Art History and Museum Studies. This semester I am working with Kevin MacLean in the Galt Museum and Archives Collections department. While I initially was interested in museums from a curatorial standpoint, my love of research brought me to Collections. I am tremendously lucky to work with Kevin who has developed an innovative oral history procedure with every acquisition in order to get the history of the object from the donor. This practice is what drew me to the Galt Museum in the first place and is so important in terms of understanding the cultural importance of the donation.
My goal for this internship is to gain knowledge of collections practices, including the use of the database used at the Galt – both in terms of searching and updating – as such a skill would be beneficial in my intended career in museum collections after graduation. Kevin has two decades of insight and knowledge that I hope to absorb and put to use in a productive way that will help set me up on my path. By working with Kevin, paying attention to his tried-and-true techniques, as well as taking detailed notes afterwards, I hope to achieve this goal.
Additionally, I want to use this opportunity to make valuable connections, both at the Galt Museum and through larger networks of individuals I may come in contact with throughout my internship. I am also looking forward to making connections with community and non-museum members who come to visit the museum and the Collections areas. This will help broaden my understanding of the way museums, and the Galt Museum more specifically, serve the community at large. In achieving this, I hope to be a part of the procedures and events that interact with other members of the Galt staff, as well as community members.
Emily Drummond
For my third and final internship I will be working with University of Lethbridge Art Gallery registrar, Juliet Graham and curatorial assistant, Andrea Kremenik on a collections based internship at the gallery. Here I will help with general day-to-day tasks such as handling objects, loans, photography and navigating the collections database to select artworks for a museum studies class. I will also have the opportunity to use the collection to curate a pop-up show for the Art Gallery's Drawing Bar program and potentially help with relocating and curating some display cases. After spending five years working towards a degree in Art History and Museum Studies, I look forward to experiencing collections work in a hands-on workplace environment during my last semester.
My prior internships allowed me to explore writing and research surrounding artworks and public art in which I was able to apply skills developed in class to various projects. I am excited for the opportunity to bridge these skills with the hands-on collections tasks such as navigating databases and learning how to care for and handle objects and artworks. My hope is that I will finish my degree with a more rounded experience of art and cultural institutions that I can bring to developing my career. Delving into collections work more thoroughly has interested me since learning about it in museum studies classes and putting this into practice will inevitably serve me as I move on after graduation.
Furthermore, I am eager to experience how collections and exhibitions intersect through the small curatorial projects I will take part in. The University of Lethbridge Art Gallery has an immense and exciting collection of works and having already researched Nicholas de Grandmaison in my internship during Fall 2019, I am excited to apply my knowledge of his portraits to a show and public setting, as well as explore other works in the collection to bring criticality and diversity to the space.
In reflecting on the time I have spent in the Art History and Museum Studies program, I see areas of personal growth that I have developed more than others. In my final semester I hope to push myself even more in developing skills that will come from being immersed in a gallery workplace and absorb all the knowledge I can to bring to my future endeavours. The opportunity to work with and learn from professionals in my chosen field has been undoubtedly one of the best experiences and components of such a great program.
Thea Sleight
For my second museum studies internship, I look forward to working at the University of Lethbridge Art Gallery, alongside Public Programmer, Kirsten Meiszinger; Curatorial Assistant, Andrea Kremenik; Registrar, Juliet Graham; and Preparator / Assistant Curator, David Smith. Although I will be working predominantly in public programming— assisting Kirsten with setting up and overseeing events— I will also be helping with various tasks around the gallery. I have three main projects I would like complete this semester: propose and execute an embroidery night at the gallery; help Andrea with formulating an emergency disaster plan; and assist David with the Unikkausivut: Stories from the North exhibition strike.
For my first project I would like to host an embroidery night at the gallery modelled after the Drawing Bar program. For this event, students will be invited to bring their own clothes and items to embroider, while enjoying snacks and refreshments. As the Drawing Bar regularly features artworks in the back for public viewing, I would also like to look in to the possibility of pulling textiles from the collection to be shown. My main goal for this program is to introduce and make available to students a fun art making activity that they would not normally take part in by themselves. 
My second project involves assisting Andrea with creating an emergency disaster plan for the gallery. This will involve researching disaster plans implemented by other institutions, and creating a more accurate location list for artworks to found quickly in case of emergency. I look forward to learning about policy-writing; universal emergency actions taken by institutions; and how these will translate to the gallery's own disaster plan. 
Finally, I will be assisting David in striking the Unikkausivut: Stories from the North exhibition. I have had previous experience de-installing exhibitions at the Penny Gallery, so I am excited to see how this experience compares. I would like to discuss with David his role as a Preparator and Assistant Curator in terms of how exhibitions are conceived; how far they are planned in advance; and how his role as a Preparator informs his role as an Assistant Curator and vice versa. 
I am incredibly grateful for this opportunity, and excited to learn the ins and outs of the University of the Lethbridge Art Gallery.