Kirstan Schauman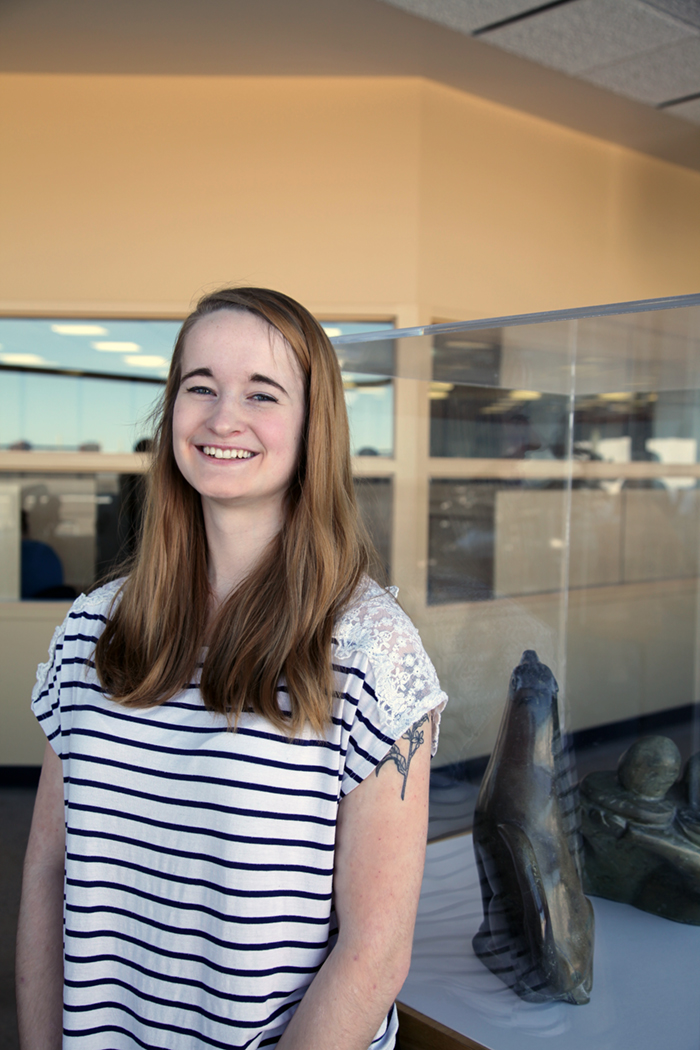 As a fourth year Art History/Museum Studies student, my experiences in collections practices and curating have been limited to explorations of museum practices, through previous internships with the Galt Museum & Archives and five years of combined work and volunteer experience with the Drayton Valley Museum. For my internship in the spring of 2019, my objective is to explore practices in art galleries to diversify my understanding of collections and curatorial practices as they relate specifically to artworks and art collections. I will endeavour to gain as much experience as possible working alongside the University of Lethbridge Art Gallery's staff, including Dr. Josephine Mills, Gallery Director, and Juliet Graham, Registrar.
My interest in museums and galleries has been rooted in curatorial practices, in how curators collaborate with artists and communities to create exhibitions, and in how curators preserve and utilize existing institutional collections. It is my goal to explore further how curators work alongside other staff—including conservators, registrars, collections technicians and managers—to ethically and responsibly manage collections to ensure future public access and use. During my internship with the U of L Art Gallery, my goal is to understand how art galleries ethically and responsibly preserve and exhibit their collections, and to understand how galleries actively work to deconstruct notions of elitism that are perpetuated in the art world, making art and exhibits accessible to publics of diverse backgrounds. I will learn proper handling and care practices for artworks and art collections with the goal of hanging the exhibition in the Helen Christou Gallery, and explore the U of L Art Gallery's collections, including the recent Dr. Margaret Perkins Hess bequest, to select works for the exhibit.
Selecting the topic and artworks for the exhibition is a challenge I am eager to undertake. During my time at university, I have worked with the students in the U of L Faculty of Fine Arts to curate annual exhibitions of student works, and have assisted with curating exhibitions for historical museums. The opportunity to individually curate artworks, subjects and materials where meanings are not guaranteed to be readily or visually determined will further benefit my professional development and interest in curatorial practices. My primary goal, in pursuing a curatorial and collections internship with the University of Lethbridge Art Gallery, is to gain an understanding of gallery practice, both in curatorial and collections departments, to supplement my understanding of museum best practices. In doing so, I aim to graduate from the Art History/Museum Studies program with a diverse understanding of how museums and galleries function—how internal departments cooperate and enhance one another—to enter the museums/galleries field as a balanced and valuable employee.
Emily Drummond
For my first internship as part of the University of Lethbridge's Art History and Museum Studies program, I will be drafting a Mural Program for the City of Lethbridge. This will include compiling research of best practices and existing mural programs throughout Canada, presenting my research to the City of Lethbridge's Art Committee, and creating a final report based on the feedback I receive. I will be working both independently and with the help of Jillian Bracken, the Community Arts and Culture Manager in the City's Recreation and Culture Department.
As I reach the final semesters of my degree, I am increasingly aware of the importance of developing non-academic writing and research skills in addition to the scholarly writing skills I have learned. Although most of the assignments I have completed in Art History and Museum Studies classes have been academic and critical, both my professors and art professionals I encounter have stressed the value of non-academic writing. From this, I have come to realise that in order for visual art to truly enhance our lives and surroundings, non-academic writing is crucial. For all the exhibitions, public artworks, and art-related events we enjoy throughout the City, there are numerous individuals writing proposals, policies, and programs to ensure we have the opportunity to be enriched by art. As much as I enjoy the experience of researching and writing scholarly papers, I am excited for the opportunity to apply some of those skills in spaces beyond the classroom and develop new skills that will benefit me in my future pursuits.
During the Fall 2018 semester, I took Architecture and Design Now, which led to my emerging passion for the role art and design can play in our communities, built environments, and public spaces. Since then, it has been a goal of mine to learn more about how projects come about in our cities in order to serve various publics, and I am thrilled that this internship will allow me to do so. Being able to work on a project that not only reflects my interest in public art and design in the city, but that will hopefully come to benefit my community in the future fulfills both my personal goals, and my belief that public art can truly positively impact our communities and individual lives.
Kylie Fineday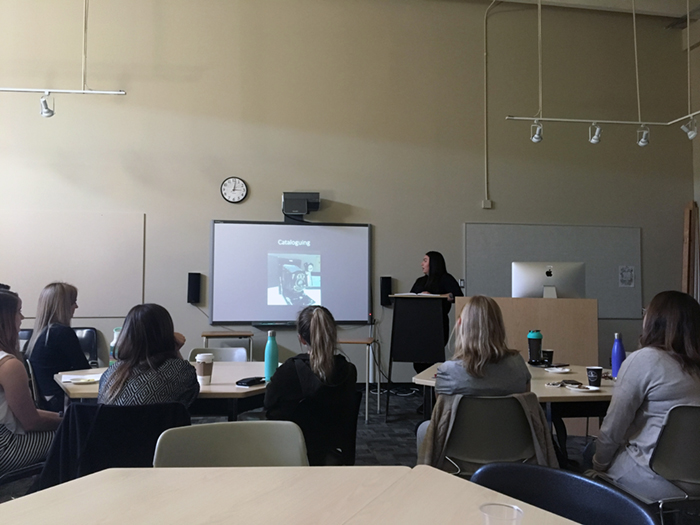 This semester, I am completing a Museum Studies internship at the Whyte Museum in Banff, AB. My goals for the duration of this internship include gaining practical work experience in the museum, making connections to people within the museum community, learning about the history of Banff through this experience, and engaging with the local arts community.
The practical experience I hope to gain involves learning to operate their database and complete research as well as other museum-related tasks such as preparatory duties and exhibit installation. Another goal related to gaining practical experience, is that I would like to have the opportunity to take on a curatorial project of any scale that involves research and writing, as I feel those are strengths of mine. Organizational skills are another strength that I hope to be able to exhibit within my internship.
I hope that through my time in Banff and with the staff of the Whyte Museum, I make valuable connections to add to my network of professional relationships that will aid me in a future career within the gallery world. I understand that the museum has a large staff of professional individuals, and I would like to learn what I can from everyone. I also hope to form valuable friendships through this experience.
As the Whyte Museum has both art and heritage items in its collection, I hope that this experience will teach me about the rich history of Banff. I am also interested to learn more about the local Indigenous communities and history, as there are also many Indigenous objects in their collection. I've learned that the museum's founders, Peter and Catherine Whyte, had a good relationship with the local Stoney-Nakota people, and I would like to see how the museum maintains a positive rapport with those communities. If possible, and where applicable, I would like to help incorporate an Indigenous perspective to the museum's displays and operations.
As Banff is a community with multiple art establishments, I would like to learn about the Whyte Museum's relationship with other institutions and perhaps also connect with members of the Banff Centre and other galleries in the community. I hope to make the most of my time in Banff and really take in all that it has to offer. My ultimate goal is to leave with a great experience to speak of and a strong sense of accomplishment when I look back on my time at the Whyte Museum.
Jaylyn Potts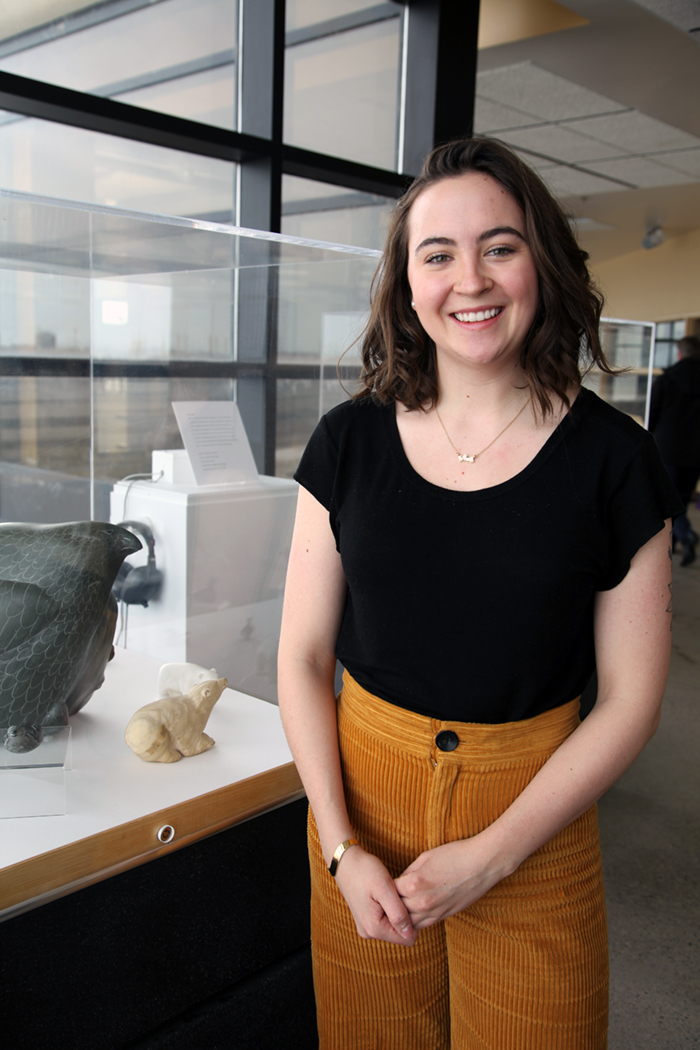 I am in my fourth year of study in the Faculty of Fine Arts, where I am pursuing a major in Art History and Museum Studies. This Spring semester I will be doing my second internship, and it will be taking place at the University of Lethbridge Art Gallery. The main focus of the internship will be sorting through Dr. Margaret (Marmie) Perkins Hess' estate that was bequeathed to the University during June of 2018; the collection includes several renowned Indigenous artists, and I have to select up to forty artworks that Josephine Mills and I will present to Jackson 2Bear's Indigenous Art Studio class. When the students choose the artworks that they want to respond to, they will be given around one month to create an artwork, and the show will go up on March 21, 2019. I will be writing several didactic panels for the exhibition, and my goal is to improve my writing abilities and make it comprehensible for all audiences. My aim is to write a thought-provoking statement that audience members are excited to read and learn more about.
My goal for curating the exhibition in the Marmie Hess Gallery is for students, faculty members, and the public to engage with the artworks from the Hess collection, as well as with the student artwork that was made in response to it. I am still in the beginning process of selecting artworks; however, I am hoping to develop a theme that challenges the students and myself. My selections include well-known Indigenous artists such as Alex Janvier and Norval Morrisseau, as well as artists that are less familiar, but will provide a compelling starting point for the art students. It has been a challenging task thus far to select Indigenous artworks not knowing much about them. It has been quite overwhelming having to select artworks that reflect an Indigenous perspective that I do not know much about; however, I have made it my goal to research as much as I can in the short time-frame that I have, along with being unbiased to my own personal interests in my selections.
I am excited to see this project unfold and see how each of the students choose to respond to an artwork in the Hess collection.
Summer Jennings


As a Museum Studies student with a minor in Marketing, the goal for my internship is to combine knowledge I have learned from these two areas of study. My aim is to get practical experience of working in the gallery setting, while also exploring the possibilities of applying marketing strategies to a non-profit organization. My project will entail working closely with gallery staff members, such as Kirsten Meiszinger, Juliet Graham, and Maria Madacky, on public programming projects and events. My main goal is to gain the interest of University of Lethbridge students and connecting them with what the gallery does. The main way that I will be doing this is through Social Media campaigns and takeovers, mainly on Instagram and Facebook. By approaching this project with a Marketing perspective and strategies, I hope to increase the public's knowledge about the gallery functions and the opportunities that it provides to all students, not just those studying art. With a focus on the already-existing events such as the Drawing Bar, Coffee's On, and Gallery Launches, my goal is to improve Brand Familiarity through communication on these platforms.
Another part of my internship will be learning about the work that happens behind the scenes of the gallery. By working with Juliet Graham in the gallery's collection, my aim is to gain personal skills that I can use in the field, as well as draw attention through social media to the often-invisible labour that the gallery staff do. I hope that my project will also be able to coincide with the projects of the other interns working at the gallery this semester, and that I can feature their work and bring the public's attention to them. My goal for my time working at the gallery is that I can explore possibilities for future careers, develop skills with Social Media Marketing, and increase people's awareness and understanding of the gallery. You can follow my project on Instagram and Facebook at @ulethartgallery .
Kolmé Brown


I am a third year Art History/Museum Studies student here at the University of Lethbridge. This semester I will be interning with the Galt Museum and Archive's Collections Manager, Kevin MacLean. This is the first internship of my degree, nonetheless, I can already see how important the opportunity will be to acquiring a future job in the Arts and Culture sector.
When I began at the University of Lethbridge, I did not know that the Museum Studies program existed. Thanks to the liberal education requirements, I took many courses outside of my comfort zone that would eventually lead me to where I am today. I have always been interested in Art History, but it was Anthropology and Archaeology that encouraged me to take Introduction to Museum Studies. Upon completion of the course I was hooked and my desire to work in a museum only grew.
I have set a couple of goals for myself over the stretch of this Internship. The first goal that I have is to experience the collection process. In previous Museum Studies and Art History classes we have talked extensively about the ways different institutions acquire objects. During discussions I have learned a bit about the Galt's collection mandate and method, however, I hope by being fully immersed, I will gain a greater understanding of what it means to acquire an object on behalf of the Galt Museum. This goal is especially important to me because the collection is foundational to Southern Alberta's history and by being a part of it, I will be a part of what is remembered in the future.
My second goal is to learn about the preventative conservation practices used at the Galt. I have always been fascinated by the ways that museums keep objects out of harm's way. With disasters like the fire at the National Museum in Brazil, I am especially interested in the methods museums use to prevent the loss of historical objects. I have already learned that the Galt Museum protects the objects from light, moisture, and pests. It is my goal to expose myself to the methods that are used to attain such a high level of conservation.
While these goals are a good starting point, I think that they will change and evolve as I become more familiar with Collections Management at the Galt Museum. I am eager to learn everything that I can from Kevin and expect that this experience will be mutually beneficial to both of us. With that said, my overarching goal for this internship is to understand the ins and outs of Collections Management so that I have skills and background to eventually acquire a job in a similar Institution.
Emma Thomas
As a fourth year Art History/Museum Studies student I am eager to embark on my first museum internship at the Galt Museum and Archives. Having worked as a Museum Attendant at the Galt, from Spring 2015 to Fall 2018, I have extensive knowledge about visitor services and facilities within museums and galleries. I am no stranger to this museum, but this is the first time that I will be engaging with their curatorial operations. I am excited to shift focus and am welcoming to all knowledge that Aimee Benoit, Galt Curator, will throw my way as I assist with summer and fall exhibits. Having other practical experiences within the field will be beneficial, but currently all of my knowledge of curating comes from courses and texts, so I am looking forward to being able to use this prior understanding as well as gain practical hands-on experience.
While working with Aimee, I will be focusing primarily on an exhibit about St. Michael's Hospital and the Sisters of Saint Martha which is being exhibited this summer. My main focus will be to assist with research, artifact and photo selection, transcribing interviews, as well as helping to develop interactive components. When time allows, I will also be assisting with two additional exhibits, Places and Traces: Our Neighbourhoods, exhibiting this summer, as well as an exhibit on LGBTQ2+ histories, exhibiting this fall.
My focus during this internship is to get a genuine sense of the day-to-day tasks of a curator, as well as seeing the curatorial process from start to finish. I am very much looking forward to working with Aimee as well as working with the Galt collection and archives in my research. Throughout the next few months I look forward to working with the Galt team in a different capacity than I have before and expanding my knowledge about the institution and their practices.