Chrystal Toth
As an art education student at the University of Lethbridge, I am looking forward to participating in my first internship focused on public programming at the Galt Museum. On a whim, I took a museum studies class to fulfill a course requirement only to be surprised at how passionate I was about a subject I had previously known little about. This has started me on a journey to merge my love of history and art while pursuing a degree in education. I am so grateful for the opportunity to gain hands on experience by applying ideas and concepts learned in the classroom while under the mentorship of Erynn Gordon Konowalchuk, Community Programs Coordinator at the Galt Museum.
The Galt Museum's mandate focuses on collecting and preserving the human history of Lethbridge and area and it is with that that I hope to get an in-depth look at how a museum works and functions within my local community. I hope to contrast this with principles and concepts that I have learned in the classroom and gain skills that could be applied to a variety of jobs within museum studies or education. By assisting with program planning, I will have an opportunity to help develop and organize some of the educational and public programs that could be implemented in a future schedule. This will include researching the topic, planning the program, and documenting the process involved in creating an activity. I will generate guidelines that must be easy enough for people of all ages to follow and may require some problem solving to make it easier for younger children. I will also actively participate in the public programs and observe how Erynn engages with the community and educates them about the subject of the program. By shadowing Erynn in her role and daily tasks at the Galt Museum, I will get a better understanding of what a Community Program Coordinator's job encompasses. As an intern, engaging in a practical and realistic environment will not only give me a better understanding of the position, but also enhance my knowledge of community programs and education.
Furthermore, I hope to learn as much as possible outside of the classroom while I have an opportunity to be in an organized setting. We spend a lot of time talking about the controversies and complexities surrounding public institutions, but there is a limit to what you can learn in the classroom. Being able to actively engage in the Galt Museum environment will not only give me practical experience of how an institution works, but also enhance the ideas and concepts I have already learned.
I hope to use my involvement at the Galt Museum to develop professionally and personally, and take with me the knowledge and experience to help me move forward in my art and education degree.
Courteny Green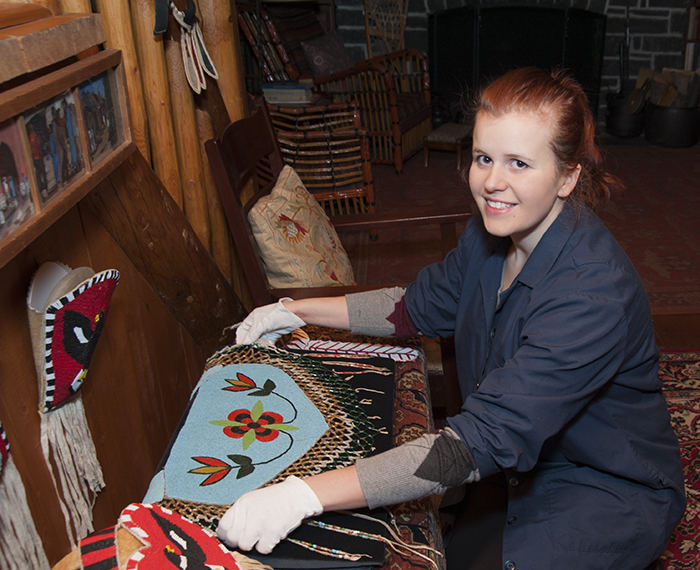 Due to the unique nature of this internship I have decided to outline two sets of goals for myself. The first set will be goals to fulfil during my day-to-day operations within the Whyte Museum of the Canadian Rockies while the second group will be for my time outside the Museum space. This opportunity is different from the other internships I have completed with the University of Lethbridge because it places me in an entirely new environment. I was born and raised in Lethbridge, AB and as a result, working in the city seemed second nature. I was able to learn about the Southern Alberta Art Gallery and the Galt Museum, specifically how they operate as businesses. Whereas in Banff, I have to learn about the Whyte Museum as a business centre but also as a significant community centre. Moreover, I have to engage in the community in a new way because I have not grown up in it.
Within the Whyte, during the next four months, I have set out to be as receptive and open-minded as I can. I will do this by doing my best every day, using common sense and the knowledge I have from school to answer my questions while also being proactive with my responsibilities at the Whyte and staff accommodations.
Outside of my duties at the Museum, I can experience a whole new set of museums, galleries and artist-run centres. My goal will be to experience each one and form a good rapport with them. Networking will be essential as I complete my last year of classes at the University of Lethbridge. This experience will set me apart from the other graduates and institutions in Lethbridge will recognise the ties I have made as valued opportunities.
I would also like to set a goal of becoming more familiar with archives. I want to spend some time understanding the archives department and how they operate. I will be able to have a close relationship with the archives department at the Whyte because of the nature of my project.
As I progress through my undergraduate degree, my focus turns to graduation and the skill sets I require to be successful. In the past years, I focused my goals on experiencing the art world thoroughly so I can eventually make a wise choice regarding what to do with my future. I have experienced curating through the Penny Foster Gallery, working with the Student Curating group, as well as my partnership with Jessica Humphries and the Southern Alberta Art Gallery. I have practised public programming and educational endeavours through the Southern Alberta Art Gallery and Big Brothers Big Sisters Programs. Furthermore, I have tested the waters in collections with the Galt and now, the Whyte Museum. My final goal this semester will be to have confidence in the choice I make to begin my career after graduation.
Eric Almberg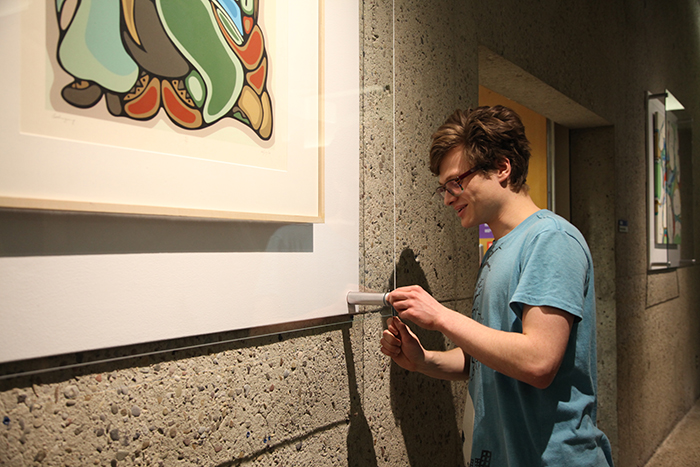 I am a third-year transfer student from Grant MacEwan University in Edmonton, Alberta, and I look forward to exploring the world of galleries and museums through this internship with the University of Lethbridge Art Gallery. While working my way through the Bachelor of Fine Arts – Art Studio program last semester, my interest in gallery and museum practices was piqued by an Introduction to Museum Studies course. Between participating in the setup of the 50th Anniversary Faculty Show, information on conservation practices, and the discussions of curatorial history and ethics in that class, I was motivated to learn more through hands-on experience.
As this internship is my first experience working with an established gallery, one overarching goal I have is to further understand what aspects of working in a gallery setting I enjoy more than others. I already know that I love discovering art and learning about the stories behind each piece, but I hope to extend that exploration of artworks into the realm of joining individual stories into a cohesive web of stories. I will have the chance to learn this mostly through observation of the curatorial process. I look forward to working with the Gallery's staff and any guests to set up or de-install artworks for shows, as well as to learn in more detail about how the collection functions. This semester I will have the opportunity to work with the collection database and simultaneously learn about the processes for accepting artwork into the collection and returning or loaning artwork to other museums. I will also have the opportunity to learn about conservation techniques and how 2D and 3D objects are prepared for long-term storage or for showing to the public.
Another aspect of working with the University of Lethbridge Art Gallery is public programming. In my art practice I am often concerned with finding ways to encourage others to try their hand at art or be involved in art activities, or to encourage meaningful connections between or within participants. I believe helping with events such as Culture Vulture or the Drawing Bar will give me an opportunity to continue this way of thinking and community building through enjoyment of art which I already have an interest in. In all, I am excited for a semester of discovery in my internship activities!
Jennifer Bowen
For my Spring 2018 Internship I will be working on an exhibition for the Alberta Foundation for the Arts (AFA) Travelling Exhibition Program (TREX). The TREX program strives to ensure Albertans are provided with an opportunity to enjoy fully developed exhibitions in schools, libraries, health care centres and smaller rural institutions and galleries throughout the province.
A little about myself: I am in my final year as a student in the Art Department at the University of Lethbridge. I work with First Nations and Inuit communities in Northern Canada. I came to the university as a mature student with experience as an Indigenous freelance documentary filmmaker and events coordinator from Yukon. As an artist I am attracted to making films and curating exhibitions that feature remarkable people who are mavericks in their own worlds.
In April 2016 I was invited by TREX to organize an Indigenous art exhibit after making a connection at an Arts on the Hill event in Ottawa. New to Southern Alberta, I decided to take on the challenge of getting to know the contemporary Indigenous art community in Lethbridge. I began developing the theme of the exhibition through dialogues with local artists and with IINNII, a collective of Indigenous artists and curators who provide a platform to present an autonomous voice and further develop Indigenous art practice in the contemporary arts. Through these meetings and conversations, I approached artists asking them to explore the theme of Indigenous storytelling. I reached out to three local Blackfoot artists who are from Southern Alberta, focused on contemporary arts, and showed a strong studio practice: Marjie Cropped Eared Wolf, Star Cropped Eared Wolf, and Sarah Russel.
The exhibition is scheduled to tour for three years beginning January 2019.
Kirstan Schamuhn
As a third-year student in the University of Lethbridge's Art History/Museum Studies program, I am excited to undertake two internships in one semester, working with two institutions that vary in size, scope and content. Four years ago, I began working with my hometown museum as a tour guide in Drayton Valley. Since then, I have worked with the Drayton Valley Museum as an employee and volunteer, gaining valuable experience and education as I assisted on projects to facilitate growth and sustainability within the museum. For my internships in the spring 2018 semester, I will be working with the Galt Museum and Archives again, and working with the Drayton Valley Museum to compare practices in large and small Alberta museums.
My interest in museums lies primarily in curating, however my personal goal is to learn practices and gain experience in a variety of museum roles and fields, from collections and research to programming and curating. While interning at the Galt Museum and Archives, I will be working alongside curator Aimee Benoit, gaining experience in and knowledge of curating and scheduling exhibits in larger institutions. During my time at the Galt Museum and Archives, I will work with Aimee Benoit to develop an exhibit schedule for 2019. The shift to working on the overall exhibit schedule—as opposed to last year when I assisted in curating one exhibit with the Galt Museum—delves into my fascination with why curators select exhibit topics and themes, rather than researching what the exhibit presents. It is my personal goal that understanding why and how curators select exhibit topics and themes will improve my own practices as an aspiring curator, and provide opportunities to learn curatorial skills I can continue to implement in my employment with the Drayton Valley Museum.
My internship with the Drayton Valley Museum will focus on learning and demonstrating best practices for collections management and care, through the development of a staff and volunteer training program, and through hours spent at the Galt Museum and Archives working with collections technician Kevin Maclean. Working with Kevin Maclean will provide me with an opportunity to learn excellent museum collections practices using hands-on experience, while also furthering my knowledge of the premises behind collections care and management to ensure my understanding of why and how collections are safely maintained and utilized in a museum. I am excited to be working with Kevin Maclean and learning about best collections care and practices to guide my present and future endeavours with the Drayton Valley Museum.
Since my first internship last spring, I have become increasingly interested in the differences in practices of small, municipal museums and larger institutions in Alberta communities. As someone who began working in a small museum and then moved to partake in projects within larger museums, I have had a chance to build my knowledge of museum practices and improve my personal practices. The experience of learning best museum practices hands-on at larger museums, then returning to implement these practices at my summer position, has been incredibly valuable to my personal development as a museum employee and aspiring curator. I hope to continue learning day-to-day practices in museum, examining where and why museums of varying sizes diverge in practices, and strategizing methods to blend these practices into my experience as a museum employee.
Kylie Fineday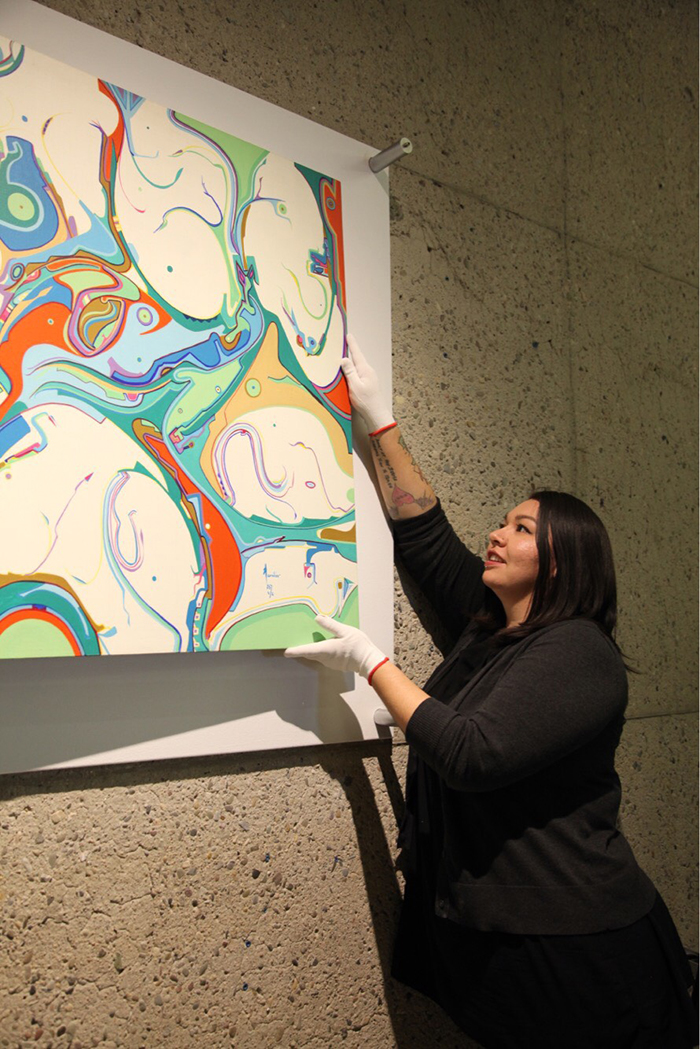 I am a 3rd year art studio major with an interest in museum studies and am excited about this internship opportunity with the University of Lethbridge Art Gallery. As an artist, I like to work with a variety of media, traditional as well as more contemporary and conceptual. I think that it is important for artists to have an understanding of not just creating works of art, but also of creating exhibitions with the audience in mind. I look forward to gaining curatorial experience through this internship, as well as practical skills that I can take with me into a potential career in the art world.
I have only begun my internship with the gallery, but I have already had the opportunity to use the database to look up works from the collection for an exhibition project in which I will be working in collaboration with professor Jackson Twobears and the students in his Native American Art Studio course. For this project, the students will be creating art works in response to pieces from the ULAG collection. I am assisting them in selecting works from the collection to which they can respond in relation to Indigenous discourses relevant to the subject of their course. With the extensive number of works in the collection, this is quite a daunting task, but I am excited for the opportunity to gain curatorial experience through working with fellow student artists.
In addition to this project, I look forward to working with the excellent gallery staff and assisting with other duties that come with working in the space of the art gallery and engaging with the university's art scene in a new way. I hope that this experience will prepare me for further opportunities and an exciting career in the field of fine arts.
Nicole Wilkinson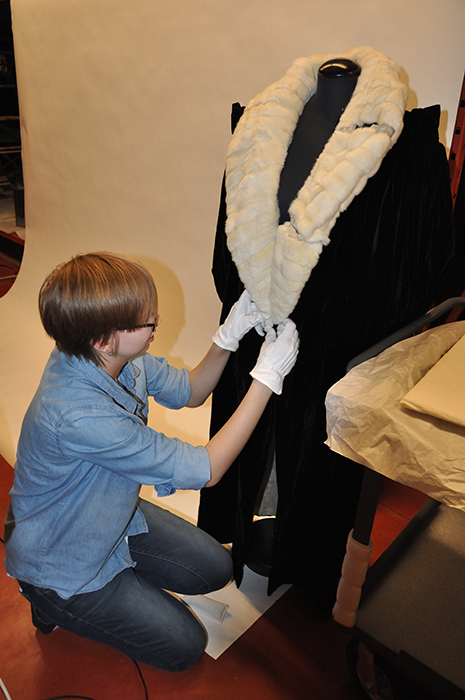 I will be undertaking my internship in the Collections Department of the Galt Museum with Kevin MacLean job title. What I hope to gain the most from this internship is an understanding of the Galt's practices as well as the role that the Collections Department plays in the larger museum mission: "The Galt Museum & Archives engages and educates our communities in the human history of southwestern Alberta by preserving and sharing collections, stories and memories that define our collective identity and guide our future." In the future I hope this experience will serve as an excellent introduction into the professional world outside the university with its training in the many aspects of collections.
As a student who has focused primarily on the studio side of my art degree, I am excited to learn and discover more about artifact handling, documentation and research by becoming familiar with the storage of the collection, being involved with the transcription of interviews from donors, and assisting with the current relevancy project which is attempting to find and reconnect with earlier donors. Already in my short time at the Galt I am learning that these stories and memories are an intangible heritage connected to the museum's collection through the history and living memory from the owner and donor. It is the personal, human aspect of the object that makes it so important to both preserve and share with the community.
Calculus Datingaling
For my internship, I have been working at the Galt Museum's Public Programming Department. The Galt Museum is one of the premier museums in Southern Alberta being visited by thousands of visitors yearly. My internship has helped me realize how proactive a contemporary museum like the Galt is and how it tries to reach a wide audience consisting of people from all ages and walks of life.
Working closely with the department's coordinator, Erynn Konowalchuk, my tasks include participating in the planning of the weekly events conducted by the department, preparing the drafts of instructional materials for the arts and crafts activities, assisting in the setting up of the activity venue, assisting event participants, and sometimes giving a brief talk or introduction to the day's program. For the upcoming Arbor Day celebration, for example, I have been assigned to look for an art activity for children and their parents that is relevant to the theme of the program. I am excited to introduce the participants of this year's Arbor Day to the painting styles of modernist artists Vincent van Gogh and Wassily Kandinsky as they interpret the profound importance of protecting trees and forests. It has been a wonderful experience making the sample paintings, organizing the steps the participants will be following as they create their own artworks, and writing instructional guidelines that can be easily understood even by children (I have also included a brief introduction about the two great artists). Sharing my ideas with Erynn is also one of the exciting tasks at the department. Erynn has been generous in sharing with me strategies that she has developed in the course of her career.
My work has likewise exposed me to other aspects of the department's operation revolving around inventory of materials used in events. On Saturdays, my work involves taking part in the afternoon event. Themes vary from week to week. However, they focus on the museum's mandate of promoting the history and culture of Southern Alberta. It is through these weekly events that the institution tries to reinforce what the permanent and temporary exhibitions attempt to impart to the public. The events also strengthen the sense of community of participants who are mostly residents of the city. I must say that interacting with participants, adults and children alike, puts my interpersonal communication skills into good use and enhances them. It also provides me the opportunity to gather feedbacks from museum visitors themselves.
Becoming aware or critical of the implications of program events and learning the art of planning public programs are skills a museum person can better develop through actual practice. The practical component of my internship is accomplishing an essential part of my education, training, and preparation for a career in the museum world.
Stephanie Wilson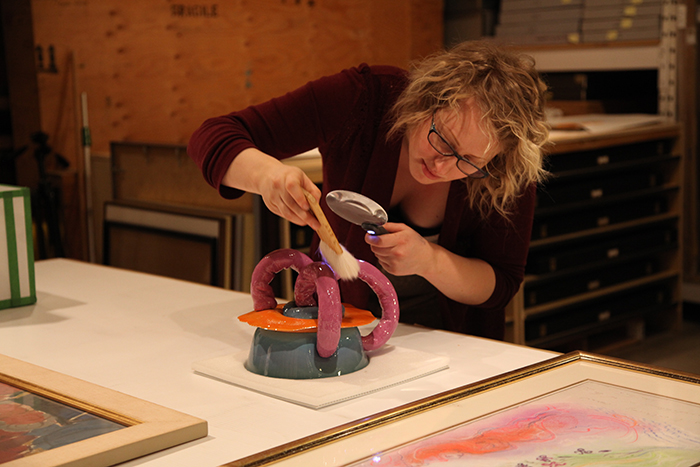 Hello, all! I hail from Edmonton, Alberta, and passionately pursue a career in the arts. My fascination with art started at a young age while watching a visiting artist in my grade six art class mold colours and materials into adventurous art pieces. Art making has become a significant form of expression and health in my life. I care deeply for the continued perseveration of art for future generations, but I also crave to create and build artwork. Recently, I completed a Fine Arts Diploma at Grant MacEwan University and also participated in several exhibitions including The Orange Factory, Landmarks 2017, The Works, and Art + People = X.
Although I am a new transfer student to Lethbridge, my experiences from Grant MacEwan University taught me to pursue every opportunity as one to connect with others. The arts have an uncanny ability to connect diverse groups together. With this internship, I will continue to grow as an artist, arts collaborator, and student within the community. Working collaboratively within the arts is vital for growth within the community and for my professional development..
During this internship, I will be curating an exhibition for the Helen Christou Gallery in the final exhibition of the You Are Here Series called Here and There. As a curator, I will learn how art pieces from many artists, media, and sizes come together in a thought-provoking arrangement. Curating can be a difficult task due to the many intricate details which range from the process of selecting artwork to hanging and arranging the artwork. To select works, I will need to learn how to use the TMS database system which holds the majority of the information on the University's extensive art collection. Several goals of mine include selecting art pieces that have not been exhibited many times and including artworks created by female and Indigenous artists. After selecting the work, I will have to write a compelling exhibition didactic or statement that explains my selection choices. As I have a limited amount of experience in curating and installation, the University Gallery's staff are a significant asset to my learning of the intricate systems that are involved in creating an exhibition. I will be learning more about matting, framing, and installing the artworks. There are many issues that can arise in the process of installation, therefore there is always room for improvement.
Other aspects of the internship include learning about the collection handling and the intake process for new artworks. I aim to acquire skills regarding the proper care practices for handling artwork, as well as about the maintenance and preservation standards of the collection. I desire to gain more skills that involve conservation or preservation of artwork. One of my interests as an artist is to learn how an art piece may change over time, and how it may physically change in that process. Preservation of art for future generations is essential, but the artist in me has a fascination with the temporal. The temporality of art can be beautiful which leads me to wish to know how to damage my own art for new marks to appear years in the future. I am genuinely grateful for this opportunity to learn from individuals with mountains of experience in handling art while collaborating in the arts community.