Ellie Annett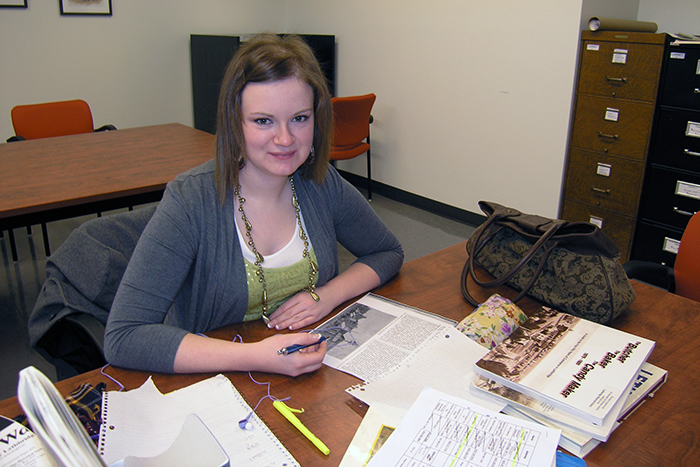 Image: Ellie Annett researching the history of Lethbridge for The Galt Museum & Archives.
As a 4th year Art History/Museum studies student, I have been given endless options of the career possibilities that my degree will give me. The public relations and promotions aspect of the art world encourage not only those fascinated with the arts to become more involved but also those who have not had the pleasure to delve deeper into the subject. As an intern at the Galt Museum under the Public Relations department, I plan on dedicating my time to make the non-believers into believers, changing the point of view against art into one of support, appreciation and consideration. I have been assigned to plan the Historic Lethbridge Festival fundraiser, "A Taste of Lethbridge", assembling participants and promoting the event through the different media outlets. Also, I will be working closely with the special events coordinator of the Galt Museum to gain knowledge of the importance of educating the public through the means of public relations. Learning the ins and outs of the internal operations of a museum is something I have been excited to learn about and am very fortunate the University of Lethbridge has given me the opportunity to do so.
Chad Patterson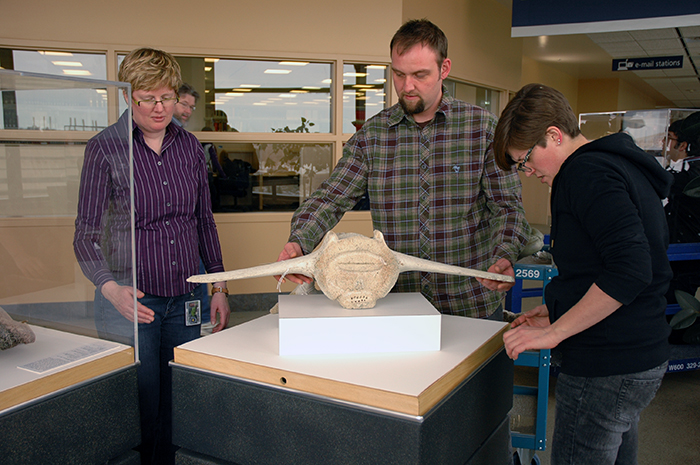 Image: Chad Patterson placing objects for his curated Inuit Art display case.
After several years working as an Agricultural Parts Technician, I decided to challenge myself and return to the U of L to finish a BFA in Art Studio I had started in 1997. However, the second time around I enjoyed Art History and Museum Studies so much that I used all my electives writing instead of painting. With an increased interest in theoretical issues surrounding art and art galleries, and after a chance opportunity for summer work at the ULAG collections vault in 2010, I began to contemplate a career in preparing, curating, and managing art. It seemed that an art collection is not that different from a Parts Department; cataloguing, cleaning, shipping, receiving, selling ideas, etc. I felt right at home and decided that taking the Museum Studies Internship in my final semester would be the best way to experience as many areas of a gallery as possible and prove a perfect testing ground for an imaginable future.
David Smith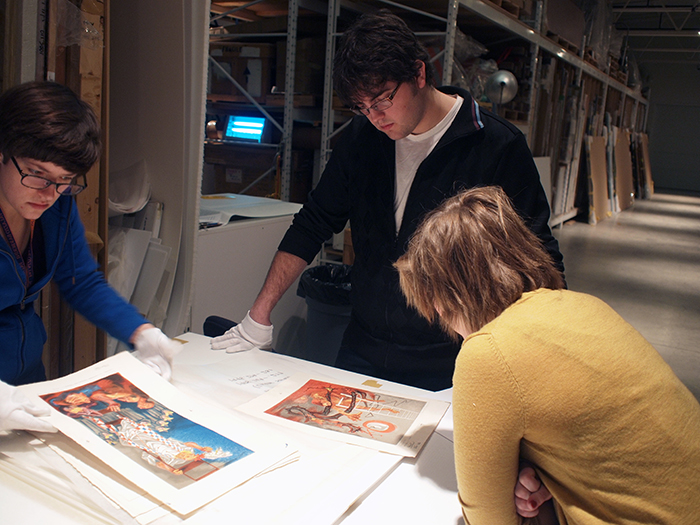 Image: David Smith (centre, with co-curator Allison Spencer at right) contemplating selections for The 1950s exhibition.
Growing up in the cultural drought of rural Alberta has left me thirsty for all things cultural. I aspire to become a curator after I have finished by degree because I understand that cultural institutions play a valuable role in shaping identity and improving the quality of life. I respect the role of curators as mediators between objects, people, and ideas and it is my desire to one day to engage in these meaningful transactions.
As an Art History/Museum Studies major at the University of Lethbridge, I appreciate the incredible opportunity to participate in the internship program. Applying my theoretical knowledge from previous studies to hands-on projects is an excellent way for me to make connections amongst professionals working in my chosen career field. I understand the value of practical experience to future employers and the internship is a great way for me to further my career development. Through the internship, I have been able to experience firsthand various aspects of exhibition planning including: research, selecting artworks and objects, proper handling techniques, conservation procedures, and writing didactic panels. This internship is invaluable to me in identifying and developing the skill set required to have an successful career. I am one step closer to nursing the withered cultural environment of rural Alberta into a blossoming framework for learning and discovery!
Allison Spencer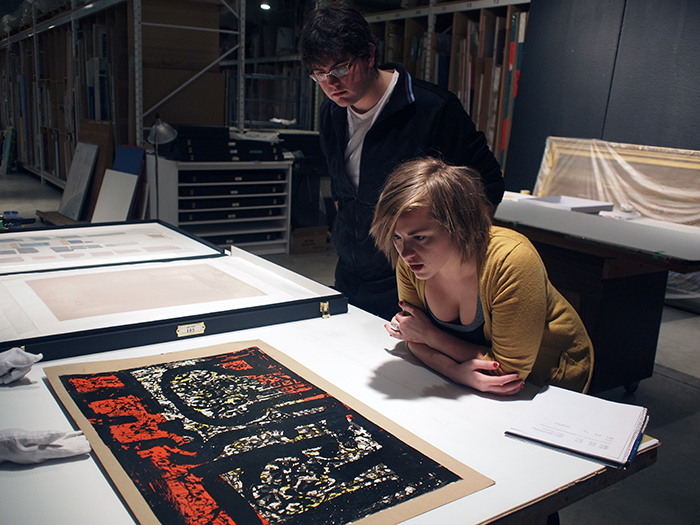 Image: Allison Spencer (with co-curator David Smith at left) contemplating selections for The 1950s exhibition.
I am currently in my third year of my BFA Art History/ Museum Studies degree. This internship has provided me with the experience to expand on my classroom education and become more familiar with artworks and artifacts. I am interested in the "hands on" approach that this program provides through curatorial projects and other activities in local art institutions. The internship has given me the opportunity to observe specialized museum work such as conservation. Also in assisting with the programs put on by the University of Lethbridge Art Gallery, such as Culture Vulture Saturday's, I am able to interact with people of all ages and share my love of art with the public. Through this internship I have gained knowledge and experience that I hope to transfer to future job opportunities in gallery and museum institutions.
Tyler Stewart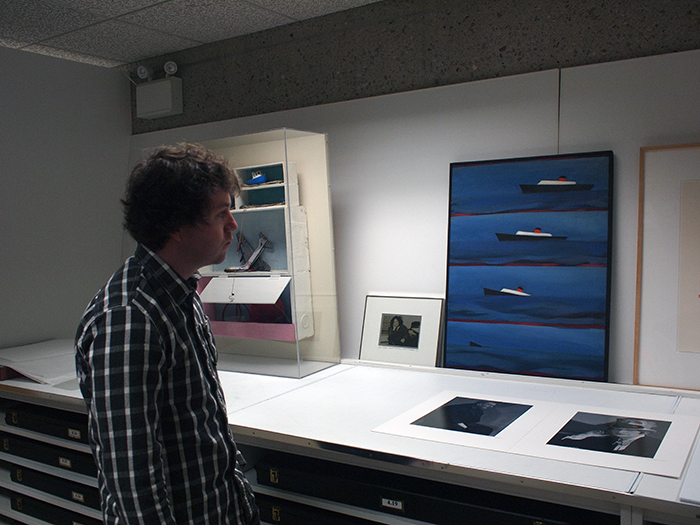 Image: Tyler Stewart contemplating curatorial decisions for his exhibition Re:Writing Art History.
My work on this internship represents the culmination of my academic career at the U of L. While I completed another internship last year, gaining valuable practical experience at the Galt Museum and Archives, my focus this time around is curating an exhibition for the U of L Art Gallery's satellite space, the Helen Christou Gallery.
My previous classes, and research projects in which I participated, have ignited an interest in the way women have been represented in art and in art history, both as subjects and as artists. Finding that women are given solo exhibitions less often than men in many large public art institutions has led me to expand my research into the subject. Working as a research assistant for Dr. Anne Dymond's examination of this topic prompted me to always keep the idea of how the lack of equality in gender representation can be seen in many different aspects of life.
This internship will allow me to develop an independent curatorial project and present my curatorial research in a public gallery, which is a welcome opportunity for me as an undergraduate student. The exhibition will focus on the historical tradition, and tragic continuation, of writing women out of art history textbooks, placing them in the margins, or literally ignoring them in favour of male artists doing similar work. I hope this exhibition will prompt viewers as well as other curators and artists to contemplate the question of why women have been marginalized in a field where they often make up more than the majority of active participants.
Jennifer Vanderfluit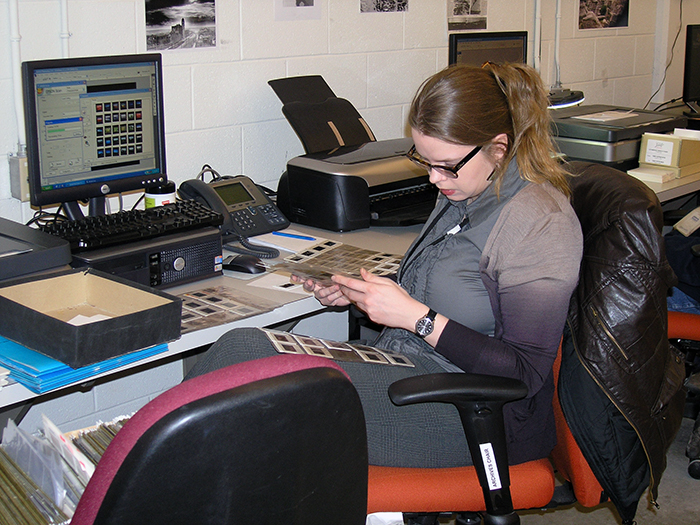 Image: Jennifer Vanderfluit sifting through slides at The Galt Museum & Archives.
An internship in the Art History/Museum Studies program has given me numerous opportunities to follow my own academic interests with the support and guidance of my professors. I was able to work with Josephine Mills to design an internship that I have found to be both challenging and useful for achieving my academic and career goals, yet which also allowed me to follow my own academic interests.
One of the projects I am working on this semester involves researching the unique position that the Glenbow occupies as a multi-platform institution. I am interested in the way it functions as an art gallery, museum, library and archives simultaneously with each facet playing an equal part in its operations and how its specific funding structure contributes to its operations. The Glenbow is unlike any institution in North America and I am interested in what it is that makes it so.
I am also currently completing an internship as an archival technician at the Galt Museum and Archives. For this project I am looking at the role that digitization plays in today's archival practice as a method of preservation and conservation of images. I think it is important to study this because as technology advances certain media are becoming obsolete. Not only are colour film sides an obsolete technology, they can be unstable and digital technology can be used to restore the original image while preserving it. My internship has been a wonderful opportunity to employ hands-on practice and learn from experienced professionals in my field.
Archives