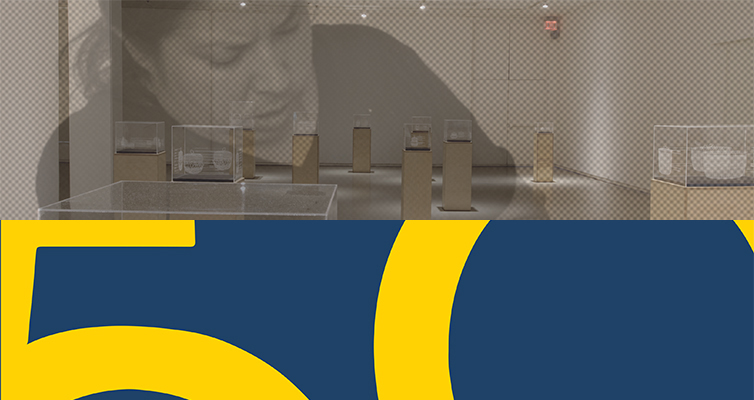 Opening Reception: 50 & Mi'kwite'tmn
Thursday, January 19, 4 – 6 pm
Main Gallery | Centre for the Arts | W600
50 (art + people = x)
January 6 – February 17, 2017
Helen Christou Gallery
Curated by Josephine Mills & David Smith
Continuing our long running art + people = x series, this exhibition will invite local artists and art students to help launch the University of Lethbridge's 50th anniversary celebrations. The artists can explore the concept of the number 50 however they choose: as a number with varied mathematical possibilities; a concept that they can play with; a momentous milestone; a brief moment in time … the response will be up to the them. In advance of the exhibition, artists will have an opportunity to study works from the U of L's renowned art collection and to participate in drawing events at the gallery. The exhibition will consist of a curated selection from submissions by local artists and art students.
Ursula Johnson: Mi'kwite'tmn (Do You Remember)
January 19 – March 9, 2017
Main Gallery
Organized by Saint Mary's University Art Gallery
Curated by Robin Metcalfe
Mi'kwite'tmn (pronounced Meh-gwih-DAY-duh-min) explores contemporary assumptions about museum practices and traditional First Nations art making. The exhibition is composed of three parts. The first part includes a "Museological Grand Hall" with visually stunning sandblasted images of Mi'kmaq baskets on plexi display units. The second part features an "Archive Room" where visitors can be the curator and sort baskets into their categories – the artist, Ursula Johnson, has woven the baskets based on the results of asking diverse people to draw what a traditional basket should look like. The third part is an opening performance. As well, the artist will work with a group of local Indigenous High School students on an art education project.