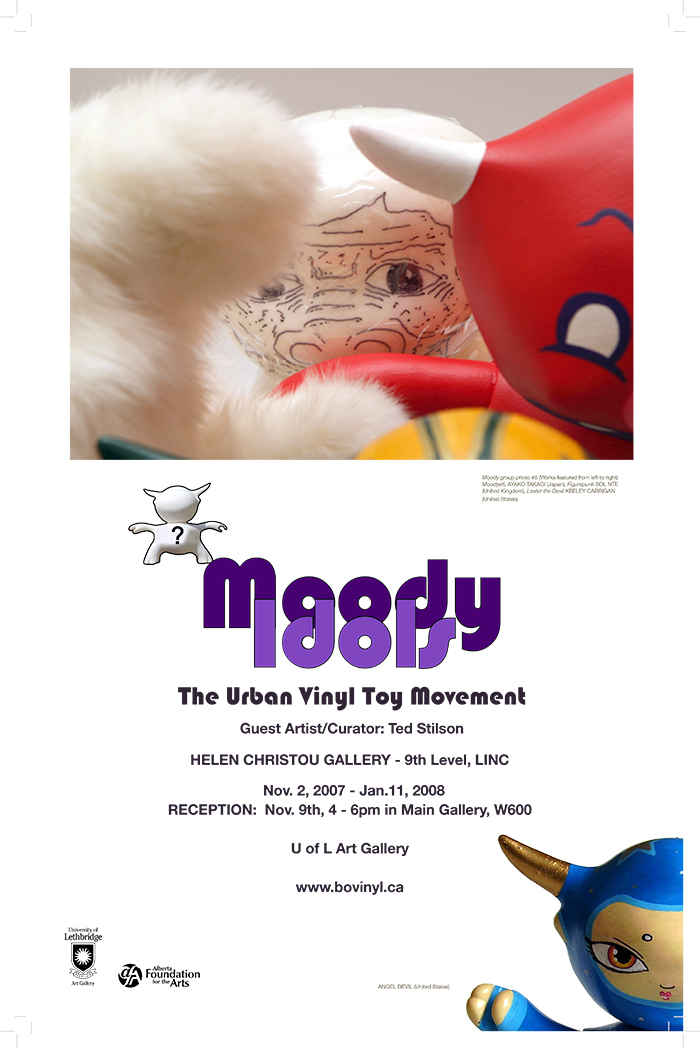 Moody Idols: the Urban Vinyl Toy Movement
Helen Christou Gallery
Reception: 4 – 6 pm, Friday November 9
Lately, my art has shifted away from an icon-specific investigation of Canadian kitsch to an exploration of the mechanisms of popular culture. This has led to an in-depth study of the designer vinyl art toy movement and a rapidly expanding 'low-brow' and pop-surrealism art subculture. Emerging and established artists within this movement often utilize toys and other objects, such as spray cans, skate decks and sneakers, as a means of artistic expression.
In 1997, artist and designer Michael Lau customized vintage twelve-inch GI Joe's and showcased them in a Hong Kong toy industry exhibition. He had re-sculpted the heads/hair and outfitting them in hip-hop clothing. These revolutionary toys were quickly purchased by savvy, artistically-minded toy fans. It didn't take long before artists, designers and specialty stores around the world were producing limited production run plastic and vinyl art toys.
One of Canada's leading contemporary artist's, Marcel Dzama, also utilizes toys as a vehicle for artistic expression. He is notorious for creating bizarre images involving snake men, naked women and crocodile cowboys. Dzama's line of toys, the Monsters of Winnipeg Folklore, look like a hybridized version of his characters and vintage Star Wars figurines.
Whereas traditional toys are manufactured by companies as tie-ins with blockbuster movies, designer art toys are created by artists who see them as a new medium of expression. Most designer art toys tend to have a very limited production run; typically 50-500, and can sometimes sell for hundreds of dollars. Designer vinyl art toys are becoming entrenched in popular culture through exhibitions, publications, music videos, documentaries and fashion.
In an attempt to immerse myself in this contemporary art subculture, I designed and produced a do-it-yourself (DIY) platform toy called a Moody. The Moody is the first platform art toy to be produced in Canada and joins other DIY toys such as the Dunny/Munny (United States), Trexi (Singapore), Bearbrick (Japan) and Qee (Hong Kong).
The Moody platform has allowed me to connect with other artists who have established themselves within the 'low-brow' and pop surrealism art movement. To date, over 50 artists from nine countries have customized Moody platform toys.
-Tel Stilson