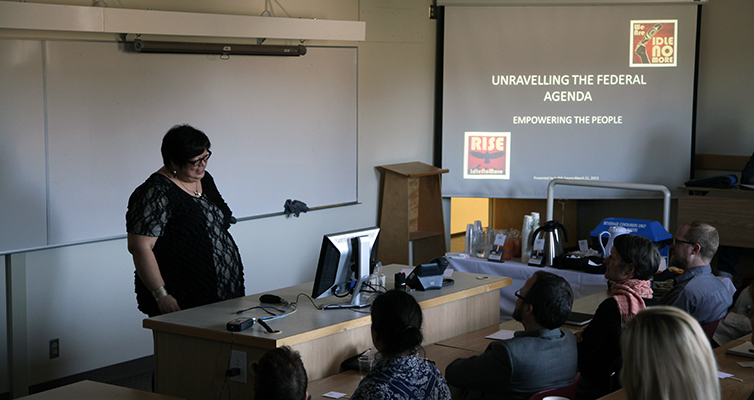 Judith Sayers: Unraveling the Federal Agenda-
Empowering the People
March 25, 2013 | 1 – 3 pm
Room D632
Judith Sayers will be speaking at the University of Lethbridge about the "Idle No More" movement on Monday, March 25 from 1 – 3 pm in room D632.
Kekinusuqs, Dr. Judith Sayers is a Strategic Advisor to First Nations and corporations on First Nations issues. Judith is also Entrepreneur in Residence at the Faculty of business at the University of Victoria as well as an adjunct professor of Law with the Faculty of Law.
Judith is the past Chief of the Hupacasath First Nation, located in Port Alberni, BC. Judith was elected chief in her community for 14 years. As Chief of her First Nation, she focused on capacity building, sustainable development and restoring and rehabilitating Hupacasath territory. Judith was also the Chief Negotiator for Hupacasath for 16 years. As Chief Negotiator, Judith pursued a just settlement of the rights and title of the Hupacasath within their territory.
Judith also served on the Task Group of the First Nations Summit for a two year term. The First Nations Summit represents the interests of First Nations working to negotiate treaties throughout the province of British Columbia.
Judith's educational background includes a business and law degree and a honourary Doctor of Laws from Queen's University.
Judith has an extensive background of practicing law for 18 years in both Alberta and British Columbia, working in international forums, lobbying governments and other agencies for the promotion and protection of First Nations rights and title.
Judith serves as Co Chair on the Island Corridor Foundation a joint venture between Regional Districts and First Nations that own the Rail line on Vancouver Island. She also serves on the Public Advisory Panel of the Canadian Electricity Association Judith is also on the Board of the New Relationship Trust and the Industry Council for Aboriginal Business.