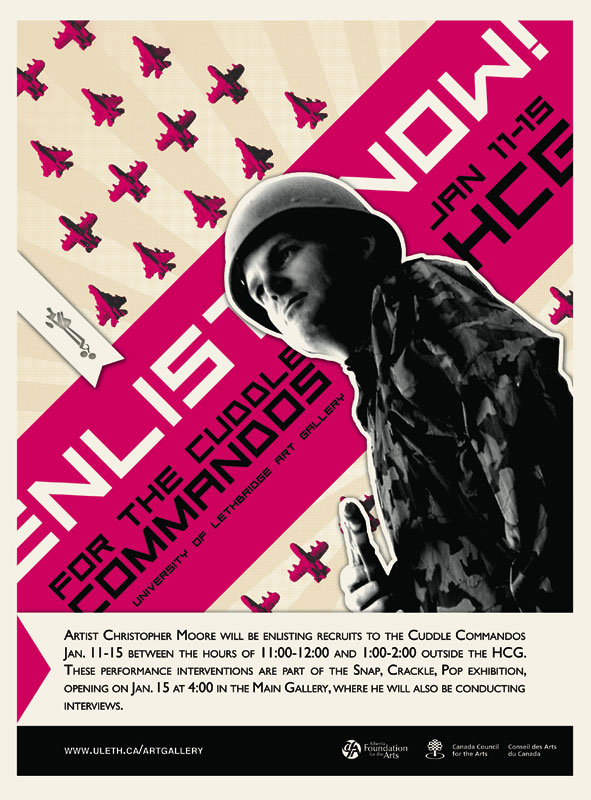 Snap, Crackle, Pop:
Christopher Moore
Helen Christou Gallery
Reception: January 15, 4-6 PM in Main gallery
CHRISTOPHER MOORE is a Montréal-based artist, designer, and educator whose cross-disciplinary practice ranges from print publication to sculpture and media installation. His creative research currently focuses on satire as a progressive form of social critique, utilizing performance and absurdist humour to engage media-savvy public audiences. Snap, Crackle, Pop is the first major presentation of the Cuddle Commandos and Passive Passive Pink bodies of work in western Canada.
Christopher Moore studied illustration at the Ontario College of Art, and received a Master of Fine Arts from the Nova Scotia College of Art and Design in 1999. For the past ten years, he has taught at a number of institutions across Canada, including NSCAD University, the School of Interactive Arts and Technology at Simon Fraser University, and the University of Lethbridge. Moore currently holds the position of Assistant Professor in Design & Computation Arts at Concordia University, and is a member of the Hexagram Research Institute.
Recruiting for Cuddle Commandos!
Artist Christopher Moore will be enlisting recruits to the Cuddle Commandos Jan. 11-15 between the hours of 11:00-12:00 and 1:00-2:00 outside the HCG. These performance interventions are part of the Snap, Crackle, Pop exhibition, opening on Jan. 15 at 4:00, where he will also be conducting interviews. Click here to watch documentation of these performance interventions.