Jaylyn Potts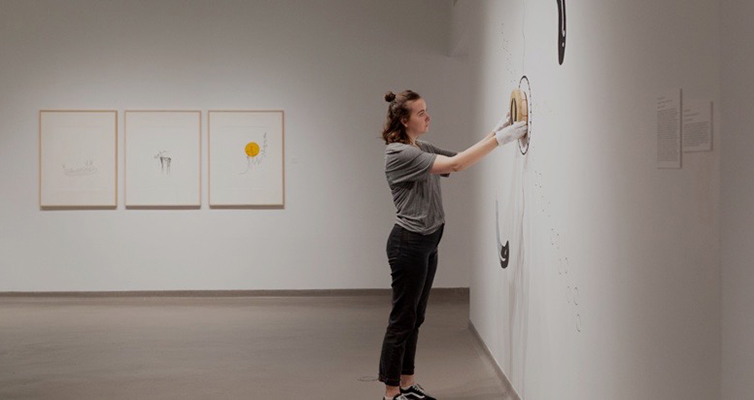 This semester I will be participating in my third and final internship of my degree at the University of Lethbridge. Having completed two internships in the past, I am going into this semester with excitement and a readiness to learn. As this is my second internship focused on curating an exhibition from the U of L Art Gallery's art collection, I am hoping to learn more about the installation process, as well as become more confident with the role of curating.
I had the opportunity to work at the U of L Art Gallery for the summer and I was able to gain valuable experience and insight about the innerworkings of an art gallery, as well as come to have a clear understanding of how to navigate the art gallery's database. Having comfort with the database will be incredibly beneficial for my curating project this semester. Unlike last semester when I worked with students from Jackson 2bears' Indigenous Studio Art class to curate a show, this semester I have the opportunity to individually curate an exhibition. The exhibition will run from January 16 – March 13, 2020 in the Dr. Margaret (Marmie) Perkins Hess Gallery. The exhibition will continue to feature artwork from the Hess bequest, but more specifically, display a small portion of the vast collection of Inuit artwork that Marmie collected. Although I am in the beginning stages of selecting artworks, my goal is to develop a dynamic theme that challenges and excites the community as well as myself.
I am also hoping to spend some time shadowing David Smith, the Preparator and Assistant Curator, to gain first-hand experience on the installation and de-installation process. I have always been in awe of David's quick, yet thorough ability to mat, frame, de-install, install a new show, and more in such a short time-frame. I hope that by shadowing him, I will be able to learn more about his process and what goes into preparing for an exhibition.
Finally, an on-going goal of mine has been to attend and participate art events that are happening at the U of L Art Gallery as well as other art institutions and facilities in Lethbridge. I have found that my experiences outside of the classroom have been fundamental to the many things I have learned in my undergrad degree, and by continuing to be an active member of the community, I hope to continue to learn more about art, Lethbridge, and the community.
Summer Jennings
This semester I will be returning to the University of Lethbridge's Art Gallery for my second internship. As a fifth year Museum Studies/Art History major, I will be focusing my work on hands-on skills that I can use my career after graduation. I will be building on the knowledge that I have learned in my previous internship and my employment over the summer at the University Art Gallery through Young Canada Works.
During my first internship my focus was applying knowledge from my Marketing minor to the Gallery and improving the gallery's social media pages and their public reception on campus. My summer employment at the gallery consisted of multiple projects related to the care of the collection, like surveying the Papokan Sculpture Park and creating condition reports for works from the Hess Donation, as well as my first curating project: the Inuit cases in the library building by Starbucks. This semester I get to continue to work with the collection through a variety of different projects and I will also be doing a larger curatorial project in the Helen Christou Gallery. This project will provide me with an opportunity to experience more creative freedom in the choice of works then my last show, and to practice writing for a public audience.
My goals for this semester are to continue learning about art conservation and prevention from the gallery staff members Juliet Graham and Andrea Kremenik. An excellent opportunity for this will be the "Behind the Scenes Show and Tell" event taking place from September 23-27. This event will invite viewers into the gallery to see the work that happens when caring for the collection. I will be taking part in activities like condition reporting works in the gallery space and explaining the techniques and processes to students and viewers who enter the gallery. This will be a great experience for me to practice what I have learned, as well as interact with gallery visitors.
Overall, I hope to further develop my skills with handling artworks, professional writing, and public speaking. My previous time interning and working at the gallery over the last year has given me invaluable experience and I look forward to working on my new projects in the fall semester.
Grace Wilson
As a third year Art History and Museum Studies Major at the University of Lethbridge, I am beginning my first internship this fall at the Galt Museum & Archives. I will be interning with curator Aimee Benoit throughout the semester and hope to learn the steps she has taken to be successful in her career. At the onset of my studies, I never found myself leaning towards a job in creating exhibitions, however I am looking forward to working alongside Aimee and potentially changing my viewpoint this semester.
During this internship I will be focusing on two main exhibitions: Queer Histories of South Western Alberta and the other will be based on war time music. As I finish up doing transcription work from interviews with members of the queer community in Lethbridge, I hope to learn more about community outreach and Aimee's involvement of the community to aid in developing and expanding new exhibit ideas. While working in this institution, I am looking forward to seeing all the tasks that are incorporated in the position of curator and get involved in as many opportunities as possible including researching and writing for exhibitions. I hope to learn how the different departments interact within a museum and the resources that each department offers in connection to curating.
During the war time music exhibition, my main goal will be to see how a museum exhibition is made from start to finish. Throughout the fall, I will do research alongside Aimee and co-curate the exhibit. I believe that this will help achieve my goal as I will be able to be involved in all aspects of the exhibit from researching and choosing artifacts to writing the wall text.
This internship is such a great opportunity to work one-on-one with Aimee and discover what the collection holds. I feel lucky to be able to share the history and stories of Southwestern Alberta with members of the community while simultaneously gaining the knowledge and skills necessary for a job within this field. I know that this practice, strengthened by guidance from Aimee, will be beneficial to me in my future. I am looking forward to working at the Galt this semester and being able to play a part in presenting two wonderful displays to be proud of under the guidance of their wonderful staff and volunteers.
Hailey Lightbown
I am a fourth year Art History/Museum Studies major at the University of Lethbridge. I am interning at the Galt Museum and Archives under Janae Redgrave, the Community Program Coordinator. This will be the first internship I have done through the Museum Studies Program at the University, although it is not my first internship altogether. Over the last two summers I have interned at a small-town museum, the Michener House Museum in Lacombe Alberta for a bursary. Even though working at the Galt is not my first museum experience, it is completely different from what I am used to, and I look forward to being able to compare my different experiences.
My goals for this semester are to become familiar with a larger scale museum and understand the inner workings of programs that regularly have over 30 participants. During my summer internships we would do weekly programs, but our attendance numbers were averaging around five people. So far, Janae and I have worked on five programs together, including, the "First Friday Fun" programs that happen on the first Friday of every month, as well as the Indigenous Histories program that occurs on Tuesdays. I would also like to become familiar with the other staff at the Galt as well as the space I am working in, since I am brand new. I have also been asked questions about the museum by guests, that I do not have the knowledge to answer at this point, but within a few weeks I hope I can help them with the knowledge I have gained.
I imagine my goals will change and possibly expand over the semester working with Janae. I don't think my internship could be successful without expanding my understanding of museums and about what I want to do in the future. This work experience will give me insight as to how a larger institution runs. By the end of my term I would like to be able to lead a program on my own, which is a goal that Janae has suggested to me. I can already see the value programming has for a community. The importance of a museum is more than a place to house artifacts, it brings the community's history alive, it is a safe haven for people, and a place for people to learn. All in all, I am extremely excited to have been placed at the Galt and look forward to a semester of learning and fun.
Thea Sleight
For my first Museum Studies internship, I am thrilled at the opportunity to work alongside Collections Technician, Kevin MacLean at the Galt Museum and Archives. As a third year Art History / Museum Studies student, my knowledge about collections derives predominantly from Museum Studies theory, so I am grateful for this
hands-on opportunity. What I am looking to gain from this internship is not only an expanded overview of the Galt's collection style and practices, but to experience Collections with the same passion and excitement as Kevin and Collections Assistant, Kirstan Schauman.
There are three main goals I would like to achieve in my time at the Galt. The first is to successfully complete a catalogue entry. In order to so, I would like to learn about the Galt's research methods, how to properly write a description and history of an object, the photographing process, how to use the Galt's cataloguing database and how to name objects with the proper nomenclature.
I would also like to learn about preventative conservation — the procedures that are
practiced universally by Canadian institutions, and those which are specific to the Galt. I had developed an interest in conservation and risk-management from meeting with the University of Lethbridge Art Gallery's Registrar, Juliet Graham last year. She provided a general overview of common practices, but I was eager to learn more. I would like to learn about the Galt's procedures for storing different media and objects, and how the Collections space and environment work to preserve those items. I am also curious about handling methods, the different types of damage an object can incur, as well as how to prevent them.
Finally, I am eager to learn more about the method Kevin has developed for interviews and transcription. Because the goal for these interviews are audible and verbatim records, I would like to know how this methodology compares to alternatives used by other Canadian institutions. How does this approach affect the quality of the Galt's archives, collections and subsequent exhibitions? How is this oral history practice able to bring the community together in ways that other museums cannot?
I am incredibly thankful for this opportunity. I am excited to learn the answers to my questions and to meet the goals I have set out to achieve.
Emily Drummond
For my second museum studies internship, I will be working with Michael Perry, archivist at the University of Lethbridge library and Josephine Mills, director and curator at the University of Lethbridge Art Gallery, to conduct research for an online resource/database for the Nicholas de Grandmaison archival material. The outcome of this project will connect to Objects as Curriculum, a new Blackfoot Digital Project connected with the U of L Art Gallery, and will likely come to take shape as I delve into the material. So far, I plan to listen to audio recordings from Nicholas de Grandmaison, interviews conducted by his son and interviews from the recent Oral History Project, keep a spreadsheet of relevant information, write a short summary for each recording and match the subjects of de Grandmaison's portraits to the recordings as a visual component of the database.
Nicholas de Grandmaison was an artist who, born in Russia in 1892, moved to Canada in 1923 after joining the military academy, spending four years in a German prisoner of war camp and attending art school in London. In Canada, he begun a career in portrait painting, and gradually moving more and more westward to take up his work, he settled in Calgary in 1932 and later Banff in 1939. He devoted much of his later life to producing portraits of First Nations peoples in Southern Alberta. The University of Lethbridge Art Gallery and University of Lethbridge library archives has an extensive collection of de Grandmaison's artworks, journals, letters, photographs and audio recordings. By connecting these portraits to audio records and oral histories, they can function as a learning tool and a means of liberating knowledge, as suggested in a consultation with Blackfoot Elders I attended at the beginning of the semester.
I hope that this internship will not only allow me to improve and diversify my research skills, by working with archival material in a way that I never have before, but also be a learning experience in processes of decolonization. I wish to be able to bring critical skills I have developed in museum studies and Indigenous studies classes to my research and make more tangible connections to the concepts learnt in class, gain experience in building professional relationships, practice independent research that will equip me for a future master's degree and learn about how cultural institutions can approach reconciliation.