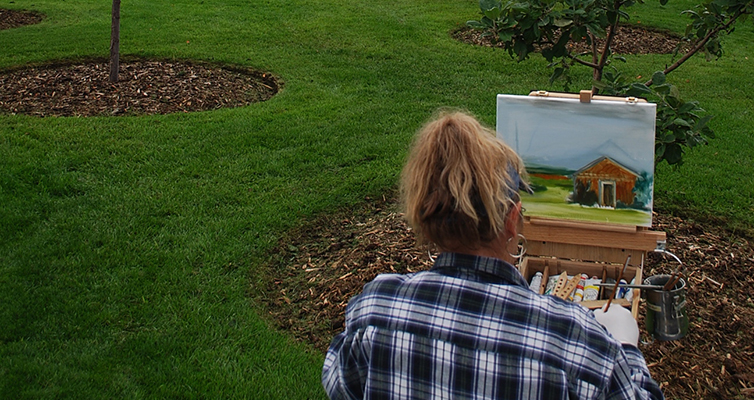 Reception: Friday, October 4, 3 – 5 pm
Regular Hours: M – Th, 9 am – 4 pm
University of Lethbridge Dr. Foster James Penny Building, Downtown Lethbridge
324, 5 St South
Lethbridge, AB
Community artists engage with the Coutts Centre property.
Co-sponsored by the U of L Art Gallery, the U of L Faculty of Fine Arts and the U of L Alumni Association.
ABOUT EN PLEIN AIR
On August 24, 2014, "En Plein Air" brought together artists from across southern Alberta to the University of Lethbridge's Coutts Centre for Western Heritage just outside of Nanton, Alberta.
Billed as "an afternoon of art and music", the general public was invited to explore the beautiful prairie gardens at the Coutts' Centre, enjoy hands-on art activities for the whole family, watch artists painting, drawing or sketching, and listen to live music.
Any interested artists were then invited to submit their work(s) for consideration to an exhibition held at the U of L's Dr. Foster James Penny Building.
ABOUT THE COUTTS CENTRE FOR WESTERN CANADIAN HERITAGE
Launched in June 2011 thanks to a generous gift from the late Dr. Jim Coutts (LLD '12), the Coutts Centre for Western Canadian Heritage preserves and celebrates the diverse heritage that is central to the spirit of the west, honouring both its namesake and the land he so admired.
Just east of Nanton, AB, the Coutts Centre is comprised of a quarter section of land on the more than 100-year-old property that once belonged to Dr. Coutts's grandfather. The quarter section of land includes the original homestead, extensive gardens and restored outbuildings.
This unique property enables the University of Lethbridge to enhance the student experience in ways relevant to the goals and values described within the framework of a liberal education. Treating the Coutts Centre as a living classroom, students, faculty and visitors will make use of the natural setting to study the history, artwork, ecosystems and geography associated with the area.
The Coutts Centre presents extensive opportunities for students, faculty and the southern Alberta community to learn in a remarkable location.
ABOUT JIM COUTTS
"A piece of you will always stay wherever it is that you came from, and you also carry a piece of that landscape with you," Dr. Jim Coutts (LLD '12).
Sadly, Dr. Coutts passed away on December 31, 2013. Over recent years, however, he generously donated his homestead property and a significant portion of his art collection to the University of Lethbridge.
Dr. Jim Coutts (LLD '12) was a lawyer, businessman and former advisor to two Prime Ministers, who made significant contributions to Canada through his public service, conservation efforts and philanthropy, including the development and funding of Lester B. Pearson United World College.
At the University of Lethbridge, Dr. Coutts supported the art collection by donating more than 460 works to the U of L Art Gallery and in 2011 gifted his family homestead property near Nanton, Alta, which is now the Coutts Centre for Western Canadian Heritage.