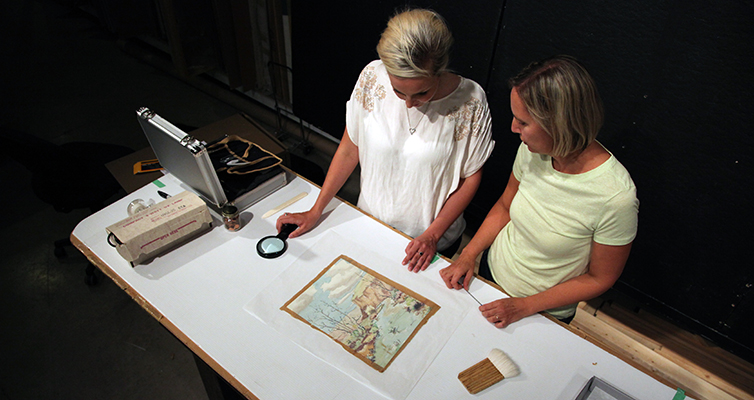 Art History/Museum Studies Internships
The Art History/Museum Studies Internship provides undergraduate students with the opportunity to gain real world experience in the arts, focusing on areas such as exhibitions, collections, and public programming. At the University of Lethbridge Art Gallery interns will be provided with the opportunity to work with the gallery's significant art collection and even curate their own exhibitions. Interns will also be exposed to conservation practices and registration procedures involved with caring for public art collections. Interns interested in education may also assist with delivering and developing public programming events such as the gallery's Culture Vulture Saturdays.
Students may also choose to explore the wealth of opportunities available throughout the city of Lethbridge's arts community and internships are regularly held at the Southern Alberta Art Gallery, Sir Alexander Galt Museum and Archives, CASA, and other cultural organizations throughout the city.
While most of the interns are Art History/Museum Studies majors or Art Studio majors, the internship is open to all undergraduate students upon completion of the necessary prerequisites and while it is recognized as a 4000 level course, students are encouraged to participate in the program before their final year of study, as senior students who demonstrate commitment can enroll in further internships designed around their professional interests and goals.
The internship program gives students an in-depth sense of the range of work and career possibilities in the museum field while also helping them develop a résumé of hands-on experience beyond the classroom. It is also an important source for networking and developing key relationships within the industry before you leave the university setting and many interns have been successful in applying for employed contracts with their host institution upon completion of their internship or finding employment at other locations.
Interested in a student internship at the uLethbridge Art Gallery? Visit the Department of Art or Applied Studies.
Interested in the student internship and staff experience at the uLethbridge Art Gallery? Visit our behind-the-scenes blog.